How a Painting by the Beatles Ended Up Stashed Under a Bed for 20 Years
Perhaps the only piece of art made and signed by each of the Fab Four, "Images of a Woman" was bought by a Japanese collector in 1989 and is going on auction next week.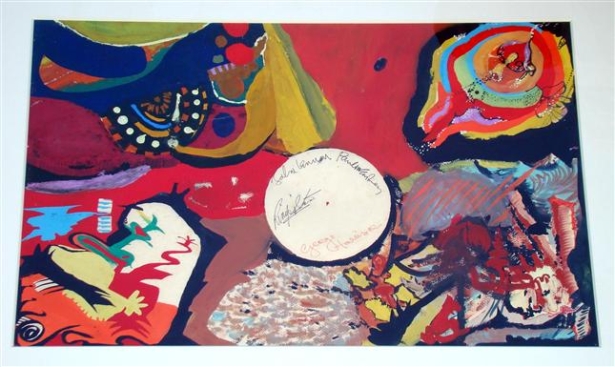 Philip Weiss Auctions
While on near lockdown at the Tokyo Hilton in 1966, John, Paul, George, and Ringo painted "Images of a Woman." The Fab Four were in Japan to play three shows at the famed sumo-wrestling venue Budakon. But local authorities were so overwhelmed by Beatlemania that the Englishmen had to hole up in their hotel whenever they weren't performing.
According to photographer Robert Whitaker, who was chronicling the tour, band manager Brian Epstein brought the guys a bunch of art supplies to help pass the time. Then Epstein set a large canvas on a table and placed a lamp in the middle. Each member of the group set to work painting a corner—comic strippy for Ringo, psychedelic for John. Whitaker later commented that he "never saw them calmer, more contented than at this time... They'd stop, go and do a concert, and then it was 'Let's go back to the picture!'" It was an almost Zen-like respite during one of the most electric world tours in music history.
Before leaving Japan the Beatles signed their names within the blank circle where the lamp had stood. It's one of the few, if not the only, painting in the world that they made together, and allegedly the only one signed by them all. The boys gave the painting to Tetsusaburo Shimoyama, an entertainment industry executive and chairman of the Beatles fan club in Tokyo. After Shimoyama died, his wife opened a memorabilia shop specializing in Beatles collectables, and she auctioned off "Images of a Woman" in 1989. And then it was gone.
Takao Nishino was only 16 when the Beatles performed at Budakon. He wanted to go, but he was a student in Osaka at the time and he didn't have the money. "Three of my friends went and they brought me a program," he recently told me. His favorite song back then was "She Loves You," because it was the first Beatles tune he ever heard and it simply blew his mind. Later it was "In My Life"—"I loved the melody. And as a 20-year-old, I felt I could identify with the lyrics"—and then "A Day in the Life," which stands out to Nishino because it bears both John's and Paul's creative stamp.
Nishino went on to become the owner of a thriving record-store business, and in 1989 he paid about $280,000 (roughly $500,000 today) for "Images of a Woman." It was a large sum, but Nishino says it wasn't a worrisome outlay—not enough to bother telling his wife, anyway. "I had a lot of money," he says, laughing. "It was the bubble."
Besides, the painting was worth it: "I'd never seen anything like it, especially all those psychedelic colors." He believes it reveals an uncanny unity: a cohesive image composed by four individuals. "In that sense," he says, "I suppose it beats 'A Day in the Life' as a truly collaborative work." His favorite part? "Ringo's corner is just beautiful. George's is weird. I can't really understand it."
For three years, "Images of a Woman" hung on the wall in Nishino's living room. But after acquiring a number of large Warhol lithographs, there just wasn't enough wall space for everything. "When I bought it, I had also noticed that it was not well kept," Nishino says. "Over the long term, the heat and humidity of Japan's summer was going to be detrimental, so I bought this $5,000 humidity-controlled frame." Noticing that the family dog, Taro, often escaped the heat by lying under the bed, he figured that would be a good place to store the boxed-up painting.
Related Story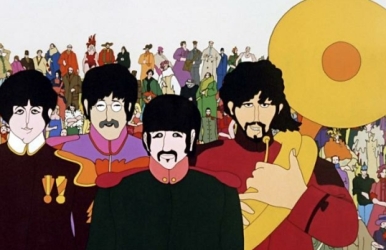 Over the years, Nishino would lend it out now and then to a Japanese television station for a story, but he would always do so under a pseudonym. "I never intended to keep it such a secret, but I was worried about security," he says. In 2002, he tried to sell it on eBay, but the deal fell through when it turned out that the buyer was using a stolen ID.
Now, 50 years after the band was first formed, Nishino is parting with the painting for real at a September 14 auction. "Originally, I thought it might be best kept as a piece of Japan's cultural heritage; it has never left Japanese soil in 46 years. But the Beatles phenomenon was and remains a global one," he says, so it's up to fans—and the marketplace—to determine where it ends up next.