For How Long Can Pop Stars Like Pink and Nelly Furtado Stay 'Alternative'?
More than a decade after being marketed as anti-Britney Spearses, the two singers' new albums show that it's possible to keep making hits without abandoning a niche.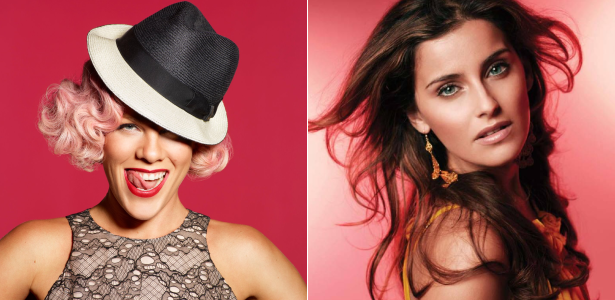 RCA / Interscope
Twelve years ago, pop music was undergoing a revolution. Primed by the glamorous extroversion of high-octane hip-hop and the wide appeal of the Spice Girls, and having fully assimilated the sonic possibilities of the electronic age, several dozen new talents stormed the charts and overthrew the powerhouse genres of the late '90s like grunge-pop (Matchbox 20, Goo Goo Dolls), adult contemporary (Céline Dion, Sarah McLachlan), crossover country (Shania Twain, LeAnn Rimes), and female singer/songwriters (Alanis Morissette, Jewel). With shiny, forward-thinking productions by the likes of Max Martin, Timbaland, and the Neptunes, Britney Spears, 'N Sync, the Backstreet Boys, Christina Aguilera, Destiny's Child, and their peers claimed the attention of a generation of listeners.
So of course there was going to be a reaction. Two singers who released debut albums in 2000 marketed themselves as more authentic alternatives to what a generation of older siblings and parents had dismissed from the beginning as fake, plastic pap. Rust Belt native Alecia Moore, who went by the stage name Pink (stylized as "P!nk"), was a gutsy singer in the Janis Joplin tradition. Her love of the volume and attitude of rock and roll delivered her an audience attracted by teenpop's flashy hooks but more comfortable with the sounds of guitars than synthesizers. Meanwhile, Canadian singer Nelly Furtado managed to get herself sold as "world music" without singing in any language but English on her debut album (some foreign markets got a Portuguese song). Her Portuguese heritage and gestures towards folk rootsiness on hit singles like "I'm Like a Bird" were enough to set her apart from the dance-pop realm.
Over the past decade, Furtado and Pink have occasionally struggled to maintain their musical identities as the enormous changes sweeping through the music industry have left everyone off balance. Pink went from growling in 2002 "Tired of being compared to damn Britney Spears / She's so pretty, that just ain't me," to hitting No. 1 in 2010 with "Raise Your Glass," co-written and produced by Spears's primary collaborator Max Martin. Furtado, meanwhile, went from giving voice to anti-pop listeners in "Shit on the Radio (Remember the Days)" to having a string of huge rhythm-heavy dance singles—"Maneater," "Promiscuous," and "Give It to Me"—with hip-hop producer Timbaland in 2006 and 2007. But both singers have also continued to pursue the more varied audience and critical credibility that goes with the perceived authenticity of rock and world music. Pink worked with members of '90s punk traditionalists Rancid on her 2003 album Try This, and Furtado recorded a Spanish-language album, 2009's Mi Plan, a significant hit in Latin countries.
Both have entered their 30s at the turn of the decade with greatest-hits albums under their respective belts. But neither woman has enjoyed the sort of cross-platform success that their contemporaries Spears and Aguilera (currently judges on televised singing competitions), or Justin Timberlake and Beyoncé Knowles (film stars), have achieved. This could, of course, be interpreted as a preference for focusing on music and, as the pop-star commonplace has it, the fans. While both Pink and Furtado have been consistently successful within their home countries, they're both even more popular abroad: Pink in the UK and Australia, Furtado in Europe and Latin America.
They also both have new albums out this week. The Spirit Indestructible is Furtado's fifth album, and The Truth About Love is Pink's sixth, and they are both representative of the ways in which each woman has managed to carve out an identity for herself in the constantly changing pop marketplace.
Pink's rock fetish remains as strong as ever. If anything, it's even more straightforward: Lead single "Blow Me (One Last Kiss)" imitates the guitar hook from Modest Mouse's "Float On," the crowing "Slut Like You" borrows the dynamic "woo-hoo"s from Blur's "Song 2," the midtempo "Just Give Me a Reason" is a duet with the lead singer of Fun., and "How Come You're Not Here" is anchored by as dirty a blues lick as anything the White Stripes or the Black Keys have pealed off. As her song titles indicate, Moore's lyrics tend towards the confrontational and crass, but her persona is also so big-hearted and vulnerable that she often comes across as more of a hard-drinking, foul-mouthed big sister to her presumably youthful pop audience. In the middle of its kiss-off, "Blow Me" empathizes, "I've had a shit day / You've had a shit day / We've had a shit day," and the stadium-rock anthem "Try" plays like a sequel to her 2011 It-Gets-Better ballad "Fuckin' Perfect," encouraging the despairing listener: "You gotta get up and try and try and try."
But if Pink has aged into a cheerfully wayward older sister, Furtado is aging into something of a high-fashion earth mother. Lead single "Big Hoops (Bigger the Better)" celebrates her signature First Nations-inspired earrings with references to ancient (in pop terms) '90s R&B songs, and the title track is pure hippie gauze given a solid rhythmic base. Elsewhere, song titles include "Miracles," "Bucket List," and "The Most Beautiful Thing," and sound like their titles—particularly the latter, a gorgeously spacey ballad with Portuguese singer Sara Tavares providing high harmonies. The gauziness unfortunately extends to the closing track, "Believers (Arab Spring)," a frustratingly vague anthem that mouths banalities about freedom and faith. Given that the last time she made headlines was over allegations that she had received $1 million to perform a private concert for the Qaddafi family, she might have been wiser to leave the parenthetical off.
Maybe surprisingly, both albums contain a song that owe a clear debt to the sassy, straight-talking girl-group music of the early 1960s. Perhaps even more surprisingly, they're both highlights of their respective albums. "The Truth About Love" is Pink's alternately cynical and touching position paper, declaring in one breath that the truth about love is "the regret in the morning, it's the smelling of armpits" and in the next that "it's all the poetry that you ever heard." She channels the sneer of the Shangri-Las' Mary Weiss, the attitude of Blondie's Debbie Harry, and the falsetto of Gene Pitney, before singing in her own voice "it'll turn you into a son of a bitch, man." Which in its own way is as true as any Hemingway sentence.
Furtado's girl-group homage is slightly more abstract. "Parking Lot" has all the "na-na-na"s and "hey hey"s that you might expect from the Crystals or Shirelles, but it also functions as a modern indie-R&B song, with a repeated one-note synth hook that recalls the post-punk grind of Suicide, and a last-minute breakdown as funkily pretty as anything by Prince. Still, the lyrical portrait of bored teenagers congregating in a parking lot and driving around playing music and giving one another attitude is as much Grease as it is hip-hop, and the handclap rhythms that drive the song have their own deep-rooted power of nostalgia.
The pop marketplace of 2012 is of course more crowded than the pop marketplace of 2000, when Pink and Furtado had their first hits. A whole new generation of pop stars and "realer" alternatives to those pop stars has sprung up in the interim. But both of them have cultivated their fanbases, and their seasoned, no-longer-restless approaches to songwriting and performing are a testament to what can be accomplished by focusing on the music.