Enjoy Roger Federer's Graceful, Poetic Tennis Game While You Still Can
A trip to the U.S. Open this weekend serves as a reminder that athletic excellence doesn't last forever.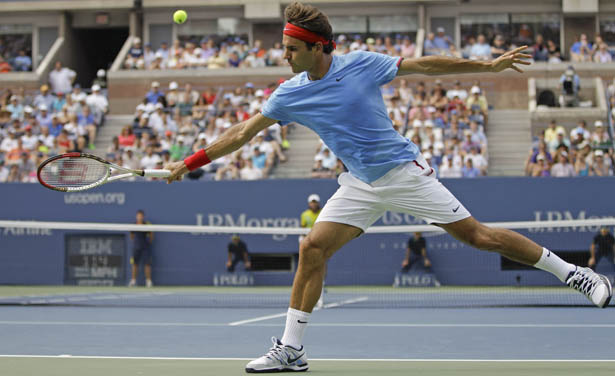 AP Images
The career of a transcendent professional athlete is fleeting.
There are so many profoundly great athletes—Kobe Bryant, Peyton Manning, and Albert Pujols to name a few—whose entire athletic careers have unfolded in recent years, when I had opportunities to witness their achievements in person. Did I do enough to appreciate these incredibly talented individuals? Or will I forever be stuck watching highlight reels and wondering why I didn't make more concerted efforts to see physical genius in the flesh?
It was with this conundrum in mind that earlier this summer I decided to put aside all excuses I had succumbed to in years past and make a trip to the U.S. Open so I could see Roger Federer compete while he retained the form that has made him the most dominant men's tennis player in the Open Era.
Federer is no longer in his prime—his best tennis occurred from 2004 through 2007 when he won 11 of 16 possible grand slam titles and twice came within a match of completing the calendar year grand slam. It's safe to say that Federer, who is 31, will never again achieve that level of dominance. But as of this writing he is the number one ranked player in the world and the defending champion at Wimbledon. He has won more Masters 1000 tournaments in 2012 than any other player on tour. He is still a top-caliber tennis player and one of the best athletes in the world.
I have watched Federer's career unfold on television but had never seen him in person. That changed this weekend when I ventured to Arthur Ashe Stadium in New York City to watch Federer take on Fernando Verdasco in the third round of the U.S. Open. The following is an account of what it is like to cross an item off a personal sports bucket list.
First Set
As Federer and Verdasco walk onto the court in Arthur Ashe Stadium, the unremarkable nature of Federer's physique becomes apparent in a way that is not understandable when you watch him on television. Most professional athletes have physical traits that stand out. Novak Djokovic, Rafael Nadal and Andy Murray—the three players ranked directly behind Federer—each have several characteristics that upon first viewing makes you think, "This is a person who uses his body for a living." Federer lacks this sort of presence. He is tall and walks with a certain grace but physically comes across somewhat average. His upper body is so slender that his shoulder blades poke out of his shirt. His arms are skinny. If you put him in a lineup with five other professional athletes and then asked someone unfamiliar with sports to spot the person who didn't belong, that person would probably pick Federer nine times out of 10.
MORE ON TENNIS
Despite his lack of rippling muscles, it becomes apparent once play commences that Federer can absolutely cream a tennis ball. He has no problem trading powerful ground strokes from five feet behind the baseline with Verdasco, a short muscular player who could pass for a PAC-10 halfback. The late author and amateur tennis player David Foster Wallace wrote, "Any normal adult male can hit a tennis ball with pro pace." That claim always struck me as a bit dubious, but watching Federer and Verdasco go toe-to-toe lends credence to the argument that generating power in tennis is more a product of timing and eye-hand-coordination than sheer muscle mass. Put these two players in the UFC Octagon and Verdasco would be the odds-on favorite to come out alive. On a tennis court, the slender Federer somehow can generate the power necessary to outhit the stronger Spaniard.
The first set unfolds on serve through the first seven games. Devoid of context, I could easily confuse the match as a spirited hitting session between two friends. Neither player shows much emotion. The stadium looks like it's filled to about 60 percent capacity, and while the crowd is clearly pro-Federer they don't generate much noise. Federer finally breaks Verdasco in the eighth game and holds serve to win the set 6-3. The applause that follows is polite without being too enthusiastic. This is what the fans expect to see.
Second Set
There's a scene at the end of the Roman Polanski film Chinatown in which the protagonist (played by Jack Nicholson) asks an old, wealthy Los Angeles tycoon who is carrying out a plan to enrich himself further by cheating millions of residents out of easy access to water, "Why are you doing it? How much better can you eat? What can you buy that you can't already afford?" The implication in this line of questioning is that only unfathomable greed could motivate a man of advanced age and secure financial stature to perpetrate such a twisted scheme.
I'd like to ask Roger Federer a similar question, which is to say I'd like to ask him why, at 31 and with the unmatched résumé he has already assembled, he continues to compete on the ATP tour. Tennis is an incredibly demanding sport and given that Federer already holds nearly every meaningful record on the books it's somewhat surprising that he seems so eager for more.
Past tennis champions Bjorn Borg and Pete Sampras, both of whom were the most dominant player during their particular eras, were more than ready to hang up their rackets at ages when they conceivably could have continued playing for several years. Andy Roddick, who is younger than Federer, has announced that he will retire at the conclusion of this year's U.S. Open. Like them, Federer could give up playing tomorrow and go on to live the good life, but has given no indication that retirement is in his immediate future. He's even hinted that playing the 2016 Olympics is not out of the question. No one questions Federer's motivation or his desire to remain on top of the tennis world.
The same cannot be said about Federer's opponent on this day.
I'm watching the match live but listening to the CBS telecast—a grand slam event just isn't the same without John McEnroe and Mary Carillo's color commentary—and during the first set Carillo spends a significant amount of time talking about Verdasco's life as a tennis journeyman. He's never won a grand slam event or a Masters 1000 tournament. Verdasco's career did, however, take a marked upturn at the conclusion of the 2008 season, when he traveled to Las Vegas to partake in grueling workouts with Gil Reyes, the strength and fitness coach best known for helping Andre Agassi stay competitive into his mid-30s. The very next season he made it to the semifinals of the Australian Open, his best result in a major to date, where he narrowly lost an epic five-set match to then-world number one Rafael Nadal. From that point on Verdasco appeared to be on the up and up. His ranking rose to as high as seven in the world, and he gained a reputation as a tough left-handed player with a booming forehand.
As of late, though, Verdasco has fallen on tougher times. He is no longer ranked in the top 10 and was sidelined during part of the summer season with a wrist injury. The question facing Verdasco now is can he rediscover the motivation that allowed him to reach the top 10 in the first place? Carillo implies that the answer is no, that Verdasco no longer has the will to put in the work required to be a top-tier player. She seems to think that unlike the man on the other side of the net, Verdasco is now content to coast through the tour on natural talent without ever trying to get back to the next level.
Whether or not this is true is unknowable from my seat in Arthur Ashe—Verdasco is the only person who can definitively answer that question—but as the second set unfolds the left-handed Spaniard shows definite signs of fight in him. Federer breaks him early in the set, and at this point no one would blame Verdasco for packing it in and letting Federer coast to a quick victory. Instead Verdasco opts to fight back. He continues to pound away at the ball. When his forehand is working, he has the ability to push Federer from one side of the tennis court to the other, and he hits several spectacular winners during the set. But on this particular day unforced errors are Verdasco's undoing. Federer is serving very efficiently, painting the lines of the service box and winning a lot of cheap points off his serve. To try and overcome this, Verdasco is going for too much on many of his shots and hitting a lot of unforced errors as a result. He can't make a dent on Federer's serve and loses the second set 4-6. It seems the match, like Federer's first two at this year's U.S. Open, will end in three succinct sets.
The Third Set
Federer's rejuvenation has been the most talked about tennis story during the last few months but its definite undercurrent has been the conspicuous absence of Rafael Nadal due a partially torn patella tendon in his left knee. To say that Nadal is Federer's chief rival would be somewhat of a mischaracterization. It's more accurate to describe Nadal as Federer's nemesis, the one player whose style of play and demeanor allow him to consistently get the best of Federer. Nadal holds an 18-10 lifetime record against Federer. He has humiliated Federer on the biggest stages—Nadal's 6-1, 6-3, 6-0 drubbing of Federer in 2008 French Open final is arguably the most lopsided tennis match ever played between top ranked players—and even reduced him to tears. Federer has not defeated Nadal in a grand slam event since the 2007 Wimbledon final, though they have yet to play at the U.S. Open. If Federer is Superman, Nadal is kryptonite.
Perhaps the reason that Federer continues to push himself to achieve more is that he wants to further insulate his legacy from a possible challenge by Nadal. Only 26 years old, Nadal already has 11 grand slam titles to his name. He is the one player who could conceivably break Federer's current record of 17 grand slam wins. It won't be easy, especially since Nadal's body seems to be slowly breaking down, but Nadal posing a serious challenge to some of Federer's records is within the realm of possibility. Of course the more majors Federer wins now, when his nemesis is absent from the tour, the better chance he has at preventing this from happening.
To win this year's U.S. Open, Federer will have to play better than he is at the moment. (On Monday he would advance to the quarterfinals when Mardy Fish withdrew from the tournament.) As the third set gets going, it becomes obvious that Federer is on cruise control. Verdasco continues to hit a lot of unforced errors. Federer is not required to bring out his best stuff. Rallies seem to end with Verdasco hitting a ball long more often than they end with a breathtaking Federer winner. The Swiss does not have to force the issue; he just has to wait until his opponent makes a mistake.
While Federer's lack of an impressive physique may be palpable, one indicator of his otherworldly athletic talent is the effortless way he moves around a tennis court. He's not as fast as Murray or Nadal or as flexible and quick as Djokovic, but Federer seems to glide without exerting much effort. His court coverage is way above average, and he's able to chase down plenty of balls that lesser players would fail to reach.
During Federer's first-round match against Donald Young, McEnroe compared the Swiss to the former Russian ballet dancer Mikhail Baryshnikov, saying he's never seen a more beautiful tennis player. At one point in that match, Federer slipped, causing the commenting team to collectively gasp since it is so rare that he is ever caught off balance. Watching his movements on television, however, is not as impressive as watching them in person. He seems to have an intuitive sense of where the ball is going to be and knows exactly when to accelerate and decelerate so that he is in the most opportune place when the ball arrives.
Federer breaks Verdasco in the third set, but Verdasco continues to fight. It is a hot and humid day with very few clouds in the sky and a deceptively strong wind that makes the playing conditions more challenging than they seem. Verdasco is becoming more demonstratively perturbed with his poor play. As the third set drags on, Verdasco is angrily talking to himself on a regular basis and gesturing towards his coaches whenever he pushes a shot into the net. He certainly doesn't look like a man who is content with just being there, but on this day his ability is failing him. Very few people in the crowd are pulling for Verdasco. Tennis, unlike college basketball, is one sport where fans tend to root for the favorite over the underdog. I can't help but feel for Verdasco, who continues to fight a superior opponent in unfavorable conditions against a crowd that just wants to see his opponent triumph.
After getting the early break, Federer threatens Verdasco's serve on several other occasions but cannot break him again. He is forced to end the match on his serve. The final point is an artful back handed drop volley. It's the kind of a shot that Verdasco simply doesn't have the talent to even attempt, and it serves as an exclamation point at the end of this lopsided match. The two men shake hands. Verdasco exits the court. Federer goes through a perfunctory on-court interview.
Epilogue
Walking out of the stadium I also can't help but feel a bit disappointed. I completed my goal by seeing Federer, but on this particular day he was rarely forced to display the awesome shot-making prowess that has made him the best player in the world since Pete Sampras retired. It felt like watching a top-ranked college football team play one of the softer games on its schedule. Federer's superior talent was obvious, though he kept it under wraps for most of the match and let his opponent's mistakes act as the deciding factor.
The effects of athletic genius, like the careers of the athletes that display it, are fleeting as well. In his book Epic: John McEnroe, Bjorn Borg, and the Greatest Tennis Season Ever, Matthew Cronin quotes John McEnroe as describing sports as such:
That's the funny thing about tennis and games. They may be awe-inspiring at the moment, but then the moment is gone. They are a little like poetry written on water.
After this weekend, I have a better understanding of the way the effects of a highly-anticipated live sporting event seem to disappear immediately after the event is over. Anticipation for this match filled my mind in the days leading up to it, and yet it came and went in just over two hours without much fanfare. It did change my impressions of Federer as a player, but won't change the fact that I will now return to experiencing his career on television, rather than in the flesh.