Don't Mourn J.K. Rowling's Young-Adult Fiction Career Yet
She isn't the first novelist to put a dazzling young adult-fiction career on hold to write a book for grown-up audiences.
J.K. Rowling "in her element," as a friend puts it—in the company of kids. (AP Images)
J.K. Rowling announced back in February that The Casual Vacancy, her long-awaited follow-up to the Harry Potter series, would be a book for grown-ups. And for young wannabe witches and wizards everywhere, the deflating news felt a little like being told that both butterbeer and Liquorice Wands would now be made available exclusively to joyless Muggles.
"My next book will be very different to the Harry Potter series,", Rowling said—and she wasn't kidding, as news reports have recently revealed that The Casual Vacancy deals with prostitution, class warfare, heroin addiction, and teen sexuality. "The freedom to explore new territory is a gift that Harry's success has brought me." Rowling called her new publishing house a great partner in "this new phase of my writing life," and said in April that she might want to return to Harry Potter one day—but that one day might still be a decade away. "In 10 years' time, I might want to return to it," she said, "but I think it's unlikely."
A "new phase of J.K. Rowling's writing life" was, of course, infuriating news for those of us who were perfectly happy with the old one.
Related Story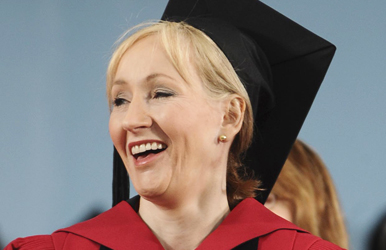 But Rowling isn't the first beloved young-adult novelist to transition into adult fiction. And the good news is that if we take a look at other beloved children's authors who seemingly "graduated" into the world of adult literature, we find that they frequently—more often than not, even—return to children's literature, sometimes permanently and sometimes as a parallel career.
The success of that transition can depend on whether an author manages to scale back the stark morality or the broadly drawn dramatic elements of children's literature and instead tell a subtler, more nuanced tale. Other times, beloved children's authors find that they've been so successful in children's books that they have trouble selling their product to the audience's parents, or they find there's more satisfaction—or money—in writing for an audience that stays the same age.
Whatever the reason, novelists who build a sturdy first home in literature for young readers almost always return to it at some point. Below are the tales of some other beloved authors who have strayed from children's literature—and all but one made a happy, welcome return.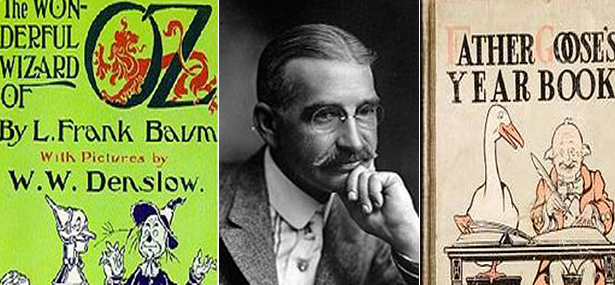 Geo. M. Hill; L. Frank Baum; Wikimedia
L. Frank Baum wrote 14 fantasy books for children between 1900 and 1920—the first of which was The Wizard of Oz. Dorothy's first adventure and its 13 sequels comprised just one of the several young-adult series Baum penned in his lifetime, but a number of others were published under different pseudonyms like Laura Bancroft and Floyd Akers.
In 1905, Baum published the successful adult book The Fate of a Crown—but attached to it the pen name Schuyler Staunton. It was a tale of foreign conquest that broke with the author's earlier formula: "To read a revolutionary tale [BE1] of South America that is not farcical or quixotic is indeed refreshing," The New York Times remarked. The talented, nonexistent Mr. Staunton then whipped up a sequel the next year, Daughters of Destiny, which also found an appreciative audience. In 1907, presumably emboldened by the positive reception to his last adult works, Baum attached his name to a humor book for adults called Father Goose's Year Book. Sections of it are startlingly racist, and it didn't last long in print.
Baum also released The Last Egyptian, an adventure-romance novel for adults, anonymously in 1908, but he spent the last years before his death in 1919 writing installments of his two most beloved series: the Oz stories and his Aunt Jane's Nieces series for adolescent girls, the latter of which he wrote under the pen name Edith Van Dyne.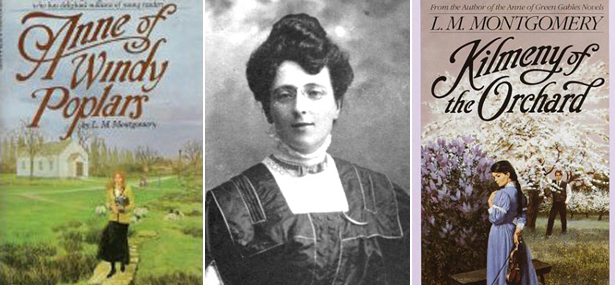 Starfire; Lucy Maud Montgomery
Lucy Maud Montgomery first gained recognition for 1908's affectionate, funny Anne of Green Gables. But the sequels that chronicled Anne's later adventures were published alternatingly with adult novels like A Tangled Web and The Blue Castle, which dealt with young people in Canadian society and the emotional complications of marrying or not marrying. Montgomery's 1910 Kilmeny of the Orchard was a full-scale romance novel that chronicled a young teacher's infatuation with a young, beautiful mute girl.
Montgomery's adult novels ultimately accounted for only a tiny portion of her body of work. The author, who wrote as a way of coping with depression, loneliness, and an unhappy marriage, wrote 15 novels for children during her lifetime, and her last novel was Anne of Ingleside—a late revisit to the world of Prince Edward Island and Anne Shirley, who was now in her mid-30s and a mother of five.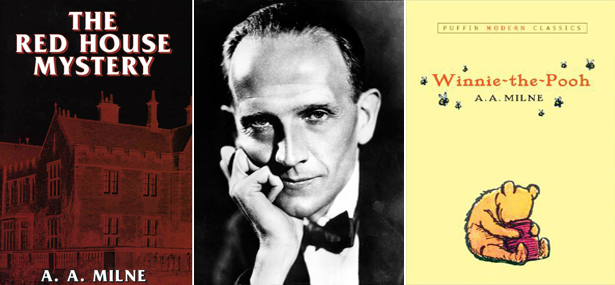 E.P. Dutton & Co.; A.A. Milne; Puffin
Few authors have ever been so annoyed by their own success as A. A. Milne. Milne, to be fair, had already garnered some respect within literary circles as a humor writer, screenwriter, and detective novelist before he penned the Winnie the Pooh stories for children. But it was Pooh that catapulted him to literary fame in 1924.
After his own son, Christopher Robin Milne, had outgrown his beloved Harrod's stuffed bear and thus stopped inspiring new stories about little protagonist Christopher Robin, Milne released works for adults likeTwo Peopleand Chloe Marr, the latter of which was about the death of a mysterious high-society party girl. That chubby little cubby all stuffed with fluff, however, proved to be a curse on the rest of Milne's career. A recent New Yorker profile of Rowling recalls a famous complaint of Milne's about critics who seemed to always want to compare hisadult works to his children's works: "As a discerning critic pointed out: the hero of my latest play, God help it, was 'just Christopher Robin grown up.'[BE2]
"If you stop painting policemen in order to paint windmills," he grumbled, "criticism remains so overpoweringly policeman-conscious that even a windmill is seen as something with arms out, obviously directing the traffic."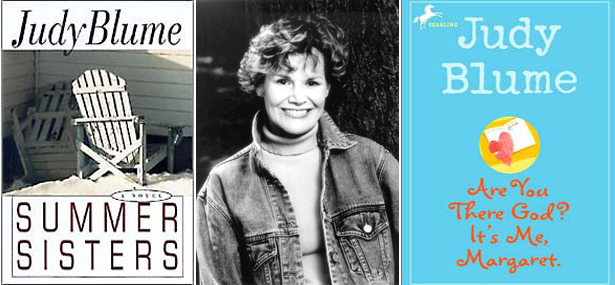 Random House; Judy Blume; Yearling
Judy Blume made a few forays into adult fiction after a long, acclaimed (and often controversial) career in youth fiction. In her 1984 novel Smart Women, the second of her three adult novels, what was once a strength of Blume's writing—its sympathy for the young mind rather than the grown-up one—was now its weakness. "Blume has often worked empathically within a teen frame of reference; and here, though the prime focus is on the highs and histrionics of a trio of 40-ish, divorced professional women in Boulder, Colorado, it's their kids whose common-denominator fears and angers ring true, Kirkus Reviews proclaimed. "As for the mothers, they're a rather vacuous and tiresome lot."
Similar sentiments greeted 1998's Summer Sisters, a bildungsroman tale of two best girlfriends and their summers spent together. Kirkus wrote that "Blume knows the way kids and teens speak, but her two female leads are less credible as they reach adulthood."
In 2002, at a grandchild's request, Blume revisited the Hatchers, one of her most beloved fictional families—that of Fudge and his no-fun older brother Peter—in Double Fudge.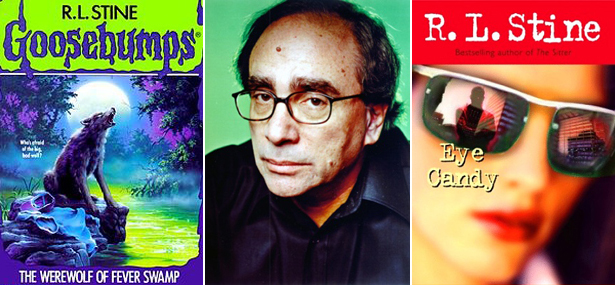 Scholastic; Random House; Ballantine Books
R.L. Stine, who wrote the Goosebumps horror books for kids, often churning out novels at a rate of two per month, released an adult horror novel in 1995 about murder on a college campus. Superstitious, which boasted foul language and sex, still got a lukewarm reception from reviewers, who called it "a kind of depthless, mirror-smooth chitchat somewhere between YA and adult levels made up before your very eyes and not bearing a second thought"—in other words, a perfectly suitable work for people with a short, shallow attention span. Like, uh... kids, maybe. The book sold only 150,000 copies in eight months—a disappointing result for a book with a million-dollar advance. He wrote two more novels for adults, and of his three adult novels, two scored movie deals.
''My readers are getting older, so I thought I'd try to do a book with 20-somethings instead of teenagers," Stine said in 2003. "At book signings people who are 24 and 25 will tell me how much they liked my books as a kid. What I'm trying to do now is remind them what they liked.'' Nonetheless, Stine returned to young-adult fiction and revived the Goosebumps series in 2008.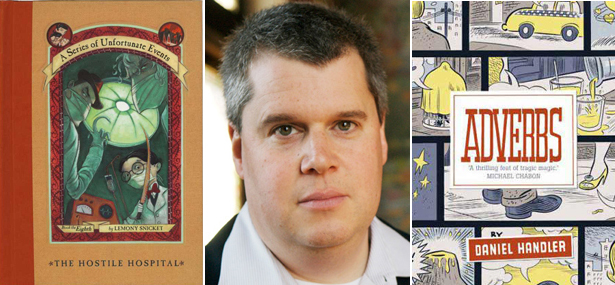 Harper Collins; Daniel Handler; Lemony Snicket
Daniel Handler, known throughout the children's literature world as Lemony Snicket, first rocketed to fame with A Series of Unfortunate Events and its sequels. Handler, though, never really planned on being a children's novelist at all.
At the urging of a friend who worked in children's book publishing, Handler crafted the pitch for the first three Unfortunate Events novels from the pieces of an adult gothic novel he never finished. The first two books were released in 1999, and were dispersed serially over the next seven years—the 13th and final installment arrived in 2006.
But while the Unfortunate Events' fourth-wall-hopping writer-narrator Lemony Snicket was busy telling tales of the polite Baudelaire children and their skirmishes with evil Count Olaf, Handler was taking time intermittently to publish witty, acidic, generally well-received adult novels under his given name: 1998's The Basic Eight, 2000's Watch Your Mouth, 2006's Adverbs. Handler told The New York Times in 2010 that he had written Adverbs "in stolen afternoons over a long period of time, often when I was supposed to be chronicling the lives of miserable orphans. It's not surprising that that book is full of happiness and sex, two things you won't find in the work of Lemony Snicket. It was a secret joy, that novel. It was delicious to write."
Handler's work as Lemony Snicket has been praised for its philosophy of never "talking down" to children. Handler insists that's barely on purpose, if at all: "The reason I don't see much difference between writing for children and writing for adults," he said in 2004, "is I don't see much difference in general between children and adults."
Handler then reintroduced himself—with his real name—to his young audience once again with 2011's young-adult Why We Broke Up, and will launch a new Lemony Snicket series called All The Wrong Questions in October.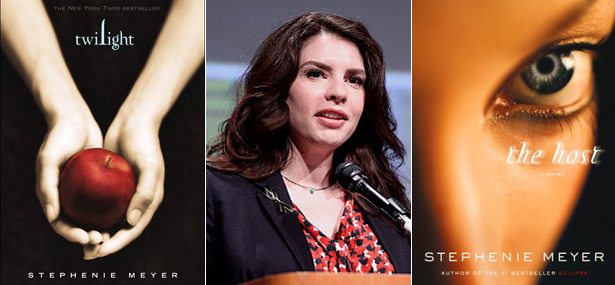 Little, Brown; Wikimedia
Stephenie Meyer's adult science fiction novel The Host, intercalated between Twilight releases in spring 2008, received mixed reviews. A chief complaint among the less enthralled critics was that its love story plot was, as Kirkus Reviews wrote, "drippy" and "kissy-face" in a way that recalled the hormonally charged adolescent vampire-werewolf-human entanglements of Twilight. "A clever premise and competent writing keep this from turning into a pastiche," the reviewer remarked, "though after a couple of hundred pages, readers may wish that just one artery would get punctured."
The Host was a megahit in terms of sales. It hit the top spot on the New York Times Bestsellers list, and stayed on the list for half a year.
Bloomsbury; J.K. Rowling; Little, Brown
Though the triumphant-return-to-YA-fiction coda to the J.K. Rowling story hasn't been written yet, millions of fans maintain hope that it'll materialize. And there's reason to suspect that it will.
Ian Parker's recent New Yorker profile points out that, like Judy Blume, Rowling devotes a good portion of her first adult novel to its teenage characters—and seems more comfortable with them than with the grown-up protagonists. Perhaps even more importantly (and promisingly), Rowling seems to enjoy the world of children more than the world of grown-ups: Ian Rankin, a writer friend of Rowling's, mused to Parker that the author seemed to feel uncomfortable in rooms full of adults. "I've seen her in a room of kids," Rankin said, "and she's in her element."
And indeed, Rowling announced recently that her next two books will be children's books—but they'll be simpler tales aimed at a much younger audience than her Harry Potter novels. Here's to hoping she finds her way back to the Young Adult section, too.