Andy Roddick: Great Player, Bad Timing
The former U.S. Open champion, who retired Wednesday night, would have had an entirely different career if he'd come along five years earlier.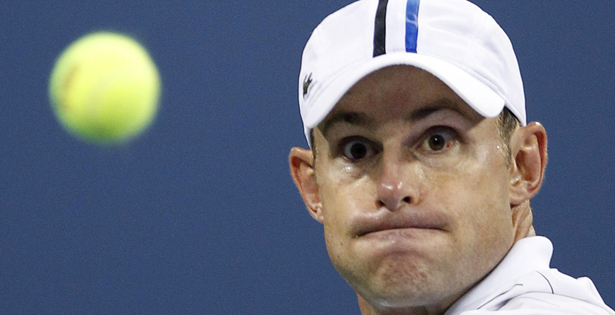 Reuters
Late in the final set of Andy Roddick's career on Wednesday, he found himself down match point on his serve against Argentinean giant Juan Martin Del Potro. The 2003 U.S. Open champion had little chance to recover in the match—Del Potro was up two sets to one and would serve for the match even if Roddick saved match point and went to the game. In essence, Roddick was playing his final service game for pride.
Roddick won it, of course, before the match and his career ended one game later. Cursed to play in the halcyon days of men's tennis, Roddick may have lost most of the biggest matches of his career. But he always went down fighting.
Roddick announced last week that the U.S. Open would be his last tournament, saying he wanted to retire while he could still compete with tennis's best. The news sent a charge into the tournament, and a loudly partisan crowd in New York cheered on Roddick's wins in the second and third rounds. But the man they call DelPo is one of the best players in the game and a former U.S. Open champion, and his raw power was too much for Roddick to overcome.
With Wednesday's 7-6(1), 6-7(4), 6-2, 6-4 loss to Del Potro, Roddick ends a career marred by what could have been. When he won the '03 Open, Roddick was just 21 years old, on his way to a year-end No. 1 ranking. The fiery Nebraskan appeared ready to receive the mantle of "great American men's tennis player" from Andre Agassi and Pete Sampras, who themselves received it from John McEnroe and Jimmy Connors. The biggest challenge to Roddick's reign in the autumn of 2003 was that year's Wimbledon champion, a ponytailed Swiss player named Roger Federer.
MORE ON TENNIS
Federer, of course, won eight of the next nine majors played on hard courts and grass, Roddick's two best surfaces by far. Three times in that stretch, Roddick made the finals at a Grand Slam. Three times, Federer was there to meet him.
Roddick would go on to face Federer eight times at a Grand Slam event, always in the quarterfinals or later. He lost to the Swiss maestro every time. No matter what Roddick tried, Federer was always a little (or a lot) better. And Roddick really did try everything, including a two-year dalliance with Connors as his coach, a temperamental pairing destined to fail from Day 1.
Roddick became known for his booming serve, which was usually good for at least 20 aces per match. The American would virtually sprint up to the line after a point, bounce the ball two or three times and launch into his compact service motion, seeming to spring upwards to meet the ball at the peak of his toss. He set the men's record for serve speed with a 155-mph cannonball in the 2004 Davis Cup semifinals, a mark that stood until last year.
But Roddick couldn't add another major to his total, and he struggled to stay in the top five in the world rankings. As Roddick fought unsuccessfully to make the leap, Rafael Nadal and Novak Djokovic surged past him in 2008 to join Federer in the elite ranks of men's tennis. The new power troika has put the men's game in a stranglehold ever since, winning 30 of the last 31 majors between them (Del Petro at the 2009 Open was the lone exception).
How dominant have Federer, Nadal and Djokovic been? In the 35 majors since Roddick won his U.S. Open in 2003, six different men have won Grand Slam titles. In the 35 majors before Roddick's win—a span that included the height of the Sampras and Agassi era—16 different men won a major, including forgettable champions like Petr Korda and Thomas Johannson. Had Roddick come along five years earlier, when Sampras and Agassi were fading and Federer was still a petulant teenager, he might have won two or three more Grand Slams, maybe even a Wimbledon.
Roddick made one final push in 2009, hiring Larry Stefanki as his coach and turning back the clock at Wimbledon that year for one last run to a major final. Waiting for him, like an unrelenting nightmare, was Federer, seeking his record-breaking 15th major title. The two men played a final for the ages, including a fifth set that lasted 95 minutes and 30 games. For 10 straight service games, Roddick took the ball needing a hold to survive and found a way to win the game. But Federer broke Roddick on the 11th try, winning 5-7, 7-6(6), 7-6(5), 3-6, 16-14 in one of the great matches of the last decade.
Roddick received a standing ovation afterwards from the Wimbledon crowd, who chanted his name in appreciation of his spectacular, gritty performance. That quality is what set Roddick apart from his American peers in men's tennis over the past 10 years and helped him do more with less than any player I have ever seen. Roddick didn't have the physical gifts of Del Potro, the strength of Nadal and Djokovic, the grace of Federer or even the unyielding stamina of David Ferrer. What he had was a big serve, nifty net play and a ton of heart.
Roddick may have failed to become a dominant player or even win a second major. But through his consistent excellence (he finished in the Top 10 for nine consecutive years), his Davis Cup play for the U.S., and his witty repartee off the court, he has earned his place among the great men in American tennis history.