In honor of the world's fastest man, here's a very quick rundown of some very quick runs.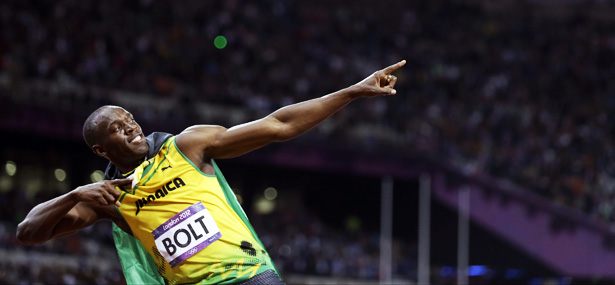 AP Images

MORE FROM BLEACHER REPORT:
Kobe: Sure, I'd Play Overseas
The NBA's Best Young 1-2 Punches
The Best Quote Machines in Sports
---
Usain Bolt just repeated gold in the men's 100-meter dash at the Summer Olympics. And despite it not being in world record fashion--like we've come to know all too well with Bolt--he still finished with a time of 9.63 seconds.
Possessing natural top speed, acceleration and explosion unlike any other sprinter ever, Bolt's consistent dominance on the biggest stages are what's most impressive. He continues to have the target on his back as the world's fastest man--and yet, the man just delivers every time.
So to recognize Bolt's 100-meter dash encore, here's a look at his top-five performances.
This post also appears on Bleacher Report, an Atlantic partner site.
We want to hear what you think about this article. Submit a letter to the editor or write to letters@theatlantic.com.