The Unsettling, Text-Driven World of Barbara Kruger's 'Belief+Doubt'
The conceptual artist's latest installation is disruptive, bombarding, and overwhelming—but in a good way.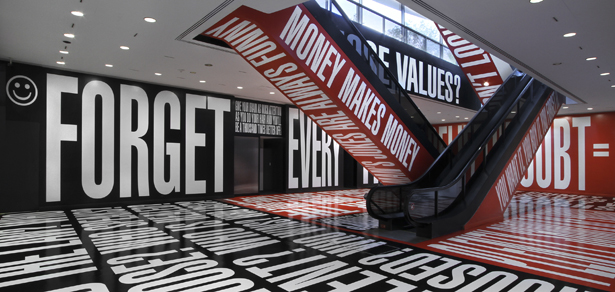 Barbara Kruger, Belief+Doubt, 2012. ©Barbara Kruger. Photo: Cathy Carver
Some written words we are obligated to obey ("No Parking"). Others we might turn away from ("Homeless, Please Help"). Then there's the everyday Metro dread ("If You See Something, Say Something") and the renegade thought-provokers ("Take Your Pleasure Seriously," scratched into cement near Dupont Circle).
Throughout her career, conceptual artist Barbara Kruger has deployed the written word with drama, through massive text laid over stark images on billboards, murals, and large-scale installations. Lately, the New York- and Los Angeles-based artist has taken to "wrapping" entire floors, elevators, and rooms of world-class museums and galleries with her works—huge, white type on bold red-and-black backgrounds, printed on industrial vinyl and applied in neck-craning ways that engage the viewer in a distinctly challenging, physical experience of language.
"Belief+Doubt," opening this week at the Hirshhorn Museum and Sculpture Garden in Washington, D.C., is Kruger's latest room-wrap project, an immersive piece that covers nearly every surface of a busy pass-through space on the museum's lower floor. The commissioned work, which will stay installed for three years, is literally unavoidable: Board the escalator down to the smaller galleries, and "DON'T LOOK DOWN ON ANYONE" looms above your head. Check your coat, and you're pondering Malcolm X: "GIVE YOUR BRAIN AS MUCH ATTENTION AS YOU DO YOUR HAIR AND YOU'LL BE A THOUSAND TIMES BETTER OFF." Need to use the bathroom? You'll face a wall of confrontation ("FORGET EVERYTHING") before noticing the tiny smiley faces Kruger has placed to indicate the W/Cs.
It's an overwhelming sensory experience, and that's calculated: To have to bend, duck, walk across and adjust one's eyes to make sense of the piece is to be forced to engage with its content. (On a recent visit, a pair of art-loving parents wheeled their infant son onto part of the installation's floor—"WHO DIES FIRST? WHO LAUGHS LAST?"—only to have him start bawling immediately.)
MORE ON DESIGN
"I think my work engages a public audience because I am that audience," says Kruger. "I have a relatively short attention span. I think there's an accessibility about my work that people respond to. I understand what it means to read standing up or read in public."
Kruger's aphorisms pack as much of the punch as her aggressive visuals do. Part of that is a nervy (and often unnerving) use of direct address. The viewer is instantly implicated in the work, and dodging the conversation is impossible.
"WHEN WAS THE LAST TIME YOU LAUGHED?" demands a panel near the ladies' room. It's kind of a personal question. Are you being encouraged to recall a fond memory? Chastised for living your life all wrong?
"Direct address has really been a motor of my work," she says. "A lot of these are questions we should all be asking ourselves, just about the struggle to try to live an examined life."
For all her wit—the Hirshhorn piece travels into the gift shop, where wallets and bags she designed will be for sale as text chides, "CRAVE IT BUY IT FORGET IT"—Kruger is a doubter. And she wants you to be, too.
"Doubt is important. And for some people, it's something to be feared," she says. "I think doubtlessness can be very scary. The world has changed. Access to so-called information has changed. It's changed the way we read; in fact, most people don't read anymore, except for things that are short."
Kruger, 67, has been wrapping rooms this way for more than 15 years, with recent installations at the Schirn Kunsthalle in Frankfurt and LACMA in Los Angeles. The pieces are a bridge of sorts between her early, more "guerrilla" public works—large-scale billboard silkscreens and murals—and the more gallery-geared video pieces she began working with in the 90s. Multichannel installations such as 1997's "Power Pleasure Desire Disgust" and 2010's "The Globe Shrinks" expanded on Kruger's use of phrases and direct address, with projected text and overlapping loops of live subjects speaking directly to the camera.
"I like to engage the public out of doors and in the gallery realm, too," she says. "Its important to deal with as many sites as you can to make your meanings. I enjoy art as commentary, as reports of what it means to be alive, whether it's painting or sculpture, video, film, everything."
Kruger has long used her work to comment on broad themes of gender (1987's "Untitled (We don't need another hero)," a red stripe of text cutting through a '50s images a little boy flexing for a small girl); commercialism (1987's "Untitled (I shop therefore I am)," a phrase both funny and empty); and the overall experience of being a human (1996's "Don't Be A Jerk," timeless advice laid over an image of an open eye glaring right at you). Her pithy wording and incongruous imagery choices let messages lodge in the mind the way advertisements do—unfolding later into the fullness of their open-ended meaning for each viewer.
"But I do think certain works are more coded than others within subcultures—within the art world, say. It's possible to make work that's coded within discourses in the art world, but also to have people who are civilians understand it."
Some of her more public works—such as 1989's "Untitled (your body is a battleground)," designed in support of the 1989 March for Women's Lives, which subsequently became a popular T-shirt and mug design—leave little to be misunderstood even without an MFAs or gender studies degree; they work because they are blunt and visceral. Her videos, however, unavoidably contain that power inside a gallery space that is less accessible. (The scant bootleg YouTube clips of "The Globe Shrinks" can't replicate the sensory experiences the works were designed to elicit.)
But in part, Kruger moved into video out of necessity: Printing technology just hadn't caught back up with the quality she required for her text works.
Her first large-scale gallery installations were silkscreened the way her earlier billboards were, at the largest industrial-screening facility in North America, serving the billboard-advertising industry. The works were expensive, but the resolution was "gorgeous," Kruger recalls. The facility closed as industrial printing went digital, the results of which looked fine, from a distance at least.
"But when you're in a close-up reading in a gallery, you don't want a bad digital reproduction," she says. "It just sucked, and it was expensive. I stopped doing large-scale vinyl works because I couldn't stand the way it looked for a while. It took a good six years for digital to get to the level of resolution I wanted."
Kruger's typographical choices have also evolved with her shift to vinyl; her early works were rendered in a version of Futura (a sans-serif perhaps best-known today as IKEA's initial font), often with a red banner of type laid over a black-and-white archival photograph, while her room-wraps are a version of Helvetica (another sans-serif you know as American Apparel's font), filling walls and floors with letters stretched up to 12 feet high.
It "sets better," according to Kruger, but the type-heavy layout of the Hirshhorn show (a few eyes peer at you from the tiles of the gift shop floor, but there are few other images in the show) has a Russian Constructivist feel and an overall aura of insistence that its message be heard. Does the size of the work correspond with some increased anxiety about our increasing disconnection from the written word?
Kruger says it has more to do with getting people to interact with a space. "A lot of spaces that would be problematic for some people are just a pleasure for me. I see taking the space and activating it as a form of problem-solving."
(Museums themselves could be considered "problematic spaces" for Kruger. In July, Kruger resigned from the Local Angeles Museum of Contemporary Art's board of directors along with photographer Catherine Opie and painter Ed Ruscha in protest of recent staffing and programming changes put in place by museum director Jeffrey Deitch, who came to the post in 2010. A letter she and Opie wrote to Deitch decried what they saw as "a crisis in cultural funding" at the museum and beyond its walls.)
Many of the phrases in "Belief+Doubt" have cycled through previous permutations of Kruger's works, though they very much feel as if they address the rhetoric of a specific time and place: the nation's capital in an election year. ("A RICH MAN'S JOKES ARE ALWAYS FUNNY" is not a Mitt Romney jab, for instance.) But her work has always explored systems of power, with language that is perennially relevant.
Take the "Occupy"-esque feel of some of the work's content: One of Kruger's own aphorisms ("IT'S A SMALL WORLD BUT NOT IF YOU HAVE TO CLEAN IT") finds an echo in a nearby quote from post-colonialist theorist Homi Bhabha: "THE WORLD SHRINKS FOR THOSE WHO OWN IT." The phrases seem to speak to this particular cultural moment, but Kruger has been working with these themes for years.
"Power manifests itself in so many ways, whether you're in the board room or the bedroom," she says. "It's a thrill to take discourse which usually has a much more academically coded audience and bring it to a broader audience."
"My work has always been about how power circulates through culture," she says. "I remember I did an installation in 1994 in [New York], and in 2003 I re-did it in [Switzerland] and everyone wanted to know if it was a comment on 9/11. It had the phrases, 'Think like us. Love like us. Pray like us. ... What I hate deserves it.'
"I'm not saying I'm prescient," she says. "But I do try to do work about how we are to one another. All of these texts are contestations, the things that have made the world go 'round for the past however many centuries."