The Super-villain's Dress-Code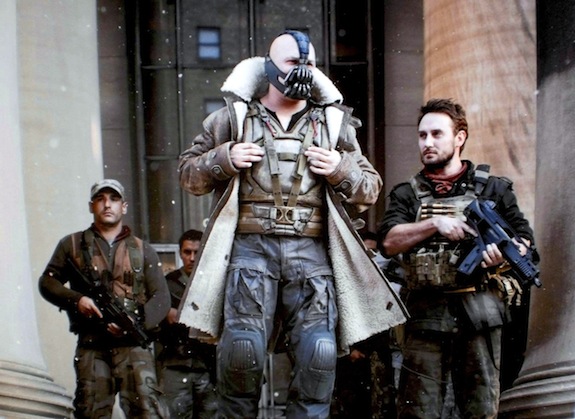 This post over at GQ combines two of my favorite things--fashion and preposterous evil. Like a lot of admirers of The Dark Knight Rises, I was partial to Bane's shearling which he rocked with all the swagger of Big Daddy Kane, circa 88. The movies fashion designer Lindy Hemming explains how they came up with coat:
It was the first coat in our research of military wear, the type people would wear in Eastern Europe or Northern Pakistan, where [mercenaries] find military surplus and wear it. I found a fantastic shearling Swedish winter coat, which their army wears, and we used that as our first model. [The Dark Knight Rises director] Chris Nolan thought there was an element about Bane that was of the French Revolution. There was kind of a romanticism about him, as well as being very bad. [laughs] So I tried to combine the jacket with a French Revolutionary-style high-standing collar, which goes up and then comes back down. Then of course, while we were getting into it, an issue of GQ comes out with the best coats you've ever seen in your life with one that looked similar. So that did not make us very happy, but I think hardly anyone picked up on it.  
I agree with GQ, you may not understand everything Bane is saying, but his jackets
are badass
.