The Summer Olympic Sports of the Future
These eight emerging events are knocking on the International Olympic Committee's door.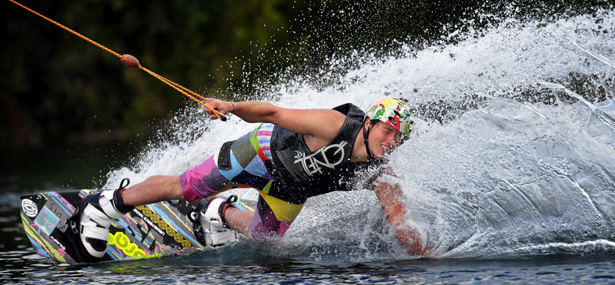 AP
"Maybe next time." Sometimes it's all Olympians can say in the closing stages of the Games—be they the McKayla Maroneys looking for redemption or the Missy Franklins hungry for more 24-carat hardware, athletes will undoubtedly travel home with their thoughts on the Games to come.
They're not alone. With the 30th Olympic Games over, athletes and spectators alike are looking ahead to the Games of the future. At the next Summer Games, rugby and golf will both award medals for the first time since 1924 and 1904, respectively. It's an exciting development, to be sure—but for every elated Rory McIlroy, there's a disappointed Nicol David still waiting for a chance to get on the medal podium.
When the International Olympic Committee meets in Buenos Aires next year to vote on the sports of the 2020 Olympic Games, eight sports will be vying for a single open slot on the program. Baseball and softball, booted from the Olympics after the 2008 Games, will be lobbying to win their spots back; meanwhile, six other emerging sports will be knocking at the Olympics' door, hoping for a shot at newfound Olympic glory.
So here's a brief overview of the potential Summer Olympic sports of the future: Karate, wushu, squash, roller sports, sport climbing, and wakeboarding are all shortlisted candidates for the 2020 Olympics—and since lacrosse and mixed martial arts have both thrown their hats into the ring for future Olympic inclusion, their chances are worth mulling over as well.
SQUASH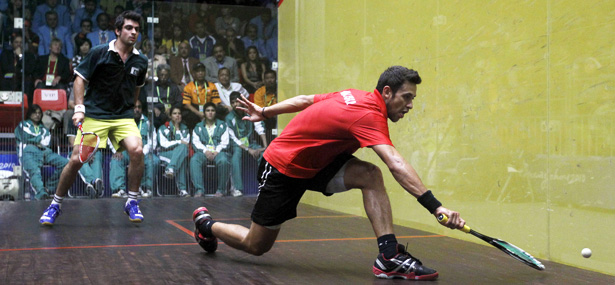 AP
Why it's a contender: The third time's the charm—or at least, that's what the World Squash Federation should keep telling itself. The 2020 petition will be the third consecutive bid by the federation to become a medal-awarding sport. Right now, there are 22 different countries from four different continents represented in the top 50 men's players, and the sport has been played in the Commonwealth Games since 1998. Considering that its distant, far less worldly cousin table tennis already holds a spot in the Olympics, the exclusion of squash from the Games does seem a little unclear. After suffering two heartbreakingly narrow failures to receive a majority vote, worldwide squash leaders finally decided to try something new: The WSF hired Olympic bid strategist Mike Lee, the man who put rugby back on the map for the 2016 Games in Rio, to maximize their chances before they present their case to the IOC next year. The international federation has also proposed a TV-friendly court with glass walls to sweeten the deal for sponsoring networks.
MORE ON THE OLYMPICS
What's working against it: Very little, at this point. In fact, it remains a mystery why squash's previous two Olympic bids were denied, even to squash analysts like The Telegraph's Rod Gilmour. "Previous administrators were told all they had to do was apply to the IOC and they were in," Gilmour wrote in an e-mail, and compared squash's last-minute failure to receive the controversial two-thirds majority vote to "falling at the last hurdle." Gilmour suspects the IOC saw opportunities for profit in the other sports bidding for 2016 inclusion—hence the selection of rugby and golf. This time, though, he wrote, "if the sport doesn't get in, real questions have to be asked of the Olympic ethos and equality."
KARATE & WUSHU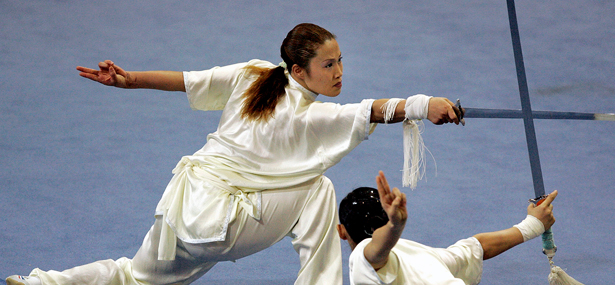 AP
Why they're contenders: Wushu and karate, full-contact martial arts with roots in China and Japan, respectively, have both flirted with Olympic medal competitions in the past, neither one successfully making it official. Karate was expected to become a medal sport after its inclusion as a demonstration sport in 1992; similarly, Chinese martial-artists' ears pricked up after a wushu tournament took place alongside the Beijing games in 2008 (though IOC president Jacques Rogge was quick to point out that the tournament was in no way officially affiliated with the Olympic Games).
A lack of global appeal certainly won't be an obstacle for either discipline in getting to the Olympics. Karate is practiced by more than 100 million athletes in 180 countries, while wushu, known in some circles as kung fu, is most famous for being the preferred fighting style of Bruce Lee, Jackie Chan, and, of course, Kung Fu Panda. Additionally, competitive wushu, according to a 2008 report by China Daily, has metamorphosed over the years into "a graceful art similar to gymnastic floor exercises"—gymnastic floor exercises with "full-contact sparring," "punching maneuvers," and "flashy Chinese sabers," that is. In other words, concerns over TV appeal sit squarely between slim and none.
Both martial arts would be relatively cheap additions to the Olympic program; competitions can be held in the same arenas as gymnastics and other martial arts events. Its global following could mean an opportunity for smaller nations to medal. And if Tokyo is chosen over Istanbul and Madrid to host the 2020 Games, karate may enjoy a special home-country advantage at the selection stage.
What's working against them: The Summer Olympics already awards medals in judo and tae kwon do—to include a third martial art might seem excessive to some IOC voters. Many also blamed the World Karate Federation's moratorium on member clubs associating with non-members for karate's failures to be admitted as a medal sport in the past.
ROLLER SPORTS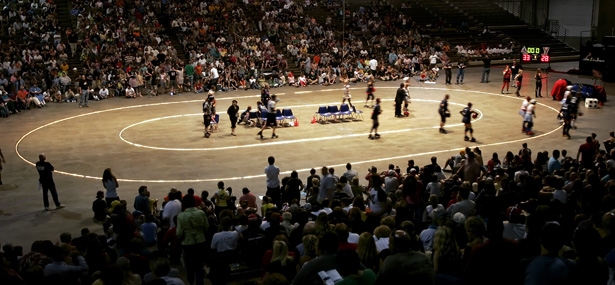 AP
Why they're a contender: A sport group that includes rink hockey, inline hockey, inline speed skating, artistic roller skating, and, perhaps most notably, roller derby, the roller sports category's bid for the Olympics has garnered more than a few eye-rolls along the way. But before you scoff, consider this: One crucial feature that roller derby in particular brings to the table is its popularity among women. The sport has sobered up its image since its hot-pants era in the 1960s, and its revamped, feminism-aligned popularity in recent years (as emphasized by films like Whip It and Derby, Baby!) continues to spread to women across North America and Europe. Some might even say, too, that the Olympics committee owes one to the world of female-fueled sports—the IOC did, after all, eliminate softball after the 2008 Games.
What's working against it: Like squash, roller sports may be passed over for profit-margin reasons: As CNN's Paul Gittings pointed out in 2009, the IOC doesn't stand much of a chance to make money off of roller sports. Many roller derby leagues, too, maintain a lingering penchant for outlandish costumes and bawdy nicknames—so it may still be awhile before the IOC deems the sport suitably rehabilitated for international play.
MIXED MARTIAL ARTS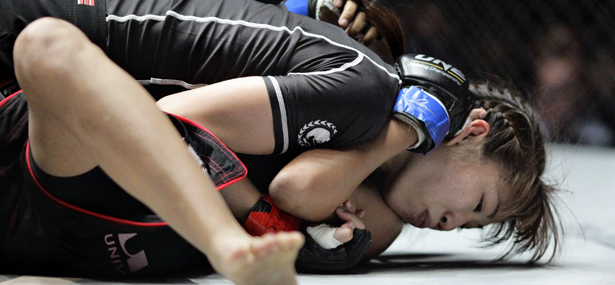 Reuters
Why it's a contender: Few developing sports enjoy the sweeping international appeal that mixed martial arts, or MMA, does. Developed in the mid-'80s in Japan, the aggressive full-combat sport rapidly made its way across the Pacific; by 1993, MMA had found its audience in the arenas (and the Pay-Per-View channels) of the United States. Because of its combination of elements from hand-to-hand combat traditions from all over the world, mixed martial arts training centers then began to spring up in all corners of the globe: today, Brazil, India, Russia, the Phillippines, Japan, the Netherlands, Sweden, and others are home to thriving MMA bases.
Dana White has stated that he not only wants to make a push toward Olympic inclusion but also toward NCAA-level competition, though he hasn't specified a time frame. "If you think about it, in boxing you get punched in the head and body, in judo you can do throws and submissions, taekwondo, you can kick and punch, and in wrestling, you can do takedowns and throws," White told a reporter from TMZ earlier this week, pointing out that all of the aforementioned are current Olympic sports. "You're just putting them all together." And MMA is already drawing fighters from a pool of would-be competitors in other Olympic sports: champion bantamweight Ronda Rousey, for instance, medaled in the 2008 Olympic Games in judo, while her compatriot and fellow MMA fighter Matt Lindland owns a silver medal in Greco-Roman wrestling.
What's working against it: The Olympics may not be able to handle MMA's intensity. According to Sports Illustrated MMA analyst Jeff Wagenheim, the rigor of the sport stands in the way of practical competition, for one: "In the old days of the UFC, events were one-night tournaments in which fighters competed two or three times in a single night. But these days top-level fighters take months between fights," Wagenheim explains. "It would be a challenge to fit the whole medals competition within a two-week Olympics window."
To aid with turnaround time, Wagenheim anticipates that the rules of MMA would have to be altered in much the same way that the rules of boxing had to be altered for the Games. "The Olympic competition might be less rugged, more focused on scoring points than knockouts," Wagenheim says.
And then, of course, Wagenheim says, there's "the image problem." MMA's progress was stalled for a few years in the mid-'90s after Arizona's Sen. John McCain decried the unabashedly gory sport as "human cockfighting" and urged state legislators all over the nation to ban it. Rule-tweaking followed, and Dana White's acquisition of the UFC put several streamlining measures in order. McCain later changed his mind, but some IOC members in favor of a family-friendly, telegenic Olympics might still balk at allocating funds and prestige to one of bloodiest sports in the modern era.
LACROSSE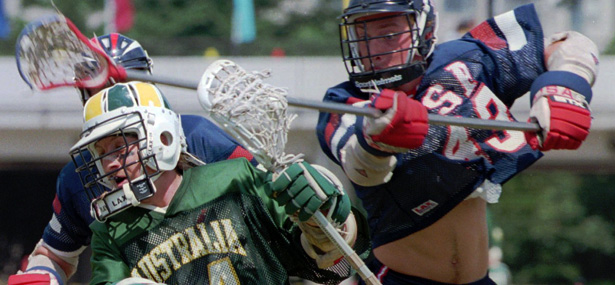 AP
Why it's a contender: Lacrosse, a relic from the Olympic days of yore, is experiencing something of a renaissance. The sport saw its NCAA prestige and youth participation numbers in the U.S. increase at astonishing rates in the years between 2001 and 2010—and with its wildfire spread across North America, Australia, and parts of Europe over the past decade, it was only a matter of time before lacrosse rejoined the Olympics conversation. In 2008, the Federation of International Lacrosse formed, merging the women's and men's international lacrosse federations into a single global governing body—a wise first step toward Olympic inclusion on its organizers' part. The FIL gained official recognition from SportAccord, the Switzerland-based umbrella organization aimed at organizing and promoting international sporting federations, both Olympic and non-Olympic alike, just last month.
What's working against it: With its expensive, extensive list of required accessories and equipment, lacrosse sits squarely within the upper echelons of "elite" sports. Put more plainly, it's a sport with a hefty price tag, which makes it glaringly obvious why lacrosse's presence is more pronounced in Canada, Australia, Great Britain, and the United States (U.S. teams are top-ranked in four of the five categories listed by the FIL). Less wealthy nations, by contrast, would likely be dwarfed on the lacrosse field by these deep-pocketed titans of the game, and with the recent addition of golf, another historically high-society sport, the inclusion of lacrosse would be difficult to justify.
SPORT CLIMBING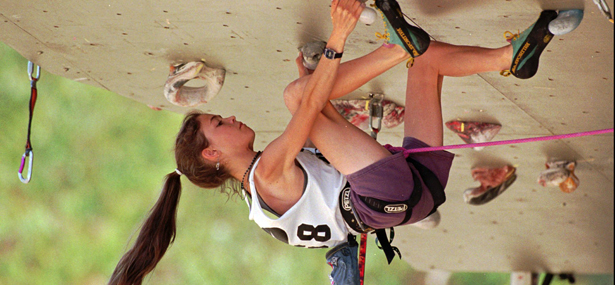 AP
Why it's a contender: When Marco Scolaris, president of the International Federation of Sport Climbing, talked to the climbing website Planet Mountain in 2010 about climbing's bid to be in the Olympics, he described the sport as "primordial." An odd choice of words to describe a growing athletic discipline, but he has a point: The tradition-reverent Olympic committee clings dearly to ancient, simple muscle-vs.-gravity sports that harken back to the ancient Greek Olympics (see: Greco-Roman wrestling, the entire well-preserved catalogue of track and field events). "Climbing is one of man's basic movements," Scolaris pointed out. Madrid's candidacy, too, could be a boon to the climbing's Olympic bid: Spain is renowned for its vast selection of climbing locations.
The IOC has also been impressed with the sportsmanship demonstrated between climbers, according to Scolaris: Upon observing a climbing competition, the officials were pleasantly surprised to see athletes from different countries exchanging pointers and tips before a route. "If that isn't Olympic spirit," he asked, "what is?"
And in its own little way, climbing would actually be making an Olympic comeback: alpinism (or mountaineering) awarded medals back in the age when aeronautics and the arts did, too (albeit in the Winter Games). In fact, the first IOC president, the Baron Pierre de Coubertin, actually suggested putting the medals at the summit of Mount Everest to be claimed by the first, second, and third climbers to scale it. But the alpinism events never made it anywhere near Everest—or, for that matter, anywhere past the 1948 Games.
What's working against it: Several types of rock climbing have been mentioned as potential Olympic contenders, among them speed climbing (in which a climber races up a wall), bouldering (the climber ascends on a large natural boulder without a rope) and lead climbing (the climber ascends while connected by a rope to a partner, or belayer, who anchors him or her from below). So the specific dangers and detractors of sport climbing's Olympic bid are, at this stage in the process, murky at best. An already glaring obstacle, however, is the sport's narrow popularity: "What we're missing," Scolaris explained in 2010, "is media coverage to render competitions real events."
WAKEBOARDING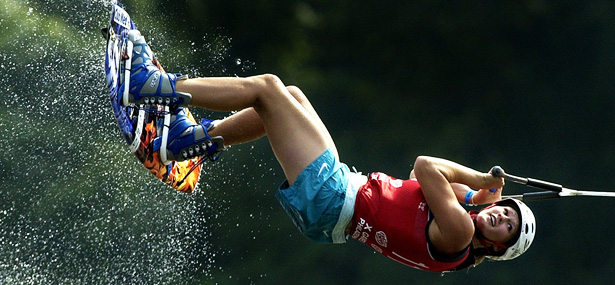 AP
Why it's a contender: Wakeboarding makes a stronger case for Olympic inclusion now that the sport has lessened its dependence on motorized boats: Cable wakeboarding, in which the athletes are pulled by an overhead cable around a "cable park" (something like a watery skate park) rather than behind a boat, levels the playing field once and for all. According to the International Waterskiing and Wakeboarding Foundation, the legality of any sport relying on mechanical propulsion was a concern in early discussions of wakeboarding's Olympic potential (though the IOC did eliminate that rule from its charter, accepting that speedboats could be considered technical support for the competition).
"Wakeboarding is a young, new sport, and that's just what the Olympic committee's been looking for," says Jim Grew, vice president of the International Waterskiing and Wakeboarding Federation. "They added snowboard, they added snowboard cross, and they added BMX. So they like what's popular and what can bring in the youth demographic." A former Summer X Games sport, wakeboarding is proven to attract viewers with its eye-popping aerials.
What's working against it: According to Grew, cable wakeboarding hasn't caught on uniformly across the globe, which could cause problems in competition parity. "It's mostly practiced in Europe, Australia, and North America," Grew says. While Germany alone boasts more than 70 cable wakeboarding systems, far less cable wakeboarding takes place in Asia and Africa. Wakeboard competitions were also scrapped from the X Games program in 2006. Grew attributes that to the sport's transition from speedboats to cables. But wakeboarding hasn't had an X Games appearance since—an ominous sign for its Olympics viability.