The NFL's Preseason Farce
The fans, players, and coaches all hate exhibition games—but the owners keep the ritual alive.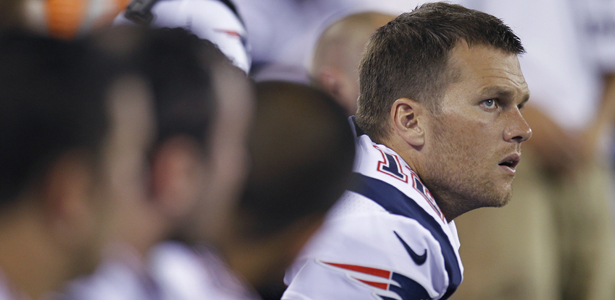 Reuters
Pro football is filet mignon, Sean Connery as James Bond, a trip to Hawaii. Preseason pro football is tofu burgers, Roger Moore as James Bond, the Jersey shore.
The press hates preseason football. The fans hate it, though they'll watch it if there's nothing else on. Players hate it because they could are at risk for career-ending injuries in meaningless games. Even gamblers hate preseason football; with so many rookies and scrubs shuttled in and out of lineups, no one can make realistic point spreads.
Preseason football exists for one reason: The owners want it. They want it because they don't have to share the revenues with the players, whose salaries do not kick in until the regular season starts and are only paid training camp rates for the exhibition games. The players are there pretty much gratis.
Many have suggested that a more sensible approach than the current system would simply be to take the four weeks of preseason football and let the games count as part of the regular season. During the 2011 NFL lockout, one of the owners' first demands was for an 18-game regular season, of course without additional compensation for the players, but that demand was eventually dropped. The owners are perfectly happy to keep all the profit from 64 meaningless preseason games rather than split the far bigger bucks from 64 real games.
If you wonder who did that math for the team executives, remember that little more than 60 years ago a number of team owners still thought that putting football games on TV would cost them money by infringing on ticket sales. Today, TV revenue outstrips revenue from ticket sales, parking, concessions, and souvenir sales by about 12 to 1.
MORE ON FOOTBALL
The late great San Francisco Forty-Niners coach Bill Walsh once explained to me why the preseason was his least favorite part of the year.
"There's only one rationale for playing football games before the season begins, and that's to prepare the players for the coach's schemes and to show the coaches what new players can do in those schemes. But you really don't do that. You're so afraid of your most valuable players being injured that you end up shuffling them in and out of the lineup as fast as you can. So, often you end up starting the season as ignorant about new players, new formations, and new plays as you were the first day of training camp."
Stated another way, pro football's preseason is the opposite of baseball's spring training. The purpose of spring training is for veterans to bounce back from old injuries and for new players to work their way into the lineups by showing their stuff. In pro football, it's the opposite. Coaches are afraid of tipping their hand on new strategies and new players before the games count, while veterans don't play at full throttle for fear of injury and rookies can see their careers go up in smoke with one hit. (The current NFL injury report lists over 200 players out or questionable with everything from concussions to torn knees to broken bones..)
Everything that is wrong with preseason football was in vivid display last Sunday night when the New York Jets lost to the Carolina Panthers 17-12. Much has been made during the offseason of the Jets' curious decision to acquire a second big-name quarterback, Tim Tebow, and how his talents (which primarily involve running) would complement their three-year veteran QB, Mark Sanchez, supposedly the better passer.
But if the Jets had new plays to run with Tebow—say, run-pass options on short yardage or quarterback bootlegs on third-and-long—they never showed us. Afterwards, a Jets coach meekly explained, "We didn't want to give anything away to our opponents before the season even started." Which left baffled sportswriters trying to figure out how, if they didn't try such plays in preseason contests, they were ever going to practice them under game conditions.
Particularly exasperating for Jets fans who paid regular-season prices for their tickets—season ticket holders are forced to buy tickets to at least two exhibition games—on top of exorbitant parking and concessions prices, was the team's absolute refusal to even try to score its first touchdown in three preseason games. And for many, it was the only game they would get to see in person all year. In the first quarter the Jets moved the ball to the Carolina 17-yard line and, on third-and-five, chose to go for a field goal instead of the first down. In the second quarter, faced with a third-and-goal at the Carolina 3, Jets coach Rex Ryan once again wimped out and brought in his place kicker.
Both calls were met with torrents of boos from frustrated Jets fans. After the game, one told a NBC reporter, "I shelled out this kind of money to watch them practice field goals?"
What, one wonders, would it have hurt the Jets or any other pro team to at least try something new and innovative in what really amounts to a practice game in which there is nothing at stake? When coaches show such a failure of nerve as to kick a field goal from the 3-yard line in a meaningless exhibition, they're letting their fans know not to expect anything more when the games are for real.
Perhaps an even bigger fraud was last night's much-ballyhooed "rematch" of Super Bowl opponents, the NFC champion New York Giants and AFC champion New England Patriots with their star quarterbacks, Eli Manning and Tom Brady. In the stupefyingly boring 6-3 victory by the Giants, Manning left the game early in the second quarter , and Brady's cleats never touched the artificial turf of MetLife Stadium. TV viewers saw more of them in commercials than they did on the field.
If you bought this farce as a genuine rematch and wasted good time watching it, you deserved what you got. And if you paid money to see this dreary display of desperate third-stringers trying to grab a roster spot, then you're probably the type who, like the losers in the movie Big Fan, tailgate and then watch the game on a battery-powered TV in the parking lot. And at fifty bucks a pop for parking, who can afford to do that?