Should Missy Franklin Go Pro or Go to College?
The 17-year-old swimmer could make lots of money from endorsements—but then she'd be ineligible to compete in college.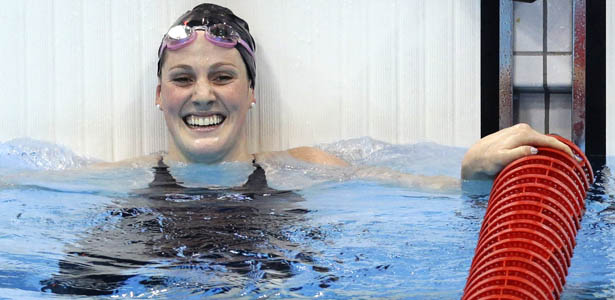 AP Images
Missy Franklin has a big decision to make. She is the first American female ever to qualify and swim in seven Olympic events. At the London Games she captured five medals—four gold—as well as the hearts of swimming fans who welcomed her bubbly personality into their homes. Now that the Games are over, she could be in line for an enormous payday: The estimates of what she could earn from potential endorsements range between the hundreds of thousands of dollars to a couple million.
But the NCAA prohibits athletes from accepting sponsorship and advertising money if they want to be eligible to compete in college. So the 17-year-old American swim sensation has to make a choice: Should she go pro and cash in on her Olympic success, or should she resist the lure of financial rewards and instead reap the benefits of going to college?
"It's definitely been hard turning down some money," Franklin told me before leaving for London. "It's been not fun at all."
Now that Franklin has successfully competed on the sporting world's largest stage, those financial opportunities have grown. Franklin and her parents have stayed open to the possibility of Missy turning pro and taking some of the offers now pouring in. But they've also made it clear that she wants to swim in college. Franklin has said that being a member of a team is the best part of her experience as a swimmer.
"Swimming high school has been huge, and having that team was just eye-opening for me," Missy said before the Olympics. "I've heard so much about college swimming. It just seems like the ultimate team."
MORE ON THE OLYMPICS
Unlike athletes in other Olympic sports, swimmers, like volleyball players, often attend college to further develop their abilities—and earn a degree. The choice to sign professional contracts for another new American new star, 16-year-old gymnast Gabby Douglas, was easy because of the nature of the sport and lower level of competition in college. The individual all-around gold medalist and a member of the gold-medal winning American team inked a deal with Kellogg's faster than she could say, "They're Gr-r-reat!" But Franklin's decision is not as clear-cut.
"I think she's really looking forward to the whole recruiting process," said Franklin's mother, D.A. "Going and visiting with a lot of girls she already knows at the colleges, seeing how they're living, what the situations are like, and then going to college and being a part of all that."
D.A. worries about the added responsibilities that come with going pro at such a young age: making appearances and swimming under additional pressure to perform. Her daughter might miss out on the advantages of being amateur that helped her make it to the Olympics in the first place.
"You'd hate to see her lose the excitement and the fun and the energy," said D.A.
The Franklins' decision has become national news: Will she or won't she?
"It is so much like the decision an underclassman makes to stay in school or go pro," said sports agent Leigh Steinberg, who has worked with several high-profile athletes, from Olympians such as ice skater Brian Boitano and gymnast Kerri Strug to NFL quarterbacks Troy Aikman and Steve Young.
Steinberg actually believes Franklin could make more money if she can afford to wait to turn professional until the next Olympics in Rio de Janeiro.
"I bet you she'd be better compensated not taking these deals, but waiting until that profile builds more," said Steinberg. "Had Aikman or Young taken every single thing they were offered, it was eclipsed by what they made over the couple years after their Super Bowl. Instead of signing a deal for $25,000, they signed a deal for $200,000 that's got the potential to be a long-term deal."
Steinberg added that he believes, of course, there is other real value in attending college, especially when someone is college-aged.
"Remember that college is possible when someone is in their 20s or 30s or 80s, but it's much more difficult to go back at an older age," he said. "This may be the best one shot for these Olympians to have a normal college experience. If Missy Franklin wants to go to school, bravo for her, and nobody who doesn't live inside her heart and mind should criticize it. It's her individual decision, and we've come to a cynical point of view with bad values to tell someone that they ought not to go to college."
Even before setting foot in London, Franklin recognized the magnitude of her forthcoming decision, no matter which way she goes.
"These things only happen once," she said, "so you have to make the most of them while you have them."