Sax at Dawn: The Dazzling Lost Songs of Jazz Pioneer Coleman Hawkins
The first icon of the genre's most iconic instrument gets his due in a new collection.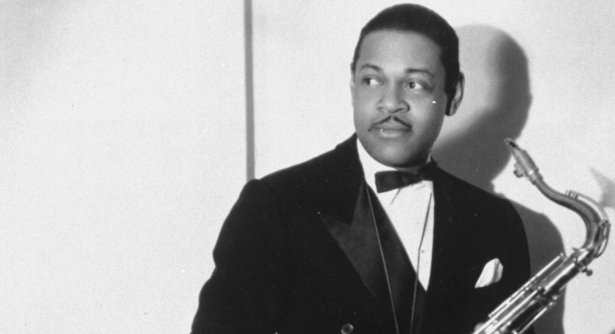 AP Photo/RCA Victor
There are few greater enticements for a jazz fan than a spirited debate over who, exactly, is the most important tenor player in the medium's history. Trumpeters, drummers, singers, and pianists, naturally, are rated and re-rated any time two or more fans—or one critic—gets together, but there is something both ancient and progressive about the tenor sax that makes it jazz's most emblematic instrument. If the genre ever had need to market itself like a sports league with a snappy avatar, it would surely feature a heavyset black man, in shadow, legs bent, back arched ever so slightly, eyes closed, as he soloed on into the night.
John Coltrane tends to dominate these discussions. It is better to be a titan of Modernism with a penchant for disregarding tonalities than it is to be old-timey and what younger ears might regard as fusty. Coleman Hawkins, a.k.a. The Hawk, alas, has been seen as fusty for far too long. Swing music—and Hawkins did swing, in ways no one had before—often gets that tag, conjuring images of jiving hepcats: white professors in tweed, snapping their fingers slightly out of time while uttering "Go, daddy, go." If your great grandmother ever wanted to cut a rug, politely, there was swing music to abet her.
But thankfully for Hawkins's legacy, there's Mosaic's recently released, eight-disc Classic Coleman Hawkins Sessions 1922-1947. Hawkins, you might say, has suffered some discographical blues. If you ever took a jazz class in college—or if you can name a dozen jazz cuts—you probably know Hawkins's "Body and Soul" from 1939. Like Coltrane's "Giant Steps," Louis Armstrong's "West End Blues," and Charlie Parker's "Ko-Ko," it's a jazzy Dead Sea Scroll—hugely influential. Beat? Melody? Who needs 'em. The Hawkins of "Body and Soul" was pure rhythm, tethered only to the limits of his own imagination—limits that, on some occasions, seemed not to exist at all.
More comps than I have ever been able to keep track of sprung up around "Body and Soul." You'd almost think Hawkins was a one-hit-wonder, with a few lesser gems—like the unaccompanied "Picasso"—venerated more by fellow musicians than they were enjoyed by garden-variety listeners. Hawkins took fresh flight in the 1950s, playing on a spate of blowing sessions, the recordings of which have long been easy to come by. You get the Hawk on those recordings, sure enough, but he's less plucky of a bird than he was before—grandfatherly, almost.
But a lot of the music on this set hasn't been so easy to come by. You could have gone scouring and found the bulk of it, though your friends surely would have questioned the outlay of effort and money in your Hawk-based odyssey. What we're treated to is twofold: a seat around the birthing table for tenor-saxophone art's first moments in this world, and a strain of modernism that could hold its own in a cutting session with James Joyce, Picasso, and Stravinsky.
MORE ON MUSIC
What the Hawk gets up to on sides like "Wherever There's a Will, Baby," from November 1929, and "I Can't Believe That You're in Love with Me," from summer 1931, will do your head in. The former seems to be a mere punchy, upbeat tune with tight ensemble work. But when Hawkins commences his solo, it's like we've wandered into one of futurism's back corridors, with one effervescent, emboldened line building on and incorporating all the others that have come before, until it is hard to believe that this solo ever had a start or that it could have an end. Rather, what we're fronted with is a shimmering totality of sound. The solo in "I Can't Believe That You're in Love With Me"—a sloping, gentle ballad, on the face of it—is practically proto-punk, a series of sonic striations underscoring the singer's heartache, and probably making him better aware of its true depth.
Jazzers love to talk about tone. Without an enviable one, there's only so far you can go, and the tone on display throughout this box is as deep-bottomed, rounded, and buttery—while still forceful—as tone gets. Calfskin, threaded with wires of steel. Coupled with Hawkins's technique, it's also a capable redeemer of would-be dross, like the lightweight composition, "I Wish I Could Shimmy Like My Sister Kate," which Hawkins tackled in March 1933, unleashing an assortment of prickly, dissonant remarks on the solo that wouldn't be out of place on Coltrane's landmark Ascension album from 1965.
But it's a cut like "Memories of You," from July 1944, that best encapsulates Hawkins's ability to simultaneously surprise, compel, and innovate. He's well into his solo before you even realize it, like he'd come from around the corner of another world, and started blowing his horn in yours. I don't know any moment on any other record like it. Nor do I know what the hell I would have done if I was a tenor player who had to come along and try and follow all of this. But that's what Coltrane and Sonny Rollins are for, and hardly anyone else.