How Poet Laureate Natasha Trethewey Wrote Her Father's 'Elegy'
The story behind the Pulitzer winner's bittersweet, conflicted poem
The story behind the Pulitzer winner's bittersweet, conflicted poem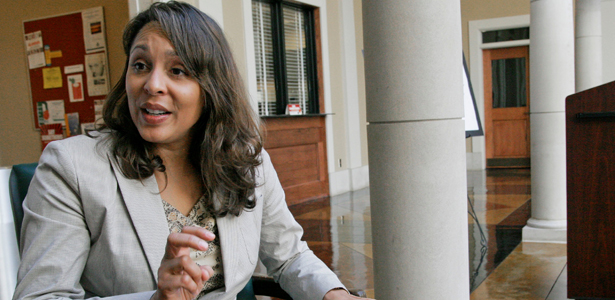 AP Images
Natasha Trethewey was named the 19th Poet Laureate of the United States in June, becoming the first Southerner to receive the honor since Robert Penn Warren, in 1986, and the first African-American since Rita Dove, in 1993. A professor of English and Creative Writing at Emory University, in Atlanta, Trethewey is the author of three books of poetry. Domestic Work (2000), which won the Cave Canem Prize for a debut work by an African-American, is a meditation on working-class life in the American South partially based on her grandmother's life. Bellocq's Ophelia (2002), winner of the Mississippi Institute of Arts and Letters Book Prize, envisions the life of one of the mixed-race prostitutes photographed by E.J. Bellocq in early-20th-century New Orleans. Native Guard (2006), which won the the Pulitzer Prize, centers on a black regiment of Union soldiers assigned to guard Confederate prisoners of war, yet also veers into more intimate reflections, including on the death of her mother, who was murdered while Trethewey was in college. Her next collection of poetry, Thrall, will be published this fall. Here, she shares several drafts of "Elegy," a poem from that collection. Dedicated to her father, a fellow poet, it recounts a fly-fishing trip the two took in his native Canada, and the various ways their lines have become tangled over the years.
---
SIX OR SEVEN YEARS AGO, my father and I were fishing the Miramichi River in New Brunswick. It's a great salmon river. We met a writer friend of his named Dave Richards, a novelist, and Dave hired a guide for us. This was a famous guide who'd taken people like Bill Clinton fishing on the Miramichi. Once we got out there into the river the guide gave us a quick lesson about how to fly-fish, how to cast. We practiced the motions, then we got our rods and started fishing. There was this almost mystical look to the river. It seemed reverent just to be quiet, going through the mist.
I've talked to my father about the trip many times. His memory's kind of bad these days. He doesn't remember, or doesn't want to remember, that I caught these two trout. He's really bothered that I present him in the poem, as he sees it, as someone who's not a very good fisherman. He tried to tell me on the phone the other day that the fish I caught were guppies, and I told him, "Daddy, I've caught a few trout in my life. I know what a trout looks like."
Though he wants to look like an expert fisherman, my father thinks it's a beautiful poem. He says he feels kind of lucky, because most people are not lucky enough to hear an elegy by their child while they're still living. I think it's also a way to be slightly in denial about what else the poem is mourning. Even though this poem is called "Elegy," what's being elegized is not my father's life—he's not dead—but a kind of loss between a father and a daughter, a kind of estrangement. He's casting his invisible lines, slicing the sky between us, and I mean that image to suggest a kind of division.
As much as we love each other, there is some growing difficulty in my adult relationship with my father. Because we're both writers, we're having a very intimate conversation in a very public forum. Before I was ever a poet, my father was writing poems about me, so it was a turning of the tables when I became a poet and started answering, speaking back to his poems in ways that I had not before. My whole life as a child going out with my father, I'd be mid-sentence and my father would take his notebook out of his pocket and jot something down. And I remember, as I got older, wondering, "Was it something I said? What is it that he's recording right now?"
Clearly, this poem represents me now being the voice who's telling the story. At this point in my life, my father's very proud of me, and some of that pride can be difficult for me, because it means that he'd love to able to take as much credit for who I've become as I'm entitled to take. Certainly, he encouraged me and gave me some genes, that kind of thing. But he'd love to imagine that I was like Athena, sprung fully-formed from his imagination. I've tried to use that line in another poem. It still hasn't worked out. It felt like I was branching off into too many directions. But it is about, again, my father's perception of me.
Now, the reader seeing the final draft doesn't know that I have my own secret journal in which I feel "silenced" by my father. The work of the poem is following certain paths and not others. I have to decide whether or not I'm going to reveal to an audience this side of my relationship with my father. When I write notes in my journal, I'm just trying to scribble down as much as possible. Later on I decide whether to follow some of those first impressions or whether to abandon them.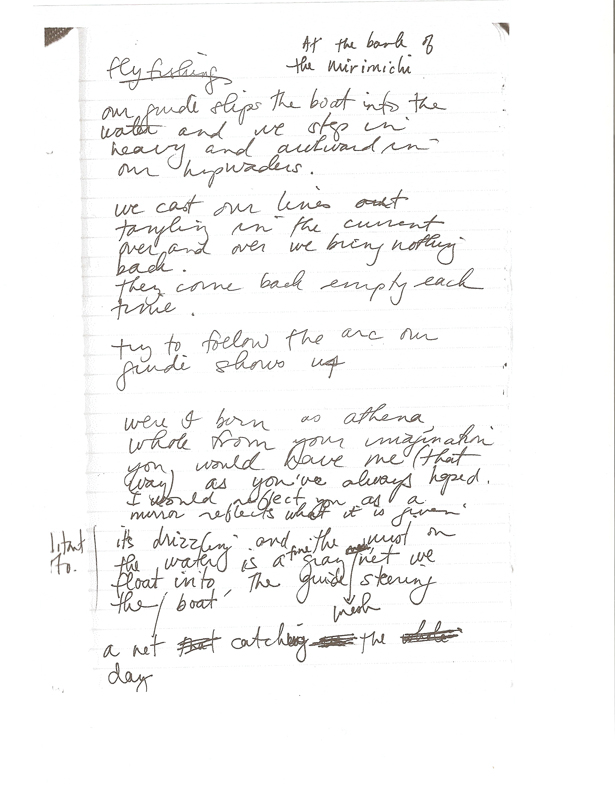 Click the images below to enlarge
Writing [by hand] frees up a mode of thinking that allows me to consider more things without censorship, the way I would censor if I were typing. If I start writing on a computer, I feel that it's official. When I'm actually writing by hand, I get more of a sense of the rhythm of sentences, of syntax. The switch to the computer is when I actually start thinking about lines. That's the workhorse part. At that point, I'm being more mathematical about putting the poem on the page and less intuitive about the rhythm of the syntax.
I like to write in the morning. I developed that habit at Hollins. I'd get up, make my coffee, and write from nine until noon, or until I made a poem, whichever came first. These days, my life is so busy, with teaching and everything else, I have to make the time and find it when I can. When I wrote these drafts, I was on a fellowship at Yale. I can remember sitting in my apartment at my desk reading Claudia Emerson's Pulitzer Prize–winning volume, LateWife. I remember turning the page and reading, "I think by now it is time for the second cutting." It was at that moment that the notes I had written in the journal turned into an actual draft of the poem in its couplets. Her poem was in couplets like that. I opened my notebook. It began, "I think by now the fields must be ... "
I wanted the poem to feel sinewy, like a fishing line, which is why there's a step-down second line that moves away from the first line. Something felt right about it, so the poem never went through any other stanza patterns. That may be an influence from the Claudia Emerson poem. Once I'd filtered the material into that form, it clicked. It was like putting the key in the right lock.
I let a friend of mine read it, a novelist. She made one suggestion, which I did not take. It concerned these lines that are important for the atmosphere of the poem: "drizzle needling / the surface, mist at the banks like a net / settling around us—everything damp / and shining." She didn't think that on a misty, overcast day you could also have things that were shining. And I had to go and find out. I want to be factual about natural details, about science. Once I figured out it was true—as long as there's light, things will shine, even on a gray and overcast day—those lines had to be there. In fact, we're driving through New Orleans in a rainstorm right now, and all the sidewalks are shining.
— Natasha Trethewey, as told to Alex Hoyt
Elegy
for my father
I think by now the river must be thick
          with salmon. Late August, I imagine it
as it was that morning: drizzle needling
          the surface, mist at the banks like a net
settling around us—everything damp
          and shining. That morning, awkward
and heavy in our hip waders, we stalked
          into the current and found our places—
you upstream a few yards, and out
          far deeper. You must remember how
the river seeped in over your boots,
          and you grew heavier with that defeat.
All day I kept turning to watch you, how
          first you mimed our guide's casting,
then cast your invisible line, slicing the sky
          between us; and later, rod in hand, how
you tried—again and again—to find
          that perfect arc, flight of an insect
skimming the river's surface. Perhaps
          you recall I cast my line and reeled in
two small trout we could not keep.
          Because I had to release them, I confess,
I thought about the past—working
          the hooks loose, the fish writhing
in my hands, each one slipping away
          before I could let go. I can tell you now
that I tried to take it all in, record it
          for an elegy I'd write—one day—
when the time came. Your daughter,
          I was that ruthless. What does it matter
if I tell you I learned to be? You kept casting
          your line, and when it did not come back
empty, it was tangled with mine. Some nights,
          dreaming, I step again into the small boat
that carried us out and watch the bank receding—
          my back to where I know we are headed.
---
Read past First Drafts from Wilco, Will Shortz, Stephen King, Christo, and others.