How 'Don't Ask, Don't Tell' Ended Up at a South African Arts Festival
The gory, graphic, and controversial play Moffie depicts the apartheid-era struggles of gays in the military—and was inspired in part by America's political battle over the issue.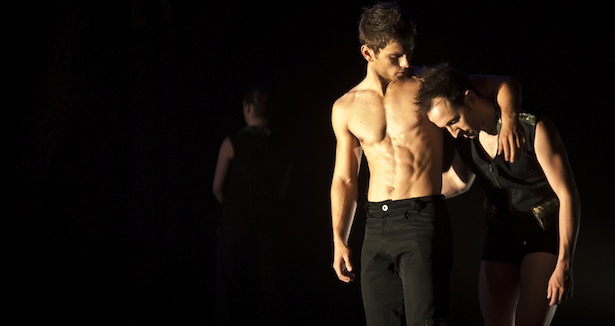 CuePix/Chris de Beer
When President Obama ditched "Don't Ask, Don't Tell" last September, ripples went global. One crossed the Atlantic and found its way to a dance studio in South Africa. There, it reached a young choreographer struggling, at that very same moment, to decide how—and if—he wanted to do a show about his own country's troubled, long-repressed relationship with gay men in the military. This bit of news from America helped him decide, giving him not just the confidence to proceed with the project, but also proof of something he'd already suspected: that this was an issue that transcended national borders.
The resulting show, Moffie, debuted in Grahamstown at the National Arts Festival last month, to equal parts anticipation and controversy—and not just because the full-page ad in the front of the festival program featured a very naked, hard-muscled man with a rifle dangling over his privates. Moffie told the tale of a little-talked about struggle from South Africa's past, using song and dance, graphic violence and sexuality, and references to the GOP presidential primary going on half a world away in the present day. Not everyone would consider it an artistic success—but almost everyone would be talking about it. And that, in part, was the point.
But back in September, Bailey Snyman was only just agreeing to choreograph such a defining piece. It wasn't an easy decision. The National Art Festival—besides being a buzz-making showcase for the country's most promising artistic talents, attended every year by hundreds of thousands of people—had recently named him the 2012 Standard Bank Young Artist for Dance. It would be his job at the 2012 festival to justify that distinction with an original work of dance, arguably the most important of his fast-developing career.
Luckily, the 34-year-old had found his muse in André Carl van der Merwe, author of a book called Moffie. Not a big reader—"Really, I'm not," he adds for emphasis—Snyman surprised himself when he finished the whole thing in a single five-hour sitting. It was the title that first caught his eye: Moffie. Don't go screaming it in a South African market; it's a loaded Afrikaans slur for a gay man. A lot more powerful than "faggot," van der Merwe says. Snyman, who's openly gay himself, knows the evil history of the word. He says it was the one thing he never wanted to be called as a kid. He'd probably still flinch at it today, though he's secure in his sexuality now.
Inside the book, Snyman discovered the story of Nicholas, a gay teenager who's conscripted into the South African army in the mid-'80s, a time when military service was compulsory in South Africa. Few school-leaving white men would escape the long reach of the apartheid government's war-minded, anti-Communist arm. Early in the book, Nicholas reacts to his conscription: "What is certain is that I will suffer, mainly because of my views, my unwillingness, my desires. Only my mother feels sympathy. Her love is larger than politics and the threat of communism taught by my school and my father. Now she only sees her son being sent to war, and nothing is more important." Nicholas does suffer in the war—being gay was simply not tolerated, and openness resulted in banishment to psychiatric wards for alleged "cures." But he also finds love, and himself, in the process.
Not long after Snyman finished Moffie, the announcement came that Obama had repealed "Don't Ask, Don't Tell." These were signs, Snyman told himself. He had uncovered an important South African issue with universal resonances, a story that needed to be told in a new, different way. So he found Moffie's author, van der Merwe, and told him he wanted to adapt the book for dance theater.
Van der Merwe, in person and in print, repeatedly refers to Moffie as a work of fiction, but it's better described as a work of fictionalization. Nicholas's story is, in many ways, van der Merwe's as well. Like his main character, he was conscripted as a teenager and forced to confront not just a cruel, life-altering system, but also his burgeoning—and to his mind sinful—sexuality.
Since publishing the book in 2006 (one of the first works of its kind in post-apartheid South Africa) van der Merwe's has received "at least a thousand" letters. Some come from the most surprising of places: not just gay white teenagers, but tradition-bound Afrikaans farmers and black men. At the end of one letter in particular, a man gave van der Merwe his name and telephone number, saying, "I want you to phone me, because I want to apologize to you personally for all the things I've done to gay people in my life. You've changed the way I see gay people.'" In a library copy of Moffie, another reader wrote an apology on the back cover to all gay people, and just signed it "J." "That really all makes it worthwhile," van der Merwe says.
Less than a year later, Snyman's adaptation of Moffie opened at the National Arts Festival—the hottest ticket in town. Any questions as to whether Snyman would downplay his highly charged subject matter were put to rest in the very first number, in which three dancing pairs—man-man, woman-woman, man-woman—remain lip-locked for nearly the entire sequence. It's followed by an intimate, moving routine between the two central male characters. "It's a gay play," Snyman says, "not gay-themed." Just so: It gets more sexually intense and violent after that, with only a drag sequence to provide a moment of levity. By the end, we've seen fighting, rape, suicide, death.
That night and for the rest of the week, Moffie became one of the festival's most talked-about—and not always in a good way—performances. Cue, a pop-up newspaper devoted exclusively to festival coverage, ran polar-opposite reviews from two well-informed critics. Theresa Edlmann, who was involved in the creation of the nationwide End Conscription Campaign in the '80s and is currently working on a Ph.D. on the psychosocial effects of conscription, called it "innovative, disturbing and lyrical." Charl Blignaut, who remembers this "painful history that I myself had to confront as a young gay man," described Moffie as "a glorified cabaret of commercial dance moves with glitzy sequences of uniformed men in high heels, Disneyfied fantasy sex scenes, hip thrusts set to 'Die Stem' and butterfly motifs," a spectacular failure that "locks us back up in that prison."
Audience members fell either in Edlmann's or Blignaut's camp. Just as soon as someone would call it "moving" or "exquisite," someone else would deem it "bullshit"—as one actress at the festival did.
One of the biggest sources of contention was Snyman's use of American sound bites in the show, including Rick Perry's "Strong" TV ad for his 2012 presidential bid and Rick Santorum's now-infamous debate response to a question posed by a gay soldier.
Wrote Blignaut: "There are many works in Grahamstown that are trying to do what the Truth and Reconciliation Commission never achieved—meaningful discussion about the brutality we lived through so that we can achieve reconciliation in the future. On a political level though, Moffie, the dance version, has been curiously opted to rather address America's issues with gays in the army."
At least people were talking, Edlmann says. Loving or hating it eventually became "kind of not the point. And I think linking it to 'Don't Ask, Don't Tell' is great, because it highlights some of specificities of the South African conscript's experiences, but also the universality of the issue."
For his part, van der Merwe, whose first time seeing the show was opening night, loved it. "The hugest thrill was sitting in the audience and thinking back on those bad days so long ago which gave rise to the diaries that were the foundation of the book that I was now seeing performed in front of me," he wrote in an e-mail from Rome, where he was promoting the launch of Moffie's Italian translation. "At that time of prejudice and fear it would have been unthinkable that something like this would eventually take place."
MORE ON THE ARTS
Why put on the play now, though? Compulsory conscription was officially abolished in 1993, almost two decades ago. Not long after, the post-apartheid constitution outlawed discrimination based on sexual orientation—meaning gays could openly serve.
But as Edlmann points out, it wasn't until the early 2000s that people even began discussing the legacies of conscription, and not until van der Merwe's book that writers and thinkers really began interpreting and analyzing it. Only recently have the media and artists begun dealing with this chapter of South African history, noteworthy as one of the only instances of white victimization under racist apartheid rule (blacks were not conscripted). Edlmann, who cites the publication of J.H. Thompson's collection of conscript narratives, An Unpopular War, as the first instance of this transformation, describes the new openness this way: "The veneer of the rainbow nation was cracking, and so the complexities and bigger stories could begin to emerge."
So Moffie, which will travel to Cape Town, Pretoria, and Amsterdam, represents the latest piece in a newly emerging body of work that confronts long-unacknowledged issues of conscription, service, and trauma. By the end of the play, when the old South African flag is draped over the body of a dead gay soldier, the point is clear: a searing indictment of past wrongs, but also the chance at future forgiveness.
But as Snyman emphasized multiple times in interviews and talks, this is not just South Africa's burden; the legacy of mistreatment of gay soldiers transcends borders. That's why American sound bites, along with references to the Brits and the Middle East, were included in his piece.
Despite considerable progress, it still isn't easy being gay in South Africa, especially outside the major cities. But many liberal South Africans are proud of people like Snyman, who has chosen one his nation's biggest arts festivals to present a work as daring and provocative as Moffie—a show with a disturbing title, intimate depictions of gay love, stark rape scenes, and graphic violence.
After the show, one South African said to me: We're still waiting to see something like that in America.