Forget Ryan Lochte: These Olympians Could Wreck My Future Marriage
Five athletes who have class to go along with their rippling muscles
Reuters
Last week, my fiancée wrote a piece for Jezebel about the sex appeal of douchey American Olympic swimmer and gold medal-winner Ryan Lochte. The piece struck a chord. In addition to getting a ton of readers, it generated quite a lot of email, some of it suggesting that I should be angry over her confessing lust for the man who redefined the American grill by chewing on his gold medal with it.
Angry? Far from it. "Ha!," I thought to myself as my future wife showed me reader comments saying things like, "I'd bang him like a screen door in a hurricane" and "I'd hit him like the fist of an angry god." I remained unfazed at the deluge of email from twitterpated co-conspirators, each one seeming to wink, grab her arm, and whisper suburban scandals sotto voce. "That you would really sleep with Ryan Lochte if the opportunity presented itself is something that you should just take to the grave," said one earnest post-script.
Okay, maybe not completely unfazed. I think my eye twitched.
That said, the likes of Ryan Lochte—with his Spiccoli "jeah" catchphrase, Xanadu moon-bootie high-tops and the inability to successfully multiply seven by four—don't bother me. The real threat comes from the handsome, gracious, intelligent Olympians who have class to go along with what my fiancée calls their "penis muscles." For an average guy with bad eyes, bookkeeper arms, and a bit of a paunch, these are the Olympians who really scare me:
Usain Bolt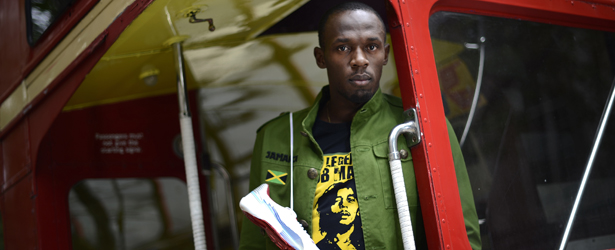 He's handsome. His middle name is "St. Leo" and his last name is "Bolt." He's the hometown hero of an impoverished nation beset by calamities. And he can cover 100 meters in the time it takes me to lace my shoes. (That's 9.63 seconds, in case you're wondering.) He wears a Jamaican flag cape and poses like a superhero when he wins. No wonder he's constantly surrounded by Swedish handball babes. His twitter bio calls himself "the most naturally gifted athlete the world has ever seen" but just when you thought his ego might do him in, he interrupts his own interview in a show of respect for American runner Sanya Richards-Ross as she receives a gold medal. He's pure class—and you just can't compete against that.
Oscar Pistorius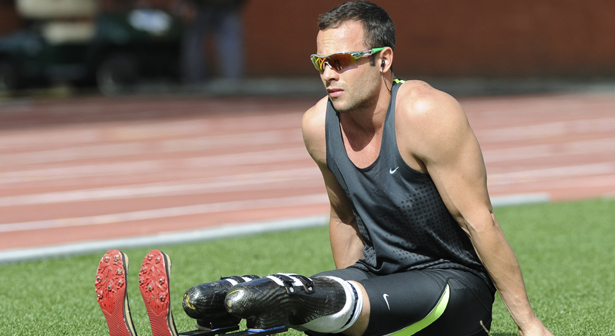 It's all I can do to rouse myself in the morning for a three-mile run, the minimum exercise necessary to keep me from looking like an adult toddler. Oscar Pistorius—his name alone summons thoughts of a Central American coffee bean magnate—is an Olympic runner from South Africa whose good looks compare favorably with Burn Notice's Jeffrey Donovan. But never mind that. Dubbed "Blade Runner," he's a double amputee who runs on prosthetic Cheetah blades that make his lower extremities look like the famous jungle cat's. As the first track-and-field paralympian to compete in the Olympic Games, he placed second against able-bodied athletes in the qualifying heat for the semi-finals. His perseverance in the face of adversity makes my morning jog look like a coffee run. While I inspire passersby to grimace uncomfortably as I huff and puff my way up moderate inclines, Pistorius inspires entire generations. "It's really a humbling experience to be here," he said. But watching the winner of Grenada's first gold medal Kirani James (nickname: Jaguar) exchange his bib for Pistorius's humbled us all. Dude: I'm not worthy. Note to self: Put kibosh on South Africa trip.
Nathan Adrian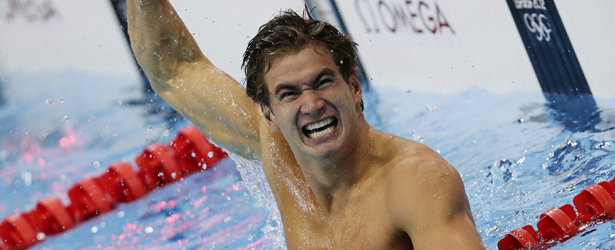 On the American swim team, Michael Phelps takes the freakish merman mantle of Mark Spitz while Ryan Lochte is the college-town bro with inexplicable visions of hip-hop fame. At a party, you could safely ignore Phelps—he has the look of a confused primate—and keep one eye on Lochte, who is perhaps getting your significant other out of there after her third drink. But 6-foot-7 Nathan Adrian is a wild card. He's got the Calvin Klein abs and steel-plate pecs of his teammates but the affable smile and crinkly eyes of a Nebraska farmboy, earning him Shape magazine's Hunk of the Week honor. Did I mention his three Olympic gold medals? Plus he's sensitive: He almost cried in the pool when he found out he won the gold for the 100-meter freestyle. I suppose he likes puppies and can whip up a fluffy omelet without really trying.
Tom Daley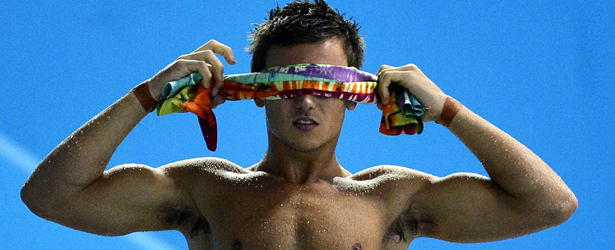 Yet another UK diver whose rippling abs and pert teenage buttocks ensure that he can successfully wear Euro-style speedos that are a size too small, 18-year-old Daley looks like he should be singing in a boy band. While the rest of us wear special-sauce-stained t-shirts under our button-downs to disguise our bellies as they pooch out over our beltlines, Buzzfeed ran a series of clips showing Daley's crotch "unnecessarily censored" by a stat feed as he showered off like a hairless, naked Brad Pitt in Legends of the Fall. But more important than his stupefying looks is the tragedy of his Olympic backstory: his father died last year of a brain tumor at the age of 40. No wonder teenage girls attended his 10-meter finals competition with "TOM" written on their foreheads and "WILL YOU MARRY ME?" on their arms. The kicker: his mom says he's never had a proper girlfriend. The prospect of being his first must be overwhelming...which is why my wife-to-be must never meet this guy.
Megan Rapinoe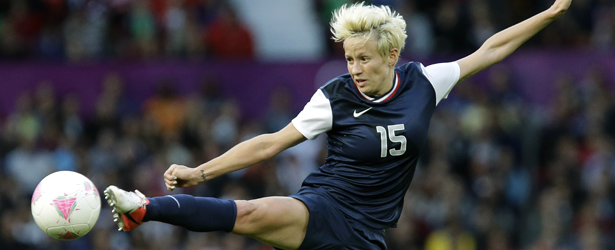 With her winning smile and crazy enthusiasm, she's a score-leader for the American women's soccer team and a mascot cheerleader rolled into one. Just her punk shock of white blonde hair is cooler than my entire wardrobe. She nails goals with the sangfroid and skill of Katniss Everdeen, making this traditionally low-scoring sport appealing to a mainstream American audience that needs constant affirmation on the scoreboard. Plus she's gorgeous with little or no makeup on, like a younger and better-looking Martina Navratilova. Unlike my past commitmentphobia and go-nowhere relationships, Rapinoe's been dating the same Aussie soccer-player girlfriend for the last three years, showing that she's serious both on and off the field. But Megan, just because you're in a committed relationship doesn't mean I don't have my eye on you.