For Japan's Justin Biebers, No Selena Gomezes Allowed
J-Pop stars aren't allowed to date—but why?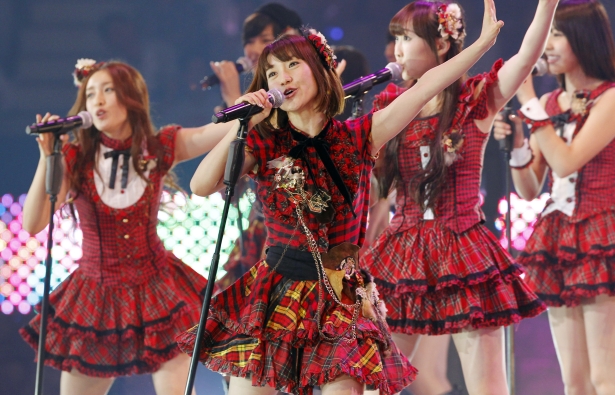 AP Images
The 48-member Japanese girl-pop behemoth known as AKB48 will soon pass a big milestone in its already-huge career: performing three sold-out shows from Aug. 24 to Aug. 26 at the Tokyo Dome, the country's largest concert venue. But the coronation—further cementing the band's reputation as Japan's most successful pop export in Asia—also comes with a black eye.
Barring a reversal of fortune or clever marketing stunt, Rino Sashihara, a 19-year-old singer who's been involved with AKB48 since 2007, won't be part of the Tokyo Dome performance. Earlier this summer, a man claiming to be her ex-boyfriend approached popular Japanese tabloid newspaper Shukan Bunshun with half-naked photos of the pop star and lurid details of their supposed relationship. Sashihara, one of the group's most popular members, denied his allegations, but the damage had been done. She was removed from AKB48 and transferred to far-less-celebrated sister group HKT48 based on the other side of the country.
Sashihara alleged sin wasn't just posing scantily clad for a camera. She had violated a cardinal J-pop rule: no dating. No hint of dating. Whereas in America, fans and the media obsess over every detail of, say, teen-pop stars Justin Bieber and Selena Gomez's relationship, Japan's entertainment industry has a long history of pretending that its stars simply have no romantic interests—and punishing them when the illusion is broken. The policy is intended to preserve a performer's pureness, youth, and accessibility, and although it's seemingly old-fashioned, the ban likely won't be changing soon.
"It's good business," says Dr. Laura Miller, a professor of Japanese studies and anthropology at the University of Missouri-St. Louis. "The group members are fantasy products, and allowing fans to imagine them as potential partners or as innocent and pure is part of their capital. It's in their interest and those who are trying to make money off them to keep their actual lives, personalities, and humanity separate."
The no-dating dictum can be traced back to the mid-'80s "idol" group Onyanko Club, an immensely popular lineup of schoolgirl-uniform-clad singers created by AKB48 founder Yasushi Akimoto. (In Japan, "idols" are prepackaged pop singers with choreographed moves, rabid fanbases, and pure-seeming public personas). The policy didn't lead to any scandals within Onyanko Club—an underage smoking controversy stands as that outfit's most salacious shakeup—and various members have since said they secretly dated men during their time with the group. Still, the rule maintained the singers' virginal public appearance, which was all that mattered to the suits selling records.
Since then, the no-dating prohibition has been applied to both idol groups and individual singers, and to both men and women. This year alone has seen a slew of scandals besides Sashihara's. In January, AKB48 members Natsumi Hirajima and Rumi Yonezawa resigned after photos of them with men appeared on the popular message board 2Channel (the Japanese equivalent of 4Chan). Garnering more press attention was Jin Akanishi, a member of the popular boy band KAT-TUN and a solo artist, who secretly married a woman earlier this year without telling his agency. As punishment, Akanishi was removed from a TV drama he was set to star in and also had his fan club dissolved. His career has since taken a big hit.
While plenty of non-pop entertainers are freely allowed to have normal relationships, idol groups, says Miller, are "a special category of media product." Indeed, when the leader of hugely popular act Morning Musume resigned in 2005 after being photographed walking out of a convenience store with a male actor she'd been secretly dating, she put out a statement saying she said she could no longer sustain an appropriate "idol" image. Even rumors of romance are enough to send J-Pop handlers into spin overdrive. Last year, Ayaka Nishiwaki of the successful electro-idol group Perfume was seen visiting the home of a famous male rock star late at night. Her management snuffed the story by saying with a straight face that she was merely bringing him medicine.
The dating rule also shows up in Korean pop, and Miller says similar policies were common early in the American film and music industries. Still, J-Pop's focus on youthful purity clashes with the way the Western music establishment has handled maturing pop stars over the last few years. The Disney Channel's management of their music interests most closely resemble the Japanese system, except that the majority of acts associated with Disney are eventually pushed to be more adult. Miley Cyrus's and Demi Lovato's recent albums have been sold as "more mature," while even The Jonas Brother's Joe Jonas's solo album got a "Parental Advisory" sticker slapped on it.
MORE ON J-POP
The best example of this embrace of adulthood, though, comes from this past summer. In 2008, Canadian singer Justin Bieber burst into Western pop culture as a teenager who looked like puberty was still a few months away. His music was marketed at tweens, but in 2012 Bieber's handlers have made a concentrated push to turn him into a more "adult" superstar. Several magazine profiles—most notably Drew Magary's piece for GQ and Josh Eells's in Rolling Stone (cover line: "Hot Ready Legal")—have focused on this push.
As plenty have noted, Bieber's recent career bring to mind the mature makeover Justin Timberlake went through in 2002, which benefitted from his very-public relationship (and break-up) with fellow teenybopper idol Britney Spears. Bieber, similarly, is in a well-known relationship with former Disney Channel star Selena Gomez that would have gotten him booted out of the Japanese entertainment industry. Although he doesn't flaunt the romance, he also doesn't shy away from discussing it, as seen in the Rolling Stone feature. One passage from Eells's article relates that some in the Bieber camp worry his having a girlfriend will make him "less of a fantasy object."
"Personally, I think that's all a bunch of bullshit," Bieber's manager Scooter Braun tells Eells. "Yes, there's gonna be some girls that if they see him with a girlfriend, it kills the dream - but there are also gonna be girls that see him with a girlfriend, hear about the romantic things he does, and want him even more."
So far, dating Gomez hasn't hurt Bieber's sales. His latest album, Believe, recorded the biggest debut sales week so far in 2012. But AKB48's newest album, 1830m, released this week, sold in its first day a career-best of more than 625,000 copies. Until Japanese pop acts built on the illusion of youthful innocence start slipping commercially, the country's music industry won't be in a rush to mature their stars. Hideaki Anno, the director of the famous Japanese cartoon Neon Genesis Evangelion, once told The Atlantic that Japan is "a country of children." That's a bit broad, but it's hard to dispute that Japan is a country that wants its entertainment to be innocent.