College Football Preview: When Will the SEC's Reign End?
The last time a team outside the conference won the national championship was 2005. Will it ever happen again?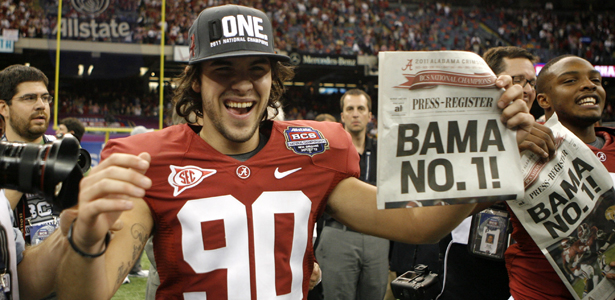 Reuters
Every week, our panel of sports fans discusses a topic of the moment. For today's conversation, Hampton Stevens (writer, ESPN and The Atlantic), Jake Simpson (writer, The Atlantic), and Patrick Hruby (writer, ESPN and The Atlantic) discuss the upcoming college football season.
---
Guys, the new college football season smells like chicken. Southern fried. Again. And if you're not the kind to have grits for breakfast, the SEC's domination of every other football conference is getting a little dull. The last team from outside the all-mighty SEC to win a national championship was Texas, all the way back in 2005 when Vince Young galloped roughshod over USC. Since then, your BCS winners list reads like the lyrics to a Lynyrd Skynyrd song; Alabama twice, Florida twice, plus Auburn and LSU.
This year, the big are getting humongous-er. That's no surprise if you know your Civil War history—and that history repeats.
Way back in November of 1861, the State of Missouri officially declared itself to be no longer part of the United States. They quit the country and were admitted as the 12th state of the Confederacy. Exactly 150 years later, November 2011, the University of Missouri did it again. They seceded from the Big 12, and were admitted as the 14th member of Southeastern Conference.
My questions for you two? They're the same ones the whole country is asking: When will the SEC's dominance finally end? And what team will finally end it? How about it, guys. Can you make a case for USC or Oregon to win it all? Or maybe Texas and Oklahoma have a better shot from the reconfigured Big 12. The Big Ten still exists, I'm told. But will we have to until next season, after the walking soap opera that is Urban Meyer has an Ohio State team off its bowl ban?
Hey, some team from another conference has to win the BCS title eventually, right? In the unlikely event that Charlie Weis at KU won't (stop laughing), then tell me who will.
–Hampton
Hampton,
Even though this is a discussion about college football dominance, I'm glad you brought up the Civil War. The way I see it, the SEC's Reign of 21-0 Dixieland Terror will only be more absolute in the coming decades. Not because something in the water of the old Confederacy produces inherently better athletes, blessed with the myth of "SEC speed." Not because the conference seems to spend more money on coaching and player acquisition than its geographic rivals. Not even because the schools that can't actually play football still produce killer tailgating.
No, the reason SEC will reign supreme long after Alabama constructs an actual pyramid in honor of Nick Saban is simple: Southern college football fans care more. Like, way more than anywhere else. For them, football is manhood, identity, obsession, madness. And that's just the talk radio part of it. So when the inconvenient truth that football destroys children's brains eventually forces the college game to shrink and wither—and mark my words, that day is coming, either via lawsuits or the belated realization that institutions of higher education charged with in loco parentis duties probably shouldn't be sponsoring and celebrating official, organized student activities that inevitably result in brain damage—the South will embrace the sport that much more tightly. It will become the glorious, Yankee-go-home, don't-tell-us-what-to-do Lost Cause of the 21st century: when all you have is pride, all you have is pride ... and War Eagle!
As for the immediate future? Such as the coming season? I like Southern Cal's chances of ending the SEC's national title streak. More than that, I like the idea of USC doing so, mostly because of how much Southern fans detest Trojans coach Lane Kiffin—a man who had the gall to take a job at Tennessee, act bratty and irreverent without any Spurrier-like aw-shucks drawling charm, and then dump the conference for a better gig elsewhere. Plus, a USC championship would mean great memes.
Jake, is the rest of college football living in the SEC's world? Or will another school break the conference's hammerlock?
–Patrick
Actually, Patrick, I'm with you. If any team is going to break the SEC sleeper hold on the BCS title, the Trojans and refreshingly direct quarterback Matt Barkley are the team to do it.
How good are the Trojans? No one knows, because they were banned from postseason play last year. But I watched them play UCLA in the annual grudge match between the two L.A. schools, made all the more riveting because 6-5 UCLA was headed to the inaugural Pac-12 title game in 9-2 USC's place. The final was a merciful 50-0—and I say merciful because USC could probably have hung a hundred on the overmatched Bruins. Barkley, the latest in a string of fresh-faced jocks to play QB 1 at Southern Cal, threw for 423 yards and six touchdowns in that game, then decided to return to USC for his senior season. Their regular season schedule is pretty soft—other than a trip to Andrew Luck-less Stanford and blockbuster home date against defending league champs Oregon, the Trojans should be moderate to heavy favorites in every game.
The question is: Would a 13-0 USC season be enough to lift them to the title game if last year's SEC scenario (one 13-0 team, one 11-1 team who lost only to the 12-0 team) repeats itself? The fan in me wants to say yes, because watching two uber-smug SEC fan bases and their equally insufferable players face off in another national title game might be too much to bear. However, USC's non-conference schedule includes Hawaii, Syracuse and Utah, hardly a murderer's row (their fourth non-con game is against Notre Dame, and as always the Irish could be good but probably won't be). Two wins over Oregon and a 13-0 record would probably—probably —be enough. Here's hoping the Trojans, Ducks or non-SEC team X can crash the party this year, because college football should be bigger than one semipro conference.
–Jake