A Web Travel Series Where the Monuments Talk Back
Up to Speed, a Hulu show that premieres tonight, features comedian Timothy "Speed" Levitch giving zany tours of unconventional U.S. destinations.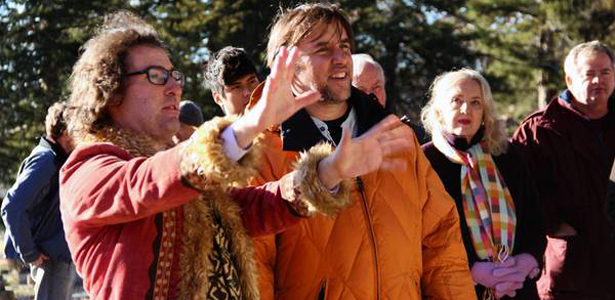 Hulu
Richard Linklater—Austin's favorite auteur, director of Before Sunrise, Dazed and Confused, and many, many more movies—has created his first-ever project for the small screen. Up to Speed, debuting tonight on Hulu and Hulu Plus, is an unconventional blend of kitschy travelogue, history lecture, and metaphysical street theater staring the equally unconventional Timothy "Speed" Levitch.
Linklater created the show to showcase Levitch, a friend and collaborator since they met in New York City during the late 1990's. Speed—though his family is from Kansas City, where he also now lives—grew up a New Yorker, in the upscale Riverdale section of the Bronx. He spent years as a tour guide in the city; first working for a big company, atop a touristy, double-decker bus, soon venturing on his own to offer wildly idiosyncratic, one-man walking tours.
They were a hit. A mix of history, literary riffing, and wordplay for its own sake, glazed with Dadaist philosophizing on civilization's discontents, all delivered with infectious glee by Levitch in a monumentally unique, nasally rasp of a speaking voice, the walking tours made Speed a minor cult star in New York's downtown scene. Filmmaker Bennett Miller, who later directed Capote and Moneyball, made a documentary about Speed called The Cruise.
Linklater saw it. Something clicked. He gave Levitch a major role in the film Waking Life, an animated feature. The two have been close ever since, and worked sporadically on film projects, but the new series is the first time Linklater has built a whole project around Speed.
Up to Speed, essentially, is a walking tour writ large, on a national scale. As on his tours, Speed is a Virgil on laughing gas, preaching perpetual bemusement. On the show, he's our guide to the nation's off-beat history. He delights in weird-looking statues with odd stories behind them, in a doorknob with historical resonance, or an unmarked mass grave under an otherwise charming city park. A signature moment comes in the premiere. While touring Manhattan. Levitch gathers his group around an apparently nondescript subway grate at 52nd and Lexington Avenue. But that grate, we discover, played a fascinating role in movie history—part of, maybe, the most iconic scene ever. That grate, Speed explains, was the one Marilyn stood over in her white dress for the subway breeze shot in The Seven Year Itch. Any tour guide can tell you about the Statue of Liberty or Carnegie Hall. Speed is the guy who expounds on the secret beauty of subway grates.
But Speed not only talks about historical objects and monuments. He talks to them. Better yet, they talk back. John Brown's dagger, for instance, will recall the days leading up to Civil War. A fireplug in San Francisco reminisces about the 1906 earthquake. Up to Speed, as per its subtitle, is a "magical history tour"—a phrase meant to invoke both the Beatles and Jorge Luis Borges. Whether his nominal subject is labor strife or urban planning, the subtext of Levitch's monologues is always a celebration of what's sacred in the mundane.
Up to Speed seems particularly suited for success on Hulu, a repository rather than a broadcaster, because the content isn't time-sensitive. Plus, unlike with any scripted series, there are no season-long storylines fans must follow to know what's going on.
That's part of the plan, said Levitch. He believes that Linklater thinks in the language of film, whether on a big screen or small, and each episode of Up to Speed can stand on its own.
"He's a filmmaker," Levitch says, stressing the last word as form of high praise. "Each episode, to me, functions on its own, thematically, like a short film."
True, each does feel like a little movie. The production values, however, make it look very much like a TV show. Whatever. If Up to Speed is a hit—defined for a Hulu series as being renewed for a second season—it will be because of the host. A flamboyant, erudite, lateral thinker, Levitch is a bomb-throwing cultural revolutionary who figured out early on that he could do more damage to his declared enemy, the status quo, if he disguises himself as a jester and only throws water balloons. Now all he needs is an audience that likes to get wet.