A Lively Olympics Ends by Raising the Pop-Culture Dead
The closing ceremony's greatest-hits vibe sometimes felt at odd with the games themselves.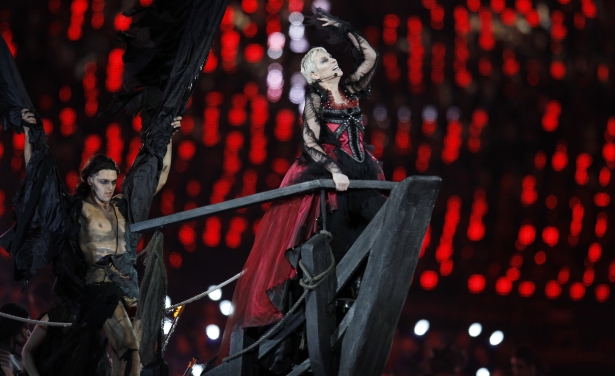 Following the fabulous chaos of Danny Boyle's opening ceremony for the 2012 Summer Olympics, the games themselves delivered every bit of the entertaining drama they're meant to provide. Visually, it was a spectacle unlike any other sporting event, with athletes competing in unprecedentedly brightly colored venues: a hot-pink gymnastics stadium, ultraviolet-purple beach volleyball courts, cobalt-blue Smurf Turf for field hockey. The U.S. gymnastics teams displayed a full range of emotions as we watched in HD; Michael Phelps splashed his way to become the most-decorated Olympic athlete of all time; and Oscar Pistorius made history racing on carbon-fiber legs. The most indelible moments often ambushed us: U.S. runner Morgan Uceny tripping and falling during the 1,500-meter final, the U.K.'s Andy Murray overwhelming Roger Federer on the tennis court, and the U.S. women's soccer team's World Cup redemption with a last-minute header goal in overtime to win gold.
And then, the whole 17-day pageant wrapped up somewhat anticlimactically with a closing ceremony that was a celebration of the familiar. Pop favorites like the Spice Girls were reunited for the event, and the Who (or what remains of them) was dusted off and thrust on stage as the final act. In between there was everything from a marching band dressed as the Queen's palace guards to Fatboy Slim spinning while seated in the middle of a giant octopus. Artistic director Kim Gavin had promised viewers "an elegant mash-up of British music, a rich tapestry of British culture and life ... something people remember for years to come." But the extravaganza in the arena was overwhelmingly focused on years past.
Watching the show was like listening to a wedding band trying to cover all musical bases, with the result that at any given moment, some people would be thrilled and on their feet dancing, while others would be sitting morosely hoping to hear something they liked, soon. As a bookend to an opening ceremony that tried to dump all things British into a three-hour container—resulting in a slightly insane stew of literature, pop culture, and music—the closing ceremony duplicated the mashup effect without any of Danny Boyle's imagination or attempt, however fragmented or circular, at narrative.
MORE ON THE OLYMPICS
Scotland's Emeli Sandé started things out with a cover of London rapper Professor Green's hit "Read All About It," in a newsprint-embroidered London landscape set up at the center of a track-like circle. The stadium floor was imprinted with Damien Hirst's tie-dyed rendering of the Union Jack. After the Pet Shop Boys performed wearing pointy wizard hats and black paillette-covered long coats, the boy band One Direction sang "What Makes You Beautiful," and the largest Stomp cast ever assembled made their usual clatter with brooms, poles, trash can lids, and barrels. Next, the athletes paraded through. In a strange meta-moment, many appeared to be watching themselves participating in the ceremony in real time, on their iPads and smartphones.
Many segments of the ceremony were uneven, and others dragged on far too long. A tribute to John Lennon featured a huge, white, fragmented sculpture of the late Beatle's face that looked uncomfortably like a death mask. Mods on GS scooters roared around the track at the beginning of a tribute to music and fashion, as the Kaiser Chiefs sang a faithful rendition of the Who's Pinball Wizard—although thematically, a song from Quadrophenia would have made more sense. A still-image montage of David Bowie cycled through song clips that were so brief as to be nearly incomprehensible, until we got to his 1980 hit "Fashion," at which point billboards by fashion photographer Sir Nick Knight appeared along with the real Kate Moss, Naomi Campbell, Stella Tennant, Karen Elson, and Georgia May Jagger doing a catwalk strut.
A blur of Annie Lennox, and Pink Floyd, and the Bee Gees followed. (Hey, aren't the Bee Gees Australian? Nevermind.) Russell Brand belted out "I Am the Walrus," as Bob Costas helpfully noted, "This part is a psychedelic celebration of individuality and freespiritedness." Taio Cruz, Jessie J, and Tinie Tempah in a white Rolls-Royce performed their current hits. London Mayor Boris Johnson grooved to the Spice Girls as they sang atop black London cabs. Freddie Mercury appeared on screen in a clip from a famous 1985 Queen concert at Wembley Stadium. The ceremonial handoff of the Games to Rio for 2016—next theme: Live Your Passion—trotted out the expected visual tropes of Brazilian culture (samba, beauty queens, carnival dancers, soccer star Pelé) in a manner that paralleled everything we've seen at this Olympics' opening and closing ceremonies, attempting to telegraph the essential-if-clichéd components of a country's culture in a few moments.
At last came the big musical finale by the Who. They started with 1971's "Baba O'Riley," moved on to songs from 1969's rock opera Tommy, and concluded grandly with 1965's My Generation—once a sneering challenge hurled at elders by rebellious youth, now somehow cast in this context as a song of unity and friendship. The slide backwards in time to songs from nearly a half-century ago made for a curious sendoff: After two weeks of upsets and surprises, the games ended with the muted thrill of seeing and hearing things we've all seen and heard before.