3 Ways Helen Gurley Brown Transformed Women's Media
The iconic magazine editor and writer died today at 90.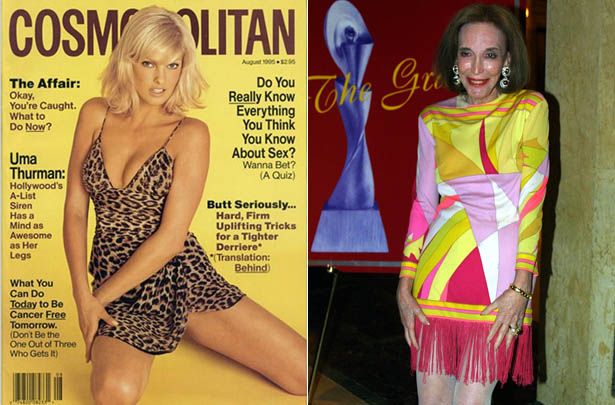 Cosmopolitan, Reuters
Helen Gurley Brown—legendary Cosmopolitan editor and author of Sex and the Single Girl—died today at age 90.
Her influence on popular culture is considerable: She helmed Cosmopolitian for 32 years, turning the magazine into the sex-obsessed, liberated women's bible that it is today. Sex and the Single Girl was a bestseller when it was released in 1962 and has become part of the sexual revolution's primary-source canon—it's required reading for Mad Men writers and American studies majors alike.
But Brown's influence stretches far beyond the pages of Cosmo or her memoir. According to a 2009 Atlantic article by Caitlin Flanagan, Brown revolutionized the way the media reached women. Personalities ranging from Oprah Winfrey to Katie Couric owe their careers, at least in part, to Brown's legacy:
Brown also reshaped—enduringly, single-handedly—the way magazines and television shows for a female audience conceive of their mission and their scope, which encompasses the frankly titillating and the shockingly clinical, and presents them cheek by jowl. When you watch Oprah—or Dr. Phil or the Today show, or almost any successful work of daytime television for women—when you read any mass-market women's magazine or listen to a call-in radio show for a female audience, you are experiencing the fruits of her innovations.
Flanagan points to three trends in female-focused news and entertainment that have their roots in Brown's writing and editorial sensibility:
1. The gospel of self-improvement sells:
that American faith in the power of self-improvement as an animating force in individual lives is so complete that—provided the messenger has enough conviction—almost any bond of propriety can be broken in its name
2. Magazines and TV shows can—and should—dispense health advice:
that instruments of mass culture and entertainment are the most expedient means of conveying public-health information, and that they therefore have a moral imperative to do so
3. Reproductive health is sexy:
where issues of women's reproductive health and well-being are concerned, the line between a medical explanation and an essentially obscene exploitation can be reduced to nothing at all.
All three of those ideas are promoted on the 1995 Cosmo cover from the Brown era at the top of this post: You can recover from an affair! Here's how to avoid getting cancer! Sex tips! They're still the lifeblood of the magazine—and countless magazines and TV programs and websites—today.