Why Woody Guthrie Endures
In this summer of discontent, a century after his birth, the great folk singer's message still matters.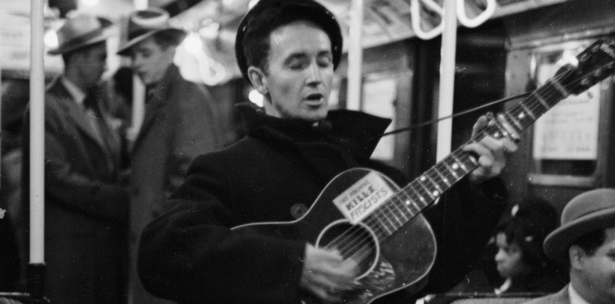 Eric Schaal, courtesy of Time & Life Pictures/Getty Images
It gets right to the heart of the promise of what our country was supposed to be about. And I guess, I don't know, if you talk to some of the unemployed steel workers from East L.A., or Pittsburgh, or Gary. There are a lot of people out there whose jobs are disappearing. I don't know if they feel that this song is true any more. And, uh, I'm not sure that it is but I know, I know that it ought to be. So I'd like to do this for you, reminding you that with countries, just like with people, it's easy to let the best of yourself slip away.
–Bruce Springsteen, 1985, in concert in California, introducing This Land is Your Land.
I didn't start out the year planning to spend hours listening to scratchy, old folk music recordings or imaging the glorious life and hard times of Woodrow Wilson Guthrie. Things just seem to have worked out that way. Guthrie, named after a man who was not yet president, was born 100 years ago this Saturday, on July 14, 1912, in Okemah, Oklahoma. His fans and followers have been gearing up for the centennial celebration, but it seems as though Guthrie has never really left.
Forty-five years after his death, Guthrie's principal lament about America is still obvious and irrefutable: The nation is divided into haves and have-nots—and the have-nots are always the ones in pain. Born of the Great Depression, hardened by war, Kerouac before there was Kerouac, Guthrie's music was sung by war protestors in the 1960s and by "Occupy" protestors in 2012. "This Land is Your Land"—haunting, teasing, eternally illusive—is as relevant today as it was when Guthrie first wrote it nearly three quarters of a century ago. No wonder Springsteen called it "about the greatest song ever written about America."
That's the thing about folk music, right? When it takes hold of us, it doesn't let go. When it invokes our memories, it also pitches us a future. We look back to look forward, to look ahead. What an unexpected gift it has been then, these past few months, to begin to discover music my father sang in Canada 60 years ago. What a gift to know those songs are the very same ones my mother learned in Pennsylvania in the 1930s and 1940s. Here I am, in a whole other part of North America, in a whole other century, listening to the same music and trying to pass it along to my son.
THE CENTENNIAL
Fathers and sons. Last month, Guthrie's son, Arlo, himself a folk legend, offered up some beautiful words about his famous father and that song of songs. In the meantime, to mark this week's big milestone, Arlo Guthrie will perform Wednesday at the Crystal Theatre, right there in Okemah, the son honoring the father on the first night of the town's annual Woodyfest celebration. When Arlo plays Woody that night, and when the crowd singes Woody that night, there will be no better music venue, and no more emotionally powerful performance, anywhere in the world.
Guthrie's performance will precede by one day the release of another unique musical tribute to Woody Guthrie. This week, Smithsonian Folkways Recordings releases Little Seed, a 13-song CD of "kid-friendly Guthrie classics" sung by Elizabeth Mitchell, the renown folk singer (and Kindie music hero). What is the Smithsonian Folkways? It is "the nonprofit record label of the Smithsonian Institution" dedicated to "supporting cultural diversity and increased understanding among peoples through the documentation, preservation, and dissemination of sound." Click here for Mitchell, singing two entirely adorable covers of Guthrie songs.
Another welcome contribution to the Guthrie shelf is a coffee table-sized book of extraordinary breadth and depth titled Woody at 100, The Woody Guthrie Centennial Collection. Everything about this piece of art is brilliant, from the music on the CDs, to the reprints of Guthrie's drawings, to the liner notes, to the narrative of Guthrie's life offered up by Robert Santelli. It's all here. All the album covers and music. All the sketches and edits. Here's a photo of Guthrie singing on a New York subway train. Here's an oil on canvas painting of Abraham Lincoln he painted. Here's how the Smithsonian pitches the book—what a complete undersell:
Woody at 100: The Woody Guthrie Centennial Collection is a 150-page large-format book with 3 CDs containing 57 tracks, including Woody's most important recordings such as the complete version of "This Land Is Your Land," "Pretty Boy Floyd," "I Ain't Got No Home in This World Anymore," and "Riding in My Car." The set also contains 21 previously unreleased performances and six never-before-heard original songs, including Woody's first known—and recently discovered—recordings from 1937.
THE SINGER
The Smithsonian calls Guthrie "ordinary, yet extraordinary—a traveler, itinerant worker, radio performer, military enlistee, thinking man, talented visual artist, husband and father, and prolific writer" who "struggled with family tragedies, poverty and personal demons." What the Smithsonian means is that Guthrie was quintessentially American—hopeful yet frustrated, talented yet mercurial, both restless and rooted. Everyone listens to music differently, but when I listen to Guthrie I feel like I'm listening to radio news broadcasts from a different era. It transports me back in time. Again, it's a welcomed gift.
This is what we think of Guthrie now. All those songs. All that traveling. All the dust and the heartache. A guitar marked with a sticker that said, "This Machine Kills Fascists." It's an awful lot to absorb, even now, and especially for someone like me who is not seeped in any sort of musical tradition. But what did we think back then? Here's Alan Lomax, the famous folk historian and collector who for years recorded thousands of songs for the Archive of American Folk Song at the Library of Congress, describing Guthrie in an undated (circa 1940) "To Whom it May Concern" letter:
Woody Guthrie is one of the best ballad singers, tale (sic) tale tellers, guitar pickers and literary hoboes (sic) that heave made the best of American folk songs and folk tales. He can write a ballad in five minutes that will fool a folk lore expert, that will make you laugh your head off, that will make you glad you were born able to understand American lingo.
And what was his philosophy of his art and his music? In Woody at 100, we get a few direct looks. In July 1941, for example, when Guthrie was collaborating with a group known as the Almanac Singers (a group which included the still-singing Pete Seeger), he shared this:
Our job ain't so much to go way back into history, that's already been done, and we caint spare the time to do it all over again. our job is the Here & now, Today. This week. This month. This year. But we've got to include a Timeless element in our songs. Something that will not tomorrow be gone with the wind. But something that will be as true as it is today.
So here was the rare artist who knew exactly what he wanted to do, who then went out and did it, and who has been proven right ever since, both before and after his death in 1967. The songs we remember from his repertoire, the songs our children still sing around campfires, were written for the "here" and the "now" and yet have become entirely timeless. No wonder another American poet, Bob Dylan, so eagerly sought out Guthrie near the end of the latter's life. No wonder so many other contemporary artists have covered his work and etched their own marks into his cornerstones.
THE SONGS
MORE ON MUSIC
Guthrie wrote about the Grand Coulee Dam and the Ludlow Massacre, about Pretty Boy Floyd and "Mister Charlie" Lindbergh, and about bankers and farmers and lawyers and buffalo skinners and, famously, about the hypocrisy of organized religion. "When Jesus came to town, all the working folks around Believed what he did say," Guthrie sang, "But the bankers and the preachers, they nailed Him on the cross, and they laid Jesus Christ in his grave." In "So Long, It's Been Good to Know You," he gave a traveling preacher this line: "Look at the shape that the world is in, I've got to cut price on salvation and sin."
But those aren't necessary the songs you ought to take the time to listen to in the coming days. Listen also to "Roll On, Columbia" or to "The Biggest Thing That Man Has Ever Done" or to "Better World A-Comin'" or to "Pastures of Plenty." Listen to the children-oriented music he sang, or to the patriotic songs he wrote during the Second World War. Listen to "Jarama Valley," his song about the Spanish Civil War. Listen to his collaborative work with the artists of his time. There is so much of it and so much that, thankfully, is accessible online and elsewhere. Again, Guthrie has never left us
In this summer of discontent, with a divided nation heading toward a divisive election, it's altogether fitting and not a little ironic that so many of us would be willing to pause for a day, or even a week, to reflect upon Guthrie's extraordinary influence on the American scene. His life and music remind us, at bottom, that we've all been here before, that we've endured economic dislocation and corporate control over the levers of power, and have survived. In an age of so much political discouragement, that itself is an encouraging tune to hum.