Why Are Olympic Theme Songs Always So Bad?
As Muse's tune for the London games shows, pop music rarely pairs well with the pancontinental pomp.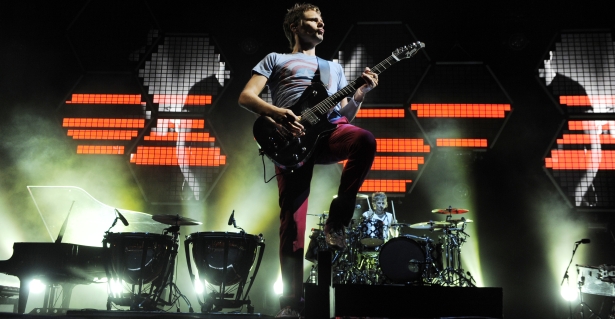 Sony
British rock trio Muse last week revealed its official Olympics song, "Survival." If the tune was supposed to inspire new athletic heights, it's hardly led by example—charting in the U.K. at No. 25, way outside the medal positions. Which invites one question: Does anyone really care about Olympic songs?
"It's not as if the Olympics needs promoting," says John Aizlewood, who writes about music for Q magazine and sports for The Sunday Times. "Everyone knows it's happening. Muse doesn't need the publicity, either, but it seems as if the band felt it had to do it. It's done them no favors; I think they were badly advised."
On paper, Muse would seem like the perfect band to pen the great Olympic anthem. If you need a group to capture the drama and excitement of the "greatest show on earth," who better than one to whom understatement means playing with nine amps instead of 10? As a song, "Survival" is open to many criticisms, but a lack of drama isn't one of them. During its five-plus minutes, we encounter an orchestra, rocket-propelled guitar work, a bouncy piano riff, Matt Bellamy's wailing falsetto, and lyrics cheesier than a fondue set. "It's a race, and I'm gonna win," he sings, presumably unaware of Team GB's past performance at such events. It's a bit overblown, granted, but what's the alternative: sending the athletes out to Joy Division?
The Devon band is not alone, of course, in writing a less-than-inspiring Olympic song. Christopher Cross's "A Chance for Heaven," one of the official tracks of the 1984 Los Angeles Games, was far from a personal best; Celine Dion's "The Power of the Dream," performed at Atlanta '96, was everything you'd expect a song by Celine Dion called "The Power of the Dream" to be (awful); 2008's "Beijing Welcomes You" featured as one of its vocalists the peerless pop maestro that is Jackie Chan.
Story continues below
So why do these songs keep getting made? There's a certain amount of one-upmanship at play: No one wants to be the country without an Olympic anthem. Pop music is also part of the British national identity. If any nation is entitled to write an Olympic song, surely it's the one that brought the world The Beatles, Queen, and Radiohead?
And it's not as though sports and music never work together. In the U.K., the Euro '96 soccer tournament's official song, "Three Lions," became an alternative national anthem and topped the charts for two weeks. With its insanely catchy refrain of "football's coming home," it also became a hit in Germany, the eventual winners of the tournament. The U.S., too, has a long history of sports and songs getting paired intentionally (see Wiz Khalifa's 2010 Pittsburgh Steelers shoutout "Who Let the Dogs Out?" continues to live on, for some reason, every given Sunday).
But the Olympics are a different beast, a weeks-long frenzy of sports and pageantry and competing national interests. The opening and closing ceremonies can barely do the job of summing the event up—how could one measly pop song hope to do the same? "You can't capture a nation's mood with an Olympic song because there isn't the same fanaticism for the event as there is for, say, the national football [soccer] team," Aizlewood says "It's more a groundswell of goodwill: The public hopes the athletes will do well, but you can't rally around the individual athletes in the same way that you can with more of a traditional team."
Perhaps that's why, in America at least, the only Olympic tunes to ever stick around in the public's imagination have been wordless, modern-classical works of pomp and circumstance: John Williams's "Olympic Fanfare and Theme"—recorded for the 1984 games in Los Angeles—and Leo Arnaud's "Bugler's Dream," which ABC played before its 1964 Olympic broadcasts. Muse makes a stab for Williams-style orchestral grandeur with an extended string-section prelude, but then Bellamy's wailing kicks in, and we're jolted back to F.M.-radio territory.
If Olympic singalong songs are doomed from the start, no one seems to have told the 2012 organizers. Sir Elton John, Dizzee Rascal, and The Chemical Brothers have all been signed up to release sporting singles as part of the Rock the Games initiative. Will they be able to capture the public's imagination in a way that "Survival" has failed? The track record would suggest otherwise.