When the Mega-Rich Fall, Do the 99% Laugh ... or Sympathize?
The Queen of Versailles, the true story of a timeshare mogul's collapse, reveals a dirty secret of the filthy rich: They really are just like us.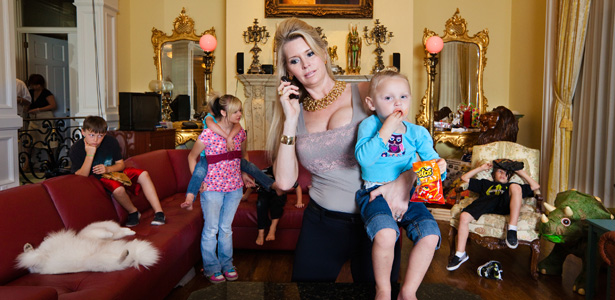 If you don't want to feel rich, opines David Siegel, you're "probably dead." That's a pithy summation of the logic of capitalism—and not coincidentally, of Siegel's own life, as portrayed in the new documentary The Queen of Versailles. Siegel, a time-share apartment mogul, made himself a billionaire by giving middle-Americans the chance to spend their vacations in luxury for only a low, low, low down payment. He catered shamelessly to their dreams of wealth—a dining room that can serve 14! Enormous flat screen TVs for all!—and in return they ... catered shamelessly to his even more extravagant dreams of wealth.
Siegel's dreams of wealth include his trophy wife Jackie and their enormous, gaudy, under-construction Versailles-themed Florida house complete with tennis courts, bowling alley, baseball field, and a view of the nightly Disney fireworks. When asked why he wanted to build such an ostentatious monstrosity—the biggest house in America—Siegel smiles as if he's just been asked to think about his favorite subject in the world. "Because I can," he says.
Unfortunately for Siegel, he can't for long. The 2008 financial crisis and the ensuing credit crunch wreaked havoc on the subprime loans that made time-share condos "affordable" for moderate-income families. Forget the giant half-finished palace—soon Siegel's worrying about whether he'll lose his current home while bitching at the wife and kids for leaving the lights on and wasting electricity. Filmmaker Lauren Greenfield thought she was going to be filming a lifestyles-of-the-rich-and-famous segment. Instead she got, as Siegel puts it, a "riches to rags" story. Suddenly, the fabulously fancy Siegels have to scamper to make ends meet without the private plane, without the bottomless credit card, and with only four servants. Just like the rest of us.
That "just like the rest of us" is key to the film's message. David Siegel dreams of wealth as most people dream of wealth; he loses his shirt in the financial crisis, just as so many of us did. The parallel is only stronger because both David and Jackie were born lower-middle class, and while their bank balance may have increased, their cultural interests remain stubbornly what they always were. David is obsessed with the Miss America pageant—only now he can have all the Miss Americas in his home for real rather than just on this TV screen. Jackie (a pageant veteran herself) still gets Chicken McNuggets and (as their finances start to erode) buys lottery tickets. Her passions—children, dogs, shopping—are excessive for the quantity in which she indulges in them, not because they're particularly idiosyncratic in themselves. Their kids play Little League, and while they're shepherded about by paid caretakers, there's no evidence of any particular educational vision. With infinite resources, hipsters and cultural elites might get tutors to teach their kids Chinese or violin, or make some other effort to translate lucre into cultural capital. That's not where the Siegels are at, though; for them, money means not having to worry about education at all. It's only when David's empire erodes that the family begins to wonder whether they'll need to send the kids to college—and how they can possibly pay for it.
MORE ON MOVIES
The Siegels, then, are fascinating because they both are and aren't us, and the film's pleasures are correspondingly—a la reality tv—made up of equal parts jealousy, sympathy, and schadenfreude. Jackie's blithe admission that she never would have had seven kids if she hadn't had nannies is both infuriating (what exactly did she do to deserve a fleet of nannies?) and charmingly honest (what parent wouldn't have more children if they could get someone else to do all the work?). Watching her home descend into chaos when most of the staff gets fired—with pet lizards dying and pet dogs pooping all over the place—is thus at once satisfying and heart-tugging. Serves her right, and also, there but for the grace of God go I.
Queen of Versailles, in short, skillfully mobilizes envy and self-pity—much as Siegel himself did to get all those people to sign onto time-shares they couldn't really afford. It's true that the film shows, and even revels in, the financial collapse and the Siegel's comeuppance. But that's part of the gospel of wealth, surely, not an antidote to it. Rich needs poor; you can't have the biggest home in the country without all those little homes to give your achievement some scale. You can shuffle their order a bit, but one way or another your story needs some rags to stick the riches in.
At one point in the film, an increasingly desperate David compares the bankers who are circling him to pushers. They hooked him on easy money, he says, and now that the supply is gone, he's going through withdrawal. Bankers are certainly easy to hate, and I'd recommend that everyone do so. Still, if David was addicted to anything, it wasn't to credit, but to his own remarkable ego and his own hype. Financial bubbles are made out of dreams. If we want to avoid going through another boom/bust cycle again in a decade or so, we need to dream differently. Queen of Versailles perhaps knows this is true, but like a gambler pulling that slot once more, the tried-and-true fantasies are just too good to leave behind.