What 'Save a Horse (Ride a Cowboy)' Did to Country Music
On the 'Magic Mike'-ification of heartland pop
On the Magic Mike-ification of heartland pop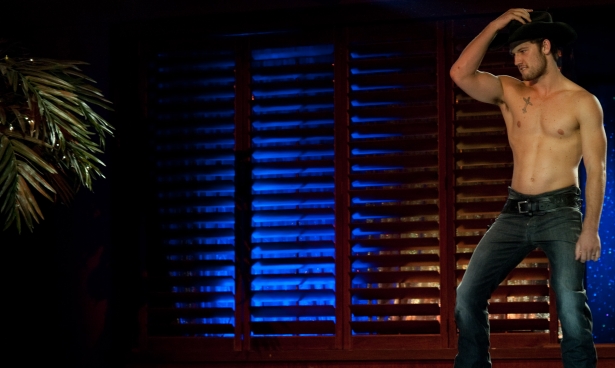 WB
Magic Mike, Steven Soderbergh's male-stripper dramedy that's made $102 million at theaters so far this summer, has plenty of attractive men taking their clothes off for women. But that's not the only thing there is to see. Here's a film made by a straight director with straight actors that's all about straight men training other straight men to be sex objects. In other words, it's a crash course in what straight men think straight-male sexiness looks like.
It's telling, then, that when the film's two leading guys—Channing Tatum in the titular role of Mike and Alex Pettyfer as 19-year-old dancing novice "the Kid"—first perform together, it's to Big and Rich's "Save a Horse (Ride a Cowboy)." An eight-year-old country anthem with the swagger of hip-hop and the pleasure-centric ethos of mid-'70s Waylon Jennings, "Save a Horse" was meant to launch a new hybrid genre—"the South shall rock again," wrote one critic in a review of the album that spawned the song. But these days, according to popular perception, the song survives as a mere novelty and, well, a strip-club staple. The Muzik Mafia posse of artists started by John Rich of Big and Rich went from scoring No. 1 hits (Gretchen Wilson) in 2004 to having their last eight singles not chart at all. John Rich's albums did OK, but the headlines surrounding him have been more about partying and cocaine than about music, and his stint on The Celebrity Apprentice in 2011 only added to the conventional Nashville wisdom that he's at something of a dead end. So to have the marquee performance in the first mainstream male-stripping movie be to "Save a Horse (Ride a Cowboy)," at first glance, feels obvious and slightly sad.
Story continues below.
The truth is, though, that Magic Mike actually ends up exposing Big and Rich as the lost fathers of a new strain of country music, one that embodies many of the same themes as the movie—namely, the way that men try to perform like men.
More recent songs like Justin Moore's "Back that Thing Up," and "Backwoods," Kip Moore's "Somethin' Bout A Truck," Luke Bryan's "Country Girl (Shake It For Me)," Jason Aldean's "Hicktown," and Brantley Gilbert's "Kick It in the Sticks" could be considered direct descendants of the Big and Rich instinct. They often sound similar, pillaging from hip-hop or rock and roll. They're unsentimental tracks nestled on albums otherwise filled with sap. And they're about the South or West, or at least general semi-rural places that have not been taken over by suburbs—the back 40, the sticks, the river, the farmer's field.
These country boys swagger through a kind of iconic but mostly extinct American space that has been transformed into suburbs or bought over by ConAgra, and their the desire for female companionship seems more a public performance than a private seduction. You can see it in the video for Kip Moore's "Something About a Truck," with Moore stripping off his t-shirt so his his hard, muscled back can crowd the frame. Or you can see it in the clip for "Back That Thing Up," with its visual puns and almost campy display of female bodies and straight male reactions; the underlying suggestion is that all involved are in on a joke.
You can hear it lyrics too: in how Luke Bryan asks his country girl to not only shake it for him, but to shake it for "the young bucks sittin' in the honky-tonks / For the rednecks rockin' 'til the break of dawn / For the DJ spinnin' that country song." And over aggressive drums and guitar, Brantley Gilbert introduces a "city slicker" girl to an all-male ("some good ole boys") country coalition: "We throwin' down in the dirty dirty south down here / Be an all nighter with the hippies and the hicks / Jocks and bikers they all came to kick it in the sticks."
In both this strain of country and in Magic Mike, we see men who are self-aware enough to know what games they are playing, but perhaps not able or willing to stop playing those games. Take the soon-to-be-infamous scene of Matthew McConaughey's character, Dallas, teaching The Kid to strip. He talks about how the image The Kid should give off should be that of an adult taking his clothes off for other adults, and not the shyness of a 12-year-old undressing in the locker room for other boys. Implied is the idea that knowing how to be an adult is knowing how to perform.
This kind of put-on, winking manliness has found a home in other genres before—the very genres that these kinds of songs are now borrowing from. In concert, Gilbert even has been known to cover '80s metal at sound check, and Bryan performs versions of Nelly and Sir Mix-A-Lot.
Soderbergh, at least, gets the flimsiness of this act. Magic Mike documents how the male camaraderie behind the scenes at a Tampa strip club breaks down in the face of real-estate dealings and failed personal ambitions. Desperation sets in with the realization that sexual capital doesn't translate into real capital. Country music, on the other hand, is about giving the impression of sturdiness, even as the idea of "the country" becomes a less and less stable concept. Even at its most inclusive, as when Brantley Gilbert sings in "Country Must be Country Wide," that "There's a station playin' Cash, Hank, Willie, and Waylon / In foreign cars and four wheel drives" to a background of electronically modulated studio perfection, these performers are making artificial claims to authenticity. But the music is fun, well-written, smart, and aware of itself. It's a show, sure. Why not watch?