What Happens When a Folk Song Goes to War
A song and a scene rise from a film about Ernest Hemingway and Martha Gellhorn, providing viewers with more than one heartbreaking echo of the past.
Director Philip Kaufman gives a close-read of why he chose to feature the Canadian ballad "The Red River Valley" in his recent HBO film Hemingway & Gellhorn.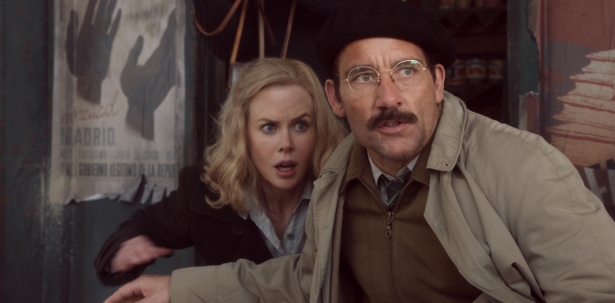 You may or may not have liked HBO's recent presentation of Hemingway & Gellhorn, a sprawling film about the writer and the writer, featuring a swaggering Clive Owen and a sublime Nicole Kidman, which first aired on cable in late May. I liked it more than I thought I would. And while I'm not going to review the movie, there were two moments in it—gorgeous meldings of image and sound—that lingered with me and spurred me to write this piece.
Let me briefly set the scene. Having met in a bar and exchanged horny glances, Earnest Hemingway and Martha Gellhorn did what all reasonable couples do when they want to start a relationship: They went to cover a civil war, the Spanish Civil War being a more attractive option than the Chinese Civil War. So Gellhorn, not yet the third Mrs. Hemingway, is traveling to Spain via train. And Hemingway, already the fabled author of Adios a las Armas, is on his way by private plane. Ain't love grand?
Here's the first clip, courtesy of our friends at HBO.
THE SONG
The song struck me first: "The Red River Valley," sung by Eric Schneider. I have always loved that song. Any man who ever dreamed of being a cowboy has loved that song. But until I looked it up I didn't know that it is not a song about the Red River Valley of Texas and Oklahoma, the well-chronicled home of Roy Rogers and John Wayne. Instead, it is a song about the Red River Valley up north, La Riviere Rouge, in and around the woods of Minnesota, North Dakota, and the Canadian province of Manitoba.
The song is Canadian in origin. It's about love and leaving in a time of war and rebellion. The acclaimed expert on the topic of the musical version of the "Red River Valley" seems to be the long-dead Edith Fowke, a notable and beloved Canadian folklorist who quite literally wrote the book on such songs. Here is what she wrote, a half century ago, about the origins of the song:
This is probably the best known folk song on the Canadian prairies. It is also widely known in the United States, where it was believed to be a Texas adaptation of an 1896 popular song, "In the Bright Mohawk Valley." Later research indicates that it was known in at least five Canadian provinces BEFORE 1896, and was probably composed during the Red River Rebellion of 1870.

On the basis of documented history, an American claim to the original 'Red River Valley' is rather thin. On the other hand, Colonel Wolseley's men certainly bivouaced along the Red River in May, 1870, probably in the area of what is now St. Norbert, a safe distance from the saloons and brothels of a fledgling Winnipeg. The Red River Rebellion was continental news, and Wolseley's troops were credited with easing Manitoba into confederation in that year.

As one might expect, social intercourse between Wolseley's troops and citizens would certainly lead to matters best described by songs and poems. The similarity of versions of this particular song in our historical records is very substantive evidence supporting the claim of a Manitoba-born song called the Red River Valley.
It's little wonder that Philip Kaufman, director of Hemingway & Gellhorn, chose the song for the prelude to his Spanish Civil War scenes. Via email, here is how Kaufman subsequently explained his decision to make that choice:
I had experimented with it many years before in a very early 'temp' track of The Right Stuff under the orbiting flight of John Glenn (though it was not used in the final film). It had a stirring quality, particularly evocative of a form of American heroism that had its roots in the American West and in the Westerns of John Ford. There's a feeling of parting—of the 'sweet sorrow' of parting (Glenn was leaving his wife, his comrades...his earth... A man on a mission that might have been doomed)—but there is also that 'heroic' feeling of embarking on a great adventure... of 'pushing the outside of the envelope'... and (lyrics aside) the music imparts a kind of thrill.

There's a sweep to it, an epic feeling that is rarely captured. An epic feeling without a sense of triumph or conquest. It's somehow...modest...and personal, intimate...and there's something that I can't quite put my finger on...that somehow connects it perfectly to an ineffable component of the Right Stuff. The Right Stuff: Grace Under Pressure... comes right out of Hemingway, out of what came to be called "The Hemingway Code" of behavior.
Related Story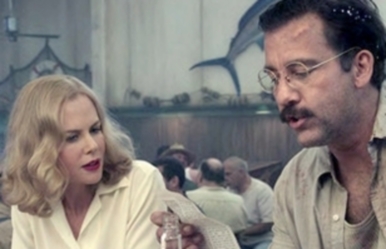 SCENE ONE
Nicole Kidman just takes my breath away in this scene. There is the playfulness on the train. There is the tender reaching out to the little goat. There is gleam in the young volunteer's eye ("Brooklyn," played by Schneider) when he pulls out the guitar. There is his buddy, the "Hungarian" (Edin Gali), whittling down a sausage with his knife. There is Kidman biting her lip, not quite seductively mind you, but in anticipation. There is the man of action, Hemingway, always with the guns. And they are all headed to war.
At least, that's what I thought when I watched the scene and heard the soundtrack. It was the indelible image in my head, after watching it over and over again, that prompted me to write this and to reach out to HBO to understand how this song and this scene came together. Of the scene, here's what Kaufman told me that he had in mind:
Brooklyn is, in a way, the spirit of Woody Guthrie: hopeful, innocent, idealistic like those young American men who went to Spain to fight fascism (among them my uncle Charley and the grandfather of Eric Schneider, who plays Brooklyn). Later we see he's inscribed on his guitar the famous Woody Guthrie line: "This guitar fights fascism."

As Brooklyn sings Red River Valley, he evokes those qualities of the song (above)—the sense of the openness of the American West, the feeling of embarking on a (possibly doomed?) mission. And here, importantly, it ties us to Martha Gellhorn, a woman alone among men heading in to war... something you didn't see much in a Western... or in history)—a woman alone with only a knapsack and fifty dollars, part of that great quest to defeat fascism against overwhelming odds.

At first Brooklyn's smile and charm make it seem almost romantic, flirtatious, as if he were singing it only to Gellhorn: your bright eyes and sweet smile... But then it's as if Gellhorn is reflecting, could it be on Hemingway, who she's left behind?
Meanwhile, Hemingway is heading out, too. From Kaufman:
[I]n Key West as he leaves, [Hemingway's second wife] Pauline watches (that's the actual path leading from the Hem-house in Key West put into the reflection over what we shot in San Francisco).. and the song now takes on that other quality—the sad, remorseful woman who is being left behind... forever. It's been Brooklyn's song, then Gellhorn's, then Hemingway's; now it's Pauline's. And as [composer] Javier Navarette takes the music and turns it into a grand, orchestral suite it links all of them together in that grand, ill-fated adventure of Americans headed into Spain.
It doesn't matter that Kaufman is wrong about the origins of the song. Actually, it's even cooler that he didn't know its origins before he selected it for a scene about going to war. The "Red River Rebellion," as Fowke put it, was the deadly rebellion led by Louis Riel, one of the most divisive figures in Canadian history. If the Spanish Civil War was a prelude to World War II, the Riel Revolution was a prelude to Canada's two solitudes, a disabling political and linguistic split that exists nearly 150 years after the creation of the Dominion.
SCENE TWO
If that had been the only treatment Kaufman gave to the song it would have been enough for me. But he used it again, an alternate version of it anyway, in a subsequent scene about the famed writers' experiences in ravaged Spain. Now there are no illusions for anyone about the pain of war. Now there are no sausages or sweet smiles. Now we see the limitations that war imposes upon the brave and the naive at once. Now the lyrics belong to Woody Guthrie and his heartbreaking "Valley of Jarama."
And back to Kaufman. Here's how he describes the scene:
The smoke dissolves into the hospital sheet, revealing the badly wounded soldier being tended to by the plump whore, now a red cross worker, whore-angel of mercy, and the little boy that Martha had saved who is giving the soldier a drink from Hem's flask... The song continues as Martha is nested into the actual archival footage of wounded men of the Lincoln Battalion and enters the hotel which has now been transformed into a huge triage (her v.o. lines taken from Gellhorn's own accounts in Spain). As we see the refugees, the surgeries, and the walking wounded file by:

We were men of the Lincoln Battalion. We're proud of the fight that we made. We know that you people of the valley. Will remember the Lincoln Brigade...

And Gellhorn spots Brooklyn, just putting his guitar down, now blinded and wounded. And the Hungarian is dead.
The song and the scenes remind us that while wars may be fought in different places at different times for different reasons, war itself is eternal and immutable. In college, the big Westerner that I fancied myself, I used to torment my friends, especially my East Coast friends, with laughable renditions of Red River Valley. I will never appreciate the song the same way again.