The Spectacular Incoherence of the Olympic Opening Ceremony
Danny Boyle's pageant was a visual mess—but that was sort of the point.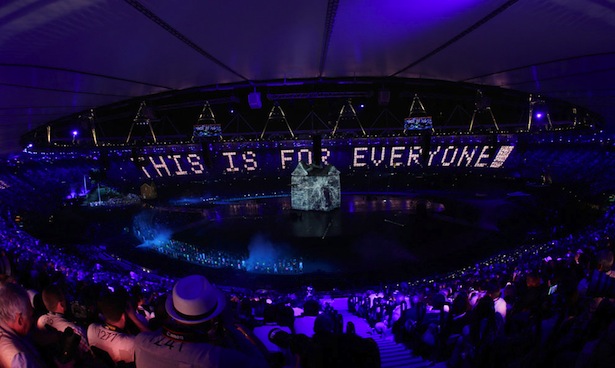 AP Images
Live sheep. Smokestacks. Maidens dancing around Maypoles. Rivers of hot metal being forged into the Olympic rings. An insane paean to the National Health Service with 10,000 actual medical workers tending to sick children in hospital beds. David Beckham in a speedboat churning down the Thames to deliver the torch. The Queen (OK, a stunt double) accompanied by Daniel Craig parachuting in from a helicopter. Kenneth Branagh dressed as a Victorian industrialist with top hat and cigar reciting Caliban's speech from the Tempest—"Be not afear'd; the isle is full of noises."
All of which is to say filmmaker Danny Boyle, who designed and directed Friday's Olympics opening ceremony, wasn't lying when he described his vision to NBC's Meredith Viera: "I imagined the ceremony as loud and thumpy."
Related Story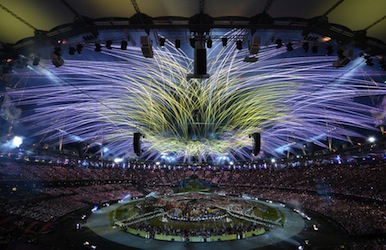 Over the course of a few hours, the evening bundled multiple dizzying narratives into a witty and often surreal spectacle. Like any greatest hits collection, there was no real continuity within the larger story of the British Isles, presenting instead a jumpy portrait of the nation made up of snapshots taken over the years and continuing into the now. Juxtaposing Britain's past with its present was a recurring theme, and at times it felt like the ceremony had just dumped out an eccentric relative's junk drawer, piling up references in a manner determined not to omit anything that would communicate "Britishness" to the world. And so we had rolling green hills, and Sergeant Pepper, and Led Zeppelin, and the Clash, and Shakespeare, and James Bond, and Dizzee Rascal. And a huge Lord Voldemort marionette vanquished by a Mary Poppins squadron gliding down on wires from above like a flock of starlings. And, of course, J.K. Rowling reading aloud. And, of course, Sir Paul McCartney was there to wrap things up with a singalong "Hey Jude" that bordered on karaoke.
The circus was confounding. Close up shots of the Queen showed her looking rather We Are Not Amused; clearly parts of it were not her cuppa. Much of the visual material, from the logo to the mascots, associated with this Olympics was designed to look "young and fun" so as to get a younger generation interested in the Games. So perhaps the Queen's stony expression was exactly the reaction Boyle was looking for.
There was a deliberate focus on including the working class and elevating the ordinary to the level of pageantry (imagine putting on a tribute to U.S. healthcare!). In case anyone missed the point, LED lights on the stadium seats turned into graphic equalizers spelling out the message: "THIS IS FOR EVERYONE!" Besides the "industrial parade" of Victorian factory workers, Chelsea Pensioners, suffragettes, and pearly kings and queens, we saw the 10,000 construction workers who built the stadium lined up in their hard hats to form a corridor for British rower Steve Redgrave as he ran through carrying the torch. It was a touching inclusion of those who often remain invisible.
The traditional elements of the ceremony—the lighting of the torch, the entrance procession of the athletes—provided a break from the churning strangeness of the first two hours or so. Some of the design aspects of this portion were even more intriguing than the extravaganza. Each country's delegation was accompanied by a woman wearing a fantastic apparatus with the country's name spelled out in what looked like Johnston Underground lettering (familiar from London tube stations) arched high above her head, supported by an elaborate architecture of thin metal poles. These seemed to be strapped to the women's bodies, hidden underneath odd little trapeze dresses printed with faces of Olympics volunteers. Salvador Dali would have been proud. Their entire appearance was otherworldly and serene, a small detail that is all the more thrilling to discover in its quiet and unexpected little strangeness, the kind of thing that easily gets lost amidst loudness and thumpiness. A person carrying an odd pointy copper bowl also walked alongside each group of athletes; it wasn't until the lighting of the cauldron that we learned that the bowls were copper petals, placed into a huge framework and set alight by seven British teenage athletes. The flaming petals made up a cauldron that resembled a chrysanthemum on fire, then rose dramatically to form a towering torch blazing atop slender copper rods. The individual slim, perforated copper torches used by the athletes to light the cauldron were sleek and gorgeous.
The ceremony wasn't a nostalgic trip through the past or a prescription for an exciting new future. It was representative of today's ever-fragmenting visual culture: a disjointed set of references and ideas and multiple timelines presented at once, forming a mostly nonlinear narrative that could be pieced together and interpreted in any number of ways. Little was left out, with the end result that it was easy to miss something as it flashed by. Still, the evening came off as quirky, entertaining, slightly lunatic and, well, very British.