The Rise (and Fall?) of the Little-Girl Gymnast
It's been 40 years since teenager Olga Korbut ushered in a new era of youth-dominated gymnastics. Is the sport starting to change again?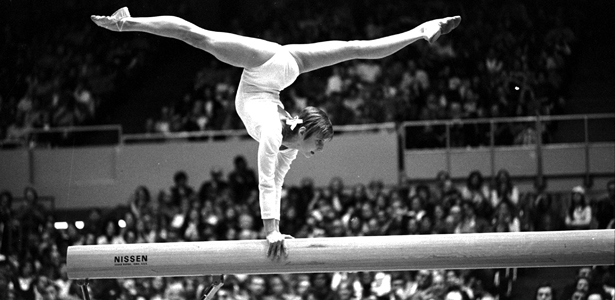 Reuters
Forty years ago, at the Munich Olympics, Olga Korbut became the first female pixie star of women's gymnastics. With a slight build and yarn-tied pigtails that belied her 17 years, the Belarussian gymnast stood atop the top rung of the uneven bars and dove backwards, re-grasping the same bar where her feet had been moments earlier. On the four-inch wide balance beam, she performed another feat of daring: the first back flip without the aid of hands on the beam.
Korbut left Munich with three gold medals, including two individual ones for her beam and floor routines. Her impact on the sport has little to do with her results at that competition. Korbut's debut marked the beginning of the end for the older balletic women who had dominated women's gymnastics during the early years and paved the way for young, energetic women like herself. Larisa Latynina of the USSR, who remains the most decorated female Olympian ever, was in her 20s when she competed at her first Olympics and even won several medals while four months pregnant; her chief rival, the Hungarian Agnes Keleti was in her early 30s at the time of her Olympic debut. But they were winning medals with some very elementary skills. "They were doing what are considered primitive gymnastics today," said Paul Ziert, publisher of International Gymnast magazine. "There are kids who are 5 years old who are doing those skills already."
Korbut's Munich performances changed all that. Not only did her daring raise the difficulty and athleticism threshold, but her youthful exuberance help make Korbut one of her sport's first globally famous figures.
Yet just four years after Munich, at the end of the 1976 Montreal Olympics, Korbut was no longer at the top of her sport. Instead, the star of that Olympiad was Romania's Nadia Comaneci, who at age 14 earned the sport's first perfect tens. In addition to showing technical mastery, Comaneci also greatly upped the acrobatic ante with connections between her aerial and acrobatic skills on beam and double twisting dismount off of it. Korbut was also in Montreal but in the brave new world she helped create, she was past her prime, gymnastically speaking, winning a pair of individual silvers, twice coming in second to the rising superstar.
"I didn't want to compete in 1976, but I had to," Korbut, 57, who now resides in Scottsdale, Arizona, told me. After she catapulted to fame in 1972, she spent the subsequent years traveling the world and performing—a Soviet goodwill ambassador of sorts—and had the occasion to meet world leaders including President Nixon. By the time the next Games rolled around, she was exhausted. This touring schedule also meant that she wasn't in the gym, upgrading her elements and routines. "I didn't have time to prepare in 1976 what the world wanted to see," she said. Korbut might have been ahead of her time in '72, but the world had caught up and surpassed in the four years after. Also, between Olympic Games Korbut went through puberty. "My body changed. I started to develop things. This is another point. This is why I was so tired," she explained.
And so it has gone for successive generations of female gymnasts since Korbut. They start training young to learn the gravity-defying skills that make gymnastics the marquee sport of the Summer Games and compete at the elite level for just a few years before yielding to the next group of tricksters. The petite athletes peak in their early-to-mid teens, and every Olympic cycle introduces mainstream audiences to a new crop of young talents who can perform an even more difficult array of skills.
The post-Korbut era was witness to a massive acceleration in the difficulty levels in women's gymnastics, which was attributable to several factors. As Ziert noted, the skill level before 1972 had been exceedingly low so there really was nowhere to go but up. And up it went, and fast. In 1976, Comaneci was the first woman to do a double back on floor exercise at the inaugural American Cup. By the time the early '80s rolled around, several gymnasts were completing this skill as a dismount off the balance beam or with a full twist on floor.
MORE ON THE OLYMPICS
During this time, the equipment improved to allow gymnasts to try more complex skills. "I used to compete at some point on a beam that was a wooden beam. The floor was really hard when I was competing," Comaneci recalled. Modern versions of these apparatuses incorporate springs to add lift and reduce impact on the joints. "It was hard to think about too many acrobatic moves because you couldn't do it, but as the equipment became better, you can try daring things."
By the early-to-mid '80s, young gymnasts like 15-year-old Oksana Omelianchik were performing back-to-back tumbling passes on floor. On beam, athletes were doing multiple aerial elements in a row and on vault, Natalia Yurchenko introduced the now common (for both men and women) roundoff-back handspring entry vault.
Naturally, veteran gymnasts do not fare well in this system, or at least they didn't used to. Though young athletes still predominate, there seem to be more gymnasts that are extending their careers into their late teens and 20s. And these gymnasts aren't merely participating in competitions. In many instances, they are winning medals in high-level competitions.
Oksana Chusovitina, 37, will be competing in her sixth and final Olympics for Germany (though she started her career as an adolescent representing the USSR and then Uzbekistan). In 2008, she won the silver medal on the vault. Romania's Catalina Ponor, the 2004 Olympic gold medalist on balance beam and floor exercise, just won the European title on the beam and will be a force to be reckoned with in London. Great Britain's Elizabeth Tweddle, 27, will be representing the home team and is a favorite to win the title on the uneven bars. Nearly every team save the U.S. is returning at least one Olympic veteran to the London Games. (Even the suspected underage bars champion, He Kexin, will be competing again for China. This time there will be little doubt to her eligibility.)
Certain changes to the rules and the growth of the sport have created opportunities for older athletes.
Perhaps the most significant of these changes has been made to the team competition format. Up until the late '90s, all gymnasts on a given team had to do all apparatuses in competition with the lowest score of the lot being dropped. This meant that in order to be in contention for world and Olympic teams, an athlete had to practice on all four events.
Today's female gymnasts, however, unlike their peers in the '70s, '80s, and the majority of the '90s, don't have to compete on all four apparatuses. In the present set-up, a team puts up their best three athletes on a given apparatus with all scores counting towards the total. The priority is no longer to find the best all-around gymnasts—athletes who can perform well if not spectacularly on all pieces—but to find specialists who can bring in exceptionally high scores on a couple of events.
While young gymnasts can also choose to specialize, the system has allowed older gymnasts to remain in the game longer by giving their bodies a bit of break. They can drop the events that weren't particular strengths to focus on areas where they can win medals.
Liukin, who spent most of her career as an all-around gymnast and won the gold medal in Beijing, attempted a comeback at 22 as a specialist, training only on bars and beam. "There's no way Nastia would be coming back if she had to do the all-around," said Valorie Kondos-Field—the head coach of UCLA's women gymnastics team, which has won seven NCAA titles since 1997—before Liukin came back at Nationals. It remains to be seen how shrinking the size Olympic teams from six to five members, which throws the advantage back to all-arounders, will impact older gymnasts.
Older gymnasts have also benefitted from the fact that the level of difficulty in the routines has stopped increasing so quickly.
Today's gymnasts are mostly doing the same tumbling passes that the elites were performing a decade ago (though to be fair, more gymnasts, not just the top echelon, are competing those elements). The much ballyhooed Amanar vault, the two-and-a-half twister that has one of the highest difficulty ratings and will be the deciding factor should the U.S. women win the gold this summer, is only performed by a handful of gymnasts after being introduced by Simona Amanar in 2000. Most are still doing the double twisting version that has been de rigeur for the last ten years because it is significantly more difficult to add a half turn to a double twist than it is to a full or one-and-a-half twister. Only on the uneven bars has the sport charged forward at a staggering pace.
"We will hit a limit at some point," Comaneci said. "I'm not sure what that point will be, but we will hit it."
What does this mean, practically speaking, for gymnasts as they age? It means that instead of trying to play catch-up to the younger gymnasts, the veterans have shifted their focus from acquiring and polishing new moves to staying fit and injury free so they can perform the skills they learned years go. In 2012, Sacramone at 24 competed the same vaults she used to win the World Cup title in 2004 and were the same ones she used to win the world championship title in 2010. Indeed, most of her repertoire has remained largely the same since she was 16 and trying to make her first Olympic team.
Interestingly enough, the one innovation that was supposed to be a boon to athletes had little, if any impact, on the collective age and success of the athletes: the International Gymnastics Federation's decision in 1997 to raise the age minimum from 15 to 16.
"If they would've moved it from 15 to 18, maybe I could see a change. But 15 to 16—it's not a big difference," Comaneci observed, who was 14 in 1976 when she superseded Korbut as the next big thing in gymnastics.
Changing the age minimum for 15 to 16 would be along the same lines of a fashion magazine announcing that it wouldn't use models with an 22-inch waists anymore, favoring instead "larger" models with 23-inch waists. It's a gesture to appease the public who think that runway mannequins are too thin. It doesn't fundamentally change the look or improve the health of the models.
Likewise, raising the age minimum by a year doesn't fundamentally change the age and size makeup of elite gymnastics. The girls still have to commence high-level training very young in order to master the difficult skills by the time they're eligible for the senior ranks. The change is there to satisfy the once-every-four-year gymnastics fan who thinks that the athletes are too young and small.
Currently, there are a couple of U.S. junior athletes who will have to bide their time and hope that they can last through another Olympic cycle to even try for the team. Katelyn Ohashi and Lexie Priessman, the 2011 and 2012 junior national champions, respectively, are both fifteen and are capable of high level difficulty yet narrowly missed out on eligibility for the London Games. (Heartbreakingly, Priessman is only 23 days too young.)
So if 16 is not high enough, why not raise the minimum even higher? Why not make it 18 instead of 16? Wouldn't we see older, more mature gymnasts enter the ranks? Isn't that what everyone purports to want?
The answer to that brings us back to Korbut. Forty years ago, she raised the profile of women's gymnastics for her daring and youth. "Olga was a little pixie. It's human nature to be attracted to [something] younger." Kondos-Field said.
Keeping the younger athletes out of the Olympics could potentially disrupt the popularity of the sport that has been built on the muscled shoulders of 16-year-old girls. Gymnastics may have started as a sport of adult women, but it became famous through the efforts of a spritely Belarussian teen.
Sure, we want the older gymnasts to stick around and enjoy competitive success for longer. It would be wonderful if ten years of training could be channeled towards more than one Olympic Games. But we also want a chance to see the next young phenom twist and flip on the sport's biggest stage and try, like Mary Lou, to get onto a Wheaties box.