The MLB All-Star Game Continues Its Slide Toward Irrelevance
Need proof? This is the second year in a row Albert Pujols isn't on the roster.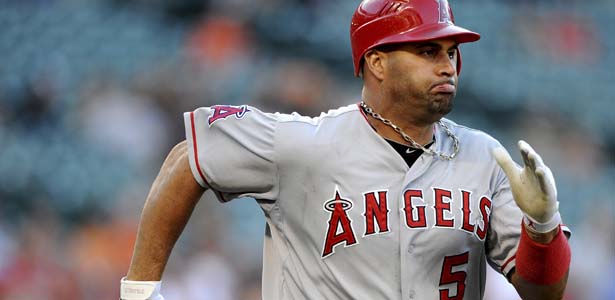 Reuters
It's always a sign of baseball fans' mental health when the best player in the league gets the most votes for the All-Star team. Texas Rangers centerfielder Josh Hamilton not only topped all other major league players in this year's voting, he set an all-time record with more than 11 million votes. He certainly didn't get them because Rangers fans stuffed the ballot boxes the way San Francisco Giants fans did for Pablo Sandoval.
Sandoval appears to be a pretty good player, .313 with seven home runs, but the New York Mets' David Wright, probably the best player in the National League, who is hitting .350 with 10 homers, has to settle for being a reserve. And by the way, Wright has been one of the league's best players for nine seasons, four more than Sandoval has been in the big leagues.
New York fans should have seen to it that David Wright was a first team All-Star this year, but the failure can also be put to a brain lapse on the part of baseball fans in every big-league city. Hamilton got those 11 million votes because he has solid support from fans all over the Texas and because fans all over the country appreciate a great player when they see one.
But I digress ... In Hamilton's case, at least, the fans have clearly made the right pick. He is currently seventh in the American League in hitting at .318, second in home runs with 26, and the leader in RBIs with a whopping 74. He's also leading in the vital areas of slugging (.650) and OBA plus slugging (1.037).
Over the last couple of seasons, Hamilton has wrested the unofficial title of "Best Player in Baseball" from Albert Pujols of the Los Angeles Angels, who is having an off (for him) season, hitting just .273 with 13 home runs and a relatively anemic slugging average of .465. Pujols not only didn't make the All-Star team, even as a reserve, he didn't finish in the top four for American League first basemen. It's the second year in a row that he hasn't made the All-Star team after an amazing run in which he was an All-Star for nine of the previous 10 years—a span, not coincidentally, in which he was, virtually by consensus, the best player in the major leagues.
MORE ON BASEBALL
But despite the fans' good judgment in picking Hamilton, it's not fair that Pujols isn't on this year's All-Star squad. And I don't care who you have to leave off the roster—well, that is besides Hamilton and maybe Derek Jeter—to put him on it.
One of the things wrong with baseball's All-Star Game is that there simply aren't enough recognizable names in the game. That's one of the reasons ratings have been dropping steadily in the last few years. It's true that all-star games are losing their appeal in all sports. The NFL's Pro Bowl is a farce, a game neither the fans nor players care about. (Who wants to see a football all-star game the week before the Super Bowl when most of the best players aren't even there?) As for the NBA All-Star Game, there is probably more fan interest in the skills competitions held the day before the game than in the game itself.)
Baseball's all-star game isn't as bad off as the other major sports', but ratings have been dropping for the last five years. Probably the biggest single reason is that the reason All-Star Games were created in the first place no longer applies. The first All-Star Game was played in 1933, and for roughly half a century it was the only game besides the World Series to pit players from one league against those from the other. More than that, perhaps, it was the only chance for many fans around the country to even see the best players from another league.
Nowadays, with practically unlimited television and Internet access and interleague play—or, rather, an excessive amount of interleague play, most fans seem to feel—there's really little sense of urgency when players from opposing circuits are brought together in a midseason exhibition.
And here's another reason I think ratings are down, one that I can't back up with statistics but which I've heard from fans in all parts of the country: There's just too many teams and too many players to keep track of, and thus too few players who are household names. And for reasons that are hard to pin down, the players who are household names—or at least the players you would think are household names, like Albert Pujols—don't get voted onto the team.
I have to ask: What's wrong with fans' memories? Does anyone think that 30 years from now Detroit's Prince Fielder, Chicago's Paul Konerko, the Yankees' Mark Teixiera, or the Rangers' Mitch Moreland will be remembered as being in the same class with Albert Pujols? I know Pujols is having a sub-par season, batting just .272 with 12 home runs, but hasn't he proven over 12 major league seasons that he is undeniably an All-Star, with a career batting average of .326 with 458 home runs? Are we really voting for an All-Star squad or for the The Really Good Players Who Just Happen To Be Having Pretty Good Years squad?
The relentless drone of ESPN and countless sports websites have fostered a "What Have You Done Over The Last Couple of Months" attitude that detracts from what All-Star Games were once about. In the 1950s and into the early-1960s, few would have excluded Mickey Mantle, Willie Mays, Ted Williams, Stan Musial, or Henry Aaron from the All-Star Game because they had a slightly off first half.
If you don't understand that Albert Pujols in a class with these guys, then perhaps you need to rethink their definition of All-Star.