The Love Letter That Shook Hip-Hop
Even as rap has grown more tolerant, it's shied away from talking directly about same-sex relationships—and love in general. That's why Frank Ocean's coming-out note is important.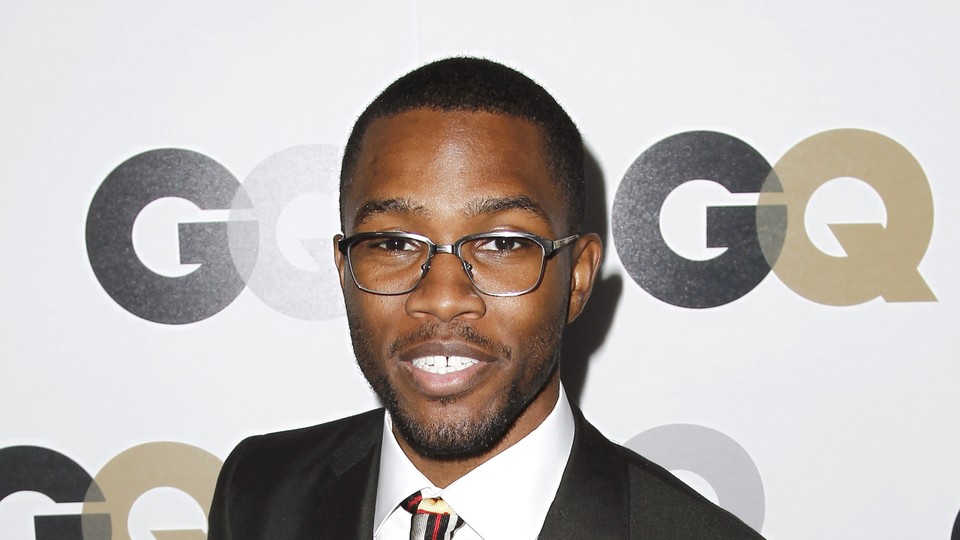 The letter entitled "Thank You's" released by R&B singer Frank Ocean earlier this week will not be forgotten. In it, Ocean reveals that he has been with and cared for both men and women, and that his first love was a man. It is not the entertainment industry standard "I'm gay" or "I'm bisexual" announcement; it can't be snipped into a sound bite or contained in a headline on the front of tabloid. The letter is alive. It sucks the air out of the room when you read it. And as hip-hop journalist Dream Hampton writes, "it is about love." That focus on love—perhaps more than the revelations it contains—is why it's radical.
In her reply to Ocean, posted at Jay-Z's Life and Times website, Hampton explains,
Your letter is revolutionary not least of all because it is about love. It is about falling in love and feeling rejected and carrying both that love and rejection with you through life. The male pronoun of the object of your desire is practically incidental. We have all been in a love that felt 'malignant...hopeless' from which 'there was no escaping, no negotiating.' Your promise to your first love, that you won't forget him, that you'll remember how you changed each other, is so full of love and grace.
Hampton's description of Ocean's use of the male pronoun as "almost incidental" is important, showing how Ocean's journey in love is universally relatable. But elsewhere, Hampton rightly hints that gender is not incidental, because in hip-hop and soul music, "gender constructs are cartoonishly fixed." It's true that soul music and hip-hop music are two different worlds, and Frank Ocean is not a rapper. As a singer, the ability to embody a hard, hyper-masculine persona is not required for commercial success. However, Hampton links hip-hop and soul because hip-hop has colored and in some cases colonized several music genres over the past two decades. Ocean is a brilliant musician, but his present day notoriety is built in large part from his associations with rappers like Tyler, the Creator; Jay-Z; and Kanye West.
So even though Ocean is not a rapper, the impact of the letter echoes throughout hip-hop, which has a history of casual and vicious homophobia among its most commercially successful artists (and many fans). As DJ and hip-hop journalist Davey D points out, this history includes repeated attempts to erase and forget LGBT hip-hop artists. But beyond that erasure, bigoted notions of manliness permeate hip-hop. Rappers persist in using homophobic slurs and descriptions of gay sex acts as lyrical weapons for demeaning opponents and critics. And when same-gender-loving women are discussed by men in hip-hop, it's usually as part of the man's spectacular descriptions of his own sexual conquests and fantasies.
The recent history of hip-hop is encouraging, though. Tyler and Jay-Z issued immediate statements of support for Ocean once the letter became news. Several years ago, Kanye West discussed his adoption and subsequent rejection of homophobia as a young man and a hip-hop artist. When famed hip-hop DJ Mr. Cee was arrested while having sex with a man in his car, 50 Cent—a prime example of cartoonish hypermasculinity—emphasized Mr. Cee's contributions to rap and affirmed that he would still work with the DJ "any time."
But what we haven't heard in these well-publicized statements of support for gay artists or occasional pleas to abandon homophobic language is the key note in Ocean's composition: love matters. In rap music, love calls attention to vulnerability that invalidates old ideas about what it means to be a man, both in hip-hop and broader society. Contrary to common perception, even the most thugged-out rappers discuss love on a regular basis, and the versions of manhood that emerge are often more complex than stereotypes would have us believe. But solidarity across the lines of sexuality remains absent from the narratives even the most introspective rappers. Ocean, with his close connection to hip-hop, breaks these patterns. As Hampton describes, love becomes a common ground between the author and his readers, gay, straight, and all points in between, undermining characterizations of LGBT relationships as exotic or deviant.
But perhaps the greatest legacy of Ocean's letter is that descriptions of his own same-gender romance are woven into a far more intricate tapestry, one that's less about romantic love and more about the power of love to touch every facet of the author's life.
Ocean opens the letter with the following:
Whoever you are, wherever you are.. I'm starting to think we're a lot alike. Human beings spinning on blackness. All wanting to be seen, touched, heard, paid attention to. My loved ones are everything to me here.
Love is introduced here, prior to any reference to romantic love, attraction, or Ocean's relationship with his partner. Ocean can only arrive his idea of "me" by affirming his loved ones. He can only know himself through loving other people. This affirmation is the starting point of the letter, and the place from which Ocean reaches out and affirms commonality with the readers. He continues with what has become the most famous passage, describing the relationship that moved him to write the letter:
In the last year or 3 I've screamed at my creator. Screamed at the clouds in the sky. For some explanation. Mercy maybe. For peace of mind to rain like manna somehow. 4 summers ago, I met somebody. I was 19 years old. He was too. We spent that summer, and the summer after, together. Everyday almost. And on the days we were together, time would glide. Most of the day I'd see him, and his smile. I'd hear his conversation and his silence..Until it was time to sleep. Sleep I would often share with him. By the time I realized I was in love, it was malignant. It was hopeless. There was no escaping, no negotiating with the feeling. No choice. It was my first love, it changed my life.
Ocean then returns to his loved ones; the close confidants whom he trusted with his story and his secrets.
I'm sure these people kept me alive, kept me safe.. Sincerely. These are the folks I wanna thank from the floor of my heart.
There is no mistaking the language here, as Ocean speaks directly to those who cared for him. He then switches back to his former partner, and writes that despite the pain of his first romantic love, he is grateful for the time he shared with his friend. But the final remarks of the letter are not dedicated to the man who broke Ocean's heart.
To my mother, you raised me strong. I know I'm only brave because you were first..So thank you. All of you. For everything good. I feel like a free man. If I listen closely.. I can hear the sky falling too.
So yes, Ocean's letter is about love. But it's also a love letter. It is a love letter to his former partner, even though the relationship did not develop the way Ocean once hoped. It is a love letter to Ocean's closest friends and family, the people who sustained him during his darkest hours. It is a love letter to the LGBT people who shout and sacrifice, and those who remain in the shadows. It is a love letter to each anonymous reader, written with faith, bold in its belief that love will be returned. And it is a love letter to Ocean himself, who sees that faith rewarded through the very act of writing and coming out. He is loved.