The Humane Audacity of Louis C.K.'s Ticketmaster-Flouting Tour
The comedian has created a refreshingly personal way to buy tickets to his next round of shows.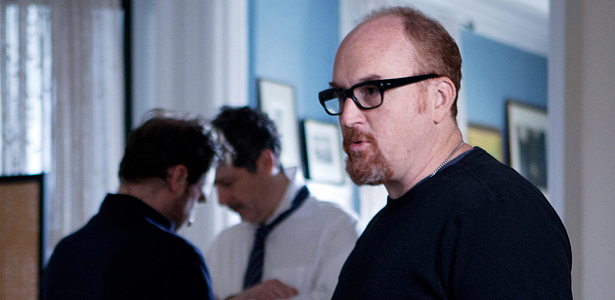 FX
Louis C.K. is doing it again. Late last year, rather than making a televised concert special as big-time comedians typically do, C.K. instead sold downloads of his Live at the Beacon Theater exclusively on his website. As I argued earlier this year, this decision was not only good for his fans. With over $1 million generated in just the first 12 days after its release, it was a wise economic decision as well—and one that other performers and studios would do well to follow. His latest gambit, however, takes his challenge of the entertainment business to the next level.
Last week C.K. sent out an email alerting fans that he had begun selling tickets to his upcoming fall tour exclusively through his website. The tickets, regardless of venue or seating location are all $45. Even. As C.K. wrote in his email, "In every case, that will be less than anyone has actually paid to see me (after ticket charges) in about two years and in most cases it's about half of what you paid last year." He went on to write, "the 45 dollars also includes sales tax, which I'm paying for you. So I'm making more or less depending on the state." In a further move to keep prices down, C.K. has also barred people from selling their tickets for above face value, a rule he "intends to enforce," though it's not exactly clear how. And he's doing all this without Ticketmaster.
Since anyone who has bought tickets to a concert in the past 20 years, in basically any city in the country at nearly any size venue, most likely has had to do so through Ticketmaster, the ambition of this project is obvious. A few years ago Ticketmaster had, according to some sources, over 80 percent market share of major venues, and that was before their arguably monopolistic merger with Live Nation. But C.K.'s experiment appears to have paid off—in just the first two days of sales, C.K. generated $4.5 million.
MORE ON LOUIS C.K.
Though elements of Ticketmaster's service are excellent, its failings - notably its Orwellian "convenience fees" and predatory lock on so many venues - are well-documented. What hasn't been covered is why so many artists haven't bypassed Ticketmaster entirely the way C.K. has. And more broadly, what C.K.'s success means.
Back in 1994, Pearl Jam, at the time one of the biggest bands in the world, took on Ticketmaster. "We have attempted to keep the ticket prices to our concerts to a maximum of $18" Pearl Jam stated, noting that they wanted their shows to be affordable for their teenage fans (even though they could have charged nearly "three times that amount," as some promoters wanted them to do, noted an LA Times article in June of that year). Their main complaint was that Ticketmaster's obligatory service charge on each ticket was raising prices to over $20. And because Ticketmaster had a lock on nearly all the major venues in the country the band was unable to use a different ticketing service. Their crusade even brought them to Congress for hearings about Ticketmaster's alleged monopolistic practices (a nice change from the last time rock musicians appeared before lawmakers, when they were scolded for naughty lyrics corrupting the nation's youth). In their testimony before Congress they also added complaints about advertisements appearing on the back of tickets and that Ticketmaster was not taking sufficient steps to prevent scalping and counterfeiting. Most critical, though, was their claim that Ticketmaster had a monopoly. "We should have the option to make arrangements to distribute tickets to our concerts through other means," the band's members stated. "Something is vastly wrong with a structure under which a ticket distribution service can dictate the mark-up on the price of a concert ticket, can prevent a band from using other, less expensive, methods of tickets, and can effectively preclude a band from performing at a particular arena if it does not accede to using Ticketmaster."
At the time the band received words of support from Neil Young, REM, Aerosmith, and other top-selling acts, but none followed Pearl Jam's lead when they attempted to tour without Ticketmaster. Alas, Pearl Jam quickly gave up the fight when the band realized how difficult it was to find enough suitable tour venues and promoters that weren't tied in to exclusive deals with Ticketmaster. "What if we had spent two months assembling the show and Ticketmaster threatened the promoter with a lawsuit one hour before we were set to hit the stage? What if a show got canceled at the last second and (a fan) got hurt? We just couldn't risk it," Kelly Curtis, the band's manager, told the LA Times.
Since the Pearl Jam debacle, a few acts have tried, largely in vain, to bypass Ticketmaster in one way or another. The most notable example is String Cheese Incident, a popular jam band with a loyal concert audience. They have been circumventing Ticketmaster's service fees by buying large blocks of tickets from venues' box offices and then selling them directly from their website. When they couldn't reach a deal with one venue, LA's Greek Theater, they went so far as to front $20,000 to fans to buy tickets at the Greek's box office for them and then resold them on their site. Besides the Kafkaesque process of trying to work around yet still having to work with Ticketmaster, the band is taking monetary losses, as they are paying their fans' credit card fees for purchases through their site.
So how is the Louis C.K. tour different from Pearl Jam's failed experiment years ago? And will it be an anomaly, or is it a sign of coming change in the concert industry? Ticketmaster still has a tight grip on a huge number of venues around the country. Rather than go through the tortured process String Cheese Incident is suffering through, to avoid Ticketmaster entirely, C.K. has had to piece together a somewhat hodgepodge collection of venues that aren't under the company's very large thumb. For his New York shows, for example, rather than performing at standard sites like The Paramount or The Beacon, C.K. is playing the New York City Center, a nonprofit theater normally host to dance troupes and theatrical productions. As C.K. noted in his email, "It was a real challenge to find venues around the country that could work with our exclusive ticketing service under these parameters ... Setting up this tour has been fascinating and difficult."
But C.K. has an advantage over Pearl Jam back then and other bands today. As Josh Baron, co-author of the book Ticket Masters, the definitive take on the ticketing industry, told me, "The beauty of the C.K. situation is he's one person. Without a lot of gear or crew he's more agile and able to go to odd venues. For a band to do what he's doing would be much harder because they have more technological and logistical demands on a venue." So don't expect Death Cab or Coldplay to try this with any success anytime soon. It's unlikely that Joe Bob's Giant Warehouse in Tulsa has the right electrical capacity for a rock band's PA and lighting rig, not to mention good acoustics, security, and so on—requirements that one guy on a stage telling jokes can largely bypass.
But why are artists even in this situation? Why does Ticketmaster have a lock on so many venues? Mainly for two reasons. First, venues often get a cut of the fees. As Baron explains, venues can "receive a fee from Ticketmaster, first as an advance of money which is recoupable," similar to recording contracts or book deals. Baron adds, "Once Ticketmaster recoups the money, additional fees from ticket sales are split with the venue and/or promoter. In cases of large venues like The Meadowlands, they'd sometimes get a signing bonus as well." Second, he says, "ticketing is hard to do, to get right every day, particularly if you have reserved seating." What's the incentive for a venue or promoter to stop using a service that takes care of the hassle of selling their tickets and gives them a cut of the fees?
Despite the advantages Ticketmaster offers venues, things may be changing slowly, with C.K.'s tour the most visible sign of this trend. As efficient as Ticketmaster is at moving large numbers of tickets through its website, the basic concept of their software can be replicated elsewhere. Tickets aren't sold via banks of phone operators anymore (as I had to endure when I was a teenager in the early '90s—that is, when I wasn't lined up outside my town's record store in the wee hours of the morning). With nearly all sales done online today, the barrier for entry for new players is relatively low. The New York City Center uses an application called Tessitura, a software for ticketing, fundraising, and other purposes geared toward and primarily sold to nonprofits. Over 400 organizations use Tessitura. A more mainstream—and commercially based—competitor to Ticketmaster is Ticketfly, used by Austin City Limits Live, one of the better-known venues C.K. will be playing. With a variety of social media tie-ins such as sales through Facebook, Ticketfly offers venues and promoters more than just a way to sell their tickets online. Also, now that the production company Live Nation is tied with Ticketmaster, some promoters would rather not give money to what in essence is a competitor. Ticketfly's revenue has grown over 100 percent each year for the past two years.
Ultimately, though, C.K.'s tour is less about taking on Ticketmaster and more about his desire to be able to manage his fans' experience. Which explains why C.K. isn't using Tessitura or Ticketfly or any of the venues' services, which would have been the easiest alternative to Ticketmaster. With a patchwork of systems he wouldn't have had the same control over service fees and scalping. Instead, he took a much more laborious path by using his own ticketing service. The difficult part was lining up the venues; coordinating the various technologies to do this was manageable. "The integration between our website and [C.K.'s] ticketing system wasn't a complicated process from a technological standpoint," Sharilyn Mayhugh, the director of marketing at ACL Live told me. They booked CK, she said, because "we knew that he would be successful in directly selling all of his tickets."
The process of buying tickets from C.K.'s site—the backend of which is being handled by a company called Etix—was basically the same as buying tickets through Ticketmaster. I selected the number of tickets I wanted, typed in the CAPTCHA code and then waited... and waited (and was warned "Don't go back or reload or you'll lose your place in line!" just as Ticketmaster warns) while the system processed my order. And, voila, I got my tickets. C.K. has largely replicated the efficiency that Ticketmaster offers to fans but everything that surrounds and leads up to clicking "buy now"—the price of $45 across the
board regardless of seat or venue, the elimination of all fees and taxes, the prohibition on reselling above face value, the candid emails to fans—are elements that one doesn't get with Ticketmaster. In a way that's what makes this so interesting—you can make ticket sales (or frankly any online retail experience in general) personalized and respectful and when you reach the transaction stage still have it be as efficient and hi-tech as the major players in the industry.
The experience made me realize something: The cause of most complaints about Ticketmaster—the fees—is not the most irksome component of the ticket-buying experience. They're just a symptom of an alienating system. There's an isolation that pervades as more of our lives are electronically mediated—interacting with others through the filter of a screen, be it on a phone, desktop or elsewhere; scanning our purchases ourselves at the checkout instead of talking with a cashier; using an ATM instead of the teller; dealing with the insulting artificiality of the faux help center person online offering pre-programmed answers that never seem to address the questions I type into the search bar. From voicemail labyrinths where I find myself crying "operator!" to no avail as the recording flatly responds, "that entry is not understood" to seemingly every website or software update's obligatory legalese telling me how I'm relinquishing all of my rights if I buy X or click the link, it often feels one can only shrug. We're all so anaesthetized to this nonsense, and it's so pervasive we just click the "ok" box and move on. But there's a dehumanizing effect from silently sighing a thousand times.
In contrast, C.K. is not only bringing humanity into what usually are the soul-deadening electronic interactions that make up much of our environment today, but more broadly he's showing us an alternative to the unrestrained capitalist impulse: A comedian at the top of his profession, he is part artist, part entrepreneur, part social engineer. First, he's repeatedly shirked extra money in order to retain creative control of his work. Second is his charitable impulse. After sales of his Beacon Theater video reached $1 million he gave over half the money to his staff and to charities, and wrote on his site, "That's a lot of money. Really too much money. I've never had a million dollars all of a sudden. . . I want to set an example of what you can do if you all of a sudden have a million dollars that people just gave to you." Third, he eats the service fees and charges modest prices for his shows. Fourth, he's gone out of his way to make buying his videos, tickets, and whatever else easier and more sensible for fans. When the customer is about to buy a C.K. video or ticket he can choose to opt-in to his mailing list rather than having opt-in as the default (which is the standard for nearly every site today): just one example of the respect he has for his fans that most companies do not have for their customers. Lastly, it's the candor of his communications to fans—in emails and elsewhere—detailing business decisions, revenues, and motivations behind different projects. Though Pearl Jam's quest against Ticketmaster ultimately failed because a band of their stature can't logistically tour alternate venues at this time, they, and a small but growing group of other artists and like-minded entrepreneurs are fighting the same fight as C.K. They're not always squeezing every last dollar out of us and they're trying to make our interactions with them more respectful and personal.
C.K.'s interest in his fans' experience, and his refusal to retain all the financial spoils of his success is a challenge to the current state of the entertainment business—a far more significant step than Pearl Jam was able to take two decades ago. Even though I was alone at my desk while buying Louis C.K.'s concert tickets, there was the sense that I wasn't as alone as I usually am staring at my computer.