This article is from the archive of our partner
.
The Call Sheet sifts through the day's glut of Hollywood news to find the stories even non-industry types care about. Today: Spidey is doing better than expected, the Princess Di movie gets a name change, and we have a new Mulan.
Box office numbers are coming in as the holiday week rolls on, and it seems that The Amazing Spider-Man is going to be quite the hit. Sony is now revising its conservative estimate to be $120-130 million for the six-day weekend, though it could easily be more. The film, which is actually quite good, had the 2nd biggest 4th of July box office day ever, and the highest-ever Tuesday debut. So that is good news for everyone! But mostly it is good news for Emma Stone, who is going to have one very happy Andrew Garfield on her hands tonight. Oh, to find a Charlie Kaufman-esque portal into her head! (Ew. That's horrifying. Sorry.) [Deadline]
The Princess Diana biopic starring Naomi Watts has changed its name from Caught in Flight to just plain old Diana, because that way more people will see it, because it's very hard for people to understand the title of films sometimes. And as we learned with John Carter, movies with names as titles always work, every time. Same for Amelia. And Angie. Biopics with weird names never do well, like The King's Speech. These are just some Movie Factz™. [The Hollywood Reporter]
Real World: San Diego cast member Jamie Chung, who's been an actress of some sort recently, has joined the cast of ABC's feelings-'n-fairy tales show Once Upon a Time. Jamie Chung is an Asian person, so who do you think she is playing? Yup, you guessed it! Esmeralda from The Hunchback of Notre Dame! Wait, no, no that's not right, sorry, she's playing Mulan from Caught in Flight Mulan. Right, yes, she's playing Mulan in a recurring role on the series. So, good for her? Hard to be sure if getting cast on Once Upon a Time is ever that good news. Anyway, this news is at least good in that we get this sentence: "Disney adapted the story for a well-received 1998 animated musical film starring Ming-Na and Eddie Murphy." Oh sure, Ming-Na and Eddie Murphy. Just those old pals. Ha. Remember the '90s? [Entertainment Weekly]
Here is a trailer for the Sundance movie Why Stop Now, in which Jesse Eisenberg and his drug addict mom Melissa Leo team up with drug dealer Tracy Morgan to get mom one last fix. (So she can get into rehab or something like that.) It looks like typical wacky indie on-the-road stuff, though it will be interesting to see Morgan do a little bit of serious dramz. Plus Melissa Leo is always great. And Jesse Eisenberg is... Jesse Eisenberg. He's always just Jesse Eisenberg, isn't he?
And here is a new photo of Matt Damon in Elysium, that big sci-fi movie that we just learned some details about. OK, Matt Damon in military gear, seen that before. But "Chem Rail"? Isn't that something you do in the bathroom during a techno party? Get your terms straight, Elysium! [via The Wrap]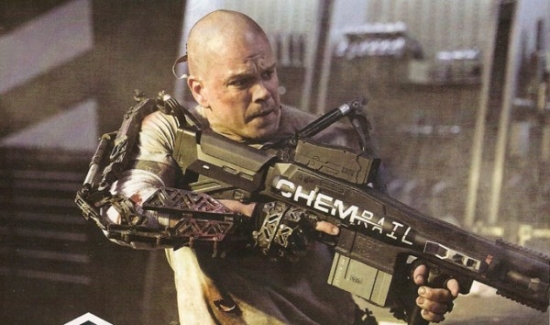 This article is from the archive of our partner The Wire.
We want to hear what you think about this article. Submit a letter to the editor or write to letters@theatlantic.com.