R.I.P. to the Best Music Magazine of the 21st Century
For nine years, the U.K.'s The Word bucked trends, let writers write what they wanted, and now, like so many other rock publications these days, is meeting its end.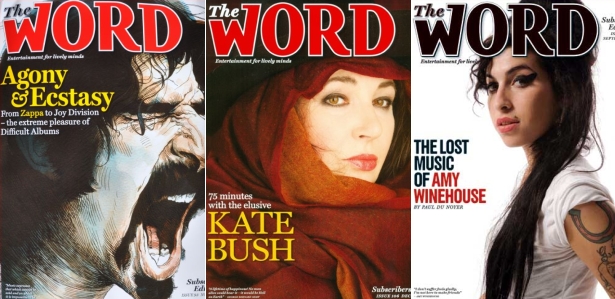 This post has been corrected.
Music magazines shut down so frequently these days that it can feel like numb routine to hear of another's passing. Most of the readers who care are online now anyways, subscribing to Tumblr and Twitter feeds, finding via blogs and discussion boards the opinions and recommendations once delivered in print. The irony is that more and more over the past decade, music magazines have felt pitched at the kind of easily bored person who doesn't read magazines anymore because they read the Internet, where listicles at least come with YouTube embeds. Think Entertainment Weekly or the late Blender: tiny word counts, visual noise galore, lots of "entry points." Only Spin seems to realize that magazines won't beat the Internet by becoming more like it; it recently revamped itself as a full-time website with a quarterly print component that physically resembles the old, downtown New York art-world title Index.
But the recently announced demise of The Word, a nine-year-old British rock monthly, hurts more than most. The Word did something that seems beyond most of its competitors now: It breathed. Even at its most list-tacular, there was nothing assembly-line about it. When it puts out its final issue this week, the best music magazine anybody published in the last decade will be officially dead.
The Word's circulation numbers were never anywhere near its British competitors Mojo and Uncut's—for one thing, it wasn't as widely distributed in the U.S. as those two titles—but moreover, its demise points to a last gasp for rock magazines aimed specifically at older audiences. It was launched at roughly the same time as two U.S. publications aimed at similar niches: Paste, which eliminated its print edition two years ago while continuing online, and Tracks, a bigger-budget title that lasted less than two years. The Word had a clearer, feistier editorial voice than the Boomer-friendly Tracks and the indie-leaning Paste. At the time, readers over 40 were seen as print's natural audience. But now they, along with everyone else, are moving fast toward tablets and phone apps and leaving print behind.
One big reason music magazines do all that attention-grabbing charts and lists is because it's proven successful to do so, and the people who proved it are the people behind The Word. Word publisher David Hepworth and editor Mark Ellen worked together in the late '70s and early '80s on that era's defining U.K. pop mag, Smash Hits, which asked pop stars their favorite color as well as what they thought of the Falklands invasion.* Later still, the duo helped start Mojo, to this day the gold standard in monthly rock historiography, prizing deeply reported features about legendary artists, measured but done with high gloss. It's also a place where lists are trotted out regularly for cover features.
Mojo is an editors' magazine, where a reverential house tone usually prevails. The Word, blessedly, was a writer's magazine. It didn't bother having an identifiable group voice, instead opting to fill its pages with more first-person than any modern American rock-mag would find seemly these days from any but their biggest names. Largely created by and for English blokes over 40, it projected instant familiarity, depth, and warmth by encouraging its contributors to write as individuals and as unabashed enthusiasts.
Undoubtedly, The Word's readability has a lot to do with the fact that its contributors were seasoned pros with good practice in deploying the first-person without abusing it. But it has a lot more to do with the good cheer the magazine emanated. The Word came across like a music-savvy older friend who still paid attention without forcing himself to "keep up"—a lifer who trusted his ears and respected you for doing the same.
The magazine's core tastes weren't surprising: singer-songwriters, roots rock, old-fashioned soul. But you never got the sense the writers would dismiss anything out of hand. They might have been older rock fans cautious of chart pop, but they weren't above it, and they accepted dance music on its own terms. (The Word's parent company, Development Hell, also publishes the dance monthly Mixmag.) They regularly spotlighted hip-hop albums, though there weren't many features—though given its older-white-male-Brit emphasis, rap writing was never going to be the magazine's long suit.
MORE ON MUSIC
It's not like The Word was all good cheer, of course. Take, from the July issue, a largely content-free interview with Joe Walsh. (He's sober now, and he doesn't get the Internet, and he loves his life these days, and he remembers the Eagles, and wow.) The reason to bother with this is Hepworth's introduction, in which he cites Walsh's "clubbable 'what, me worry?' air" (in other words, here's somebody you'd just like to punch) before finishing thus: "His new album, Analog Man, is . . . a geezer's manifesto that is so far out of step with the times that it could well be a success." Remember: This wasn't written by an irate reader, or cheeky intern, or snide freelancer, or burnt-out staffer, but by the magazine's publisher. Just try to imagine that happening with an American magazine aimed at the same demographic as The Word—or any demographic at all.
Many of The Word's best recent features have examined how pop music's means of creation has shifted along with the way people listen to it. Hepworth's gargantuan 2009 portrait of the history and future of the old-fashioned recording studio was the most spectacular example, but recent months have brought similarly scoped pieces—from this April, Eamonn Forde's "A Tale of Two Smash Hits," which neatly compares the making and selling of Culture Club's "Karma Chameleon" in 1984 and Rihanna and Calvin Harris's "We Found Love" in 2011; from June, James Medd on the rock-and-roll session musician: past, present, and whatever-next?
It's unlikely that either Hepworth, Ellen, or the other editors of The Word will leave the business entirely—lifers are lifers. I hope they don't, anyway. They may never find another vehicle that allows them as much freedom as The Word, at least not for (much) money. But even if they're completely finished, I'm not. I'll be revisiting my back issues plenty in the future. I already regularly do so. It's that kind of magazine.
---
* This post originally stated that David Hepworth and Mark Ellen founded the U.K. rock mag Select, which they did not. We regret the error.