Piling on Penn State: The NCAA Kills an Already-Dead Football Team
Yes, the sanctions will hurt. But they won't do anything the program hadn't already done to itself.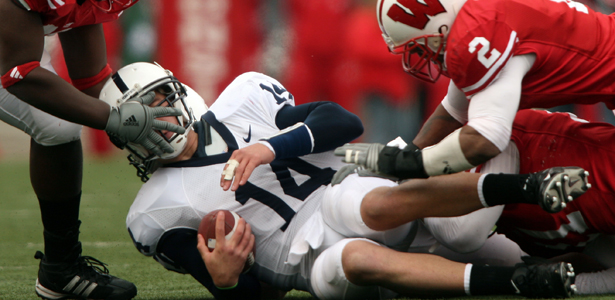 Reuters
Let's agree that the Jerry Sandusky sex scandal at Penn State is so horrendous that it transcends mere athletic issues. For the moment, what we're focusing on is this morning's announcement by NCAA president Mark Emmert about sanctions that will be taken against the Penn State football program.
In football, when a play is whistled dead and a defending player jumps on the scrum, it's known as piling on. That's what the NCAA is doing in this case: piling on.
The football program at Penn State was dead from the moment the scandal became public.
Since Sandusky's conviction on 43 of 48 accounts of sexual abuse to young boys, it has been inevitable that the University was going to be hit with such a firestorm of lawsuits from the proven victims—and God only knows how many more are waiting out there to make themselves known—that the $60 million fine imposed by the NCAA will seem like pass-the-hat change.
Indeed, the supposedly jaw-dropping $60 million fine is not, as is currently being said, equal to one year's worth of football revenue, which is estimated at (by the NCAA) around $100 million. It is slightly in excess of last year's estimated football profit at Penn State, by about $7 million.
The other sanctions are far more damaging. The loss of 10 scholarships a year for the next four years means the team will have no depth and no protections from injuries; the four-year postseason ban means more than just the loss of revenue from bowl games, it also means the loss of income from the conference championship games.
The real stinger, though, is the NCAA giving free passage to all players to transfer to—and to be immediately eligible to play for—other programs. Some, like ESPN's Lou Holtz, are saying, "This could really help Penn State football by appealing to a player's sense of loyalty." But it won't. Most of the blue-chip recruits haven't been there long enough to develop any loyalty to Penn State, and in any event, didn't choose to go to Penn State out of loyalty but out of a desire to play in the Rose Bowl or in a national championship or for a chance to play in the NFL.
MORE ON PENN STATE
Sports commentators are overlooking one very important point: Alabama football did not begin with Bear Bryant. He merely revived a tradition that had been there for decades. Nor did Ohio State football begin with Woody Hayes. The same is true at Southern Cal, Oklahoma, Texas, Michigan, and most other major college football programs. Which is why these other schools have weathered years of losing and were able to bounce back and become winning teams again.
Penn State has no such tradition. They were a middling-to-fair program under the late Rip Engle, under whom Paterno served as assistant coach. Penn State has never had a true moment of football glory that did not connect directly with Joe Paterno. Their football greatness began with Joe Paterno, and it died with him—in more ways than one. Tearing down the statue was simply a formality.
I'm dismissing as inconsequential the punishment of losing 111 of Joe Paterno's career victories, going back to 1998. (We'll call this the Mitt Romney penalty: Those victories are retroactively retired.)
All of this is something that would have inevitably happened anyway. Without the lure of Paterno's name and with the horrible stigma that is now attached to Penn State football, what top-flight players are going to want to go there? What first-rate coaches are going to sign on?
So into this situation, in the wake of Sandusky's conviction and the 237-page Freeh report, the University's own investigative report, the National Collegiate Athletic Association steps in as if to say, in effect, "We've got this." It's been said, but is worth noting again and again, that the NCAA is not only not a law-making body, it has no authority over colleges except that which each member school allows it to have.
Let's pause for a quick review. The NCAA evolved early in the 20th century out of several notorious football factories—Yale, Princeton, and Harvard—to help codify rules when it seemed like football might be banned because of excessive violence. It gained some power in the late 1940s and early 1950s when point-fixing scandals threatened college basketball. The idea that it was there to prevent gamblers from destroying college sports—whether it could keep gamblers out of college sports or not—was its perceived reason for being.
Its real purpose, though, became clear in the mid-to-late 1950s: The NCAA was there to control the earning power of college athletes under the guise that university athletics were amateur, and the organization would protect all member schools from lawsuits—such as workmen's comp when a player was injured—which threatened this amateur status .
Fast forward to this morning. The NCAA, which has no subpoena power, has once again declared itself a de factor lawmaking body and made a staggeringly hypocritical public grandstand by punishing not a single person involved in the Sandusky scandal and cover-up. Instead, they're making a show of punishing the players, coaches, students, and fans of Penn State football for perhaps a generation to come.
In doing so, however, it takes a sinister and dangerous step towards acquiring more power by dictating to a university what it must do with tens of millions of its own revenue and making it appear that it has broad, unspecified powers to impose moral authority. "The lesson here," said Emmert, "is one of maintaining the appropriate balance of our values ... If you find yourself in a position where the athletic culture is taking precedent over the academic culture, a variety of bad things can occur."
So now the NCAA can add another "A" and call itself the national Collegiate Athletic and Academic Association—it has now set itself up not merely as the arbiter of athletic but academic values as well. When the "athletic culture" is taking precedent over the "academic culture," the NCAA will step in and tell us where "the appropriate balance of our values" should lie. And should a member university object, that ominous "a variety of bad things" that can occur will soon be defined.
And so Penn State and all other member colleges will continue to pay a higher and higher price for the hypocrisy of calling themselves amateur.