Olympic Gymnastics 2012: Can the U.S. Compete With Russia and Romania?
A look at how America stacks up against Eastern Europe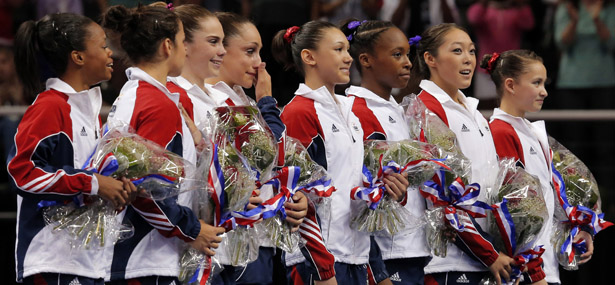 Reuters

MORE FROM BLEACHER REPORT:
Russell Westbrook & Coach K
The Real Blade Runner
Federer's Olympic Forecast
---
The stage is set for a trio of women's gymnastics superpowers seeking Olympic supremacy. The United States is expected to battle Romania and Russia for team gold at the 2012 London Summer Games, where the star power is staggering and competition should be sensational.
The rivalry between the United States and Russia dates back to the tense days of the Cold War, when every athletic matchup between the countries seemed to be an international battle of its own. The breakup of the Soviet Union set the stage for the emergence of Romania, a nation seeking its third Olympic team title in women's gymnastics since 2000. Although they're a world apart, all three teams have grown rather familiar with one another recently.
The U.S. and Russian national teams battled for gold at the 2011 World Gymnastics Championships. An American squad featuring four of the five current U.S. Olympians captured top honors, while Russia settled for second place without one of the its top performers. Russia was edged for first place once again at the 2012 European Gymnastics Championships, this time by Romania. It's been a round-robin tournament of sorts between the three teams lately, and an exciting conclusion awaits at the Summer Olympics.
Gold medal-winning teams are always driven by strong individual performances. All three squads will travel to London with world-class performers who could push their country to the top of the awards podium.
Days away from the commencement of Olympic gymnastics competition, we now know which women will play pivotal roles on each team. It's time to see how the U.S. stacks up against the two squads most likely to stand in the way of America's first Olympic team gold since 1996.
U.S. vs. Russia

Russia is in the midst of an unprecedented gold-medal drought in Olympic competition. The country hasn't claimed a team title in women's gymnastics since 1988, when the Soviet Union topped Romania in Seoul, South Korea. That was the Soviets' ninth gold medal in ten Olympic Games, dating back to 1952. Since the Soviet Union's downfall brought an end to the surreal run, Russia's women's gymnastics program hasn't been nearly as intimidating.Since 1992, the team has won three medals—two silver and a bronze—but no gold. Russia was shut out at the 2008 Games in Beijing, when China, the U.S., and Romania placed first, second, and third, respectively.
The Russians are led by Viktoria Komova, who earned a gold medal on uneven bars at the 2012 European Championships and 2011 World Championships. Although bars are her strong suit, she proved her cumulative abilities by placing second in individual all-around scoring, right behind American star Jordyn Wieber. American vault sensation McKayla Maroney could give the U.S. an edge over Russia. She was the 2011 world champion in the event, while Russia failed to place a finalist in the top five.
There will be fierce competition on bars with Komova and defending world champion silver medalist Tatiana Nabieva leading the way. It's Wieber's weakest event so Team USA teammate Gabby Douglas must step up and prove her place among the world's elite as she'll look to snag valuable points away from the talented Russian duo with the Russian duo. There's a major X-factor involved with this matchup, and her name is Aliya Mustafina. The 2010 all-around World Champion missed last year's competition after suffering a devastating knee injury. The 17-year-old's ability to regain stability will be key. If healthy, Mustafina could contend with Maroney on vault (she placed second in the event at the 2010 world championships) and give Russia a premier floor performer.
U.S. vs. Romania
The reigning European Champions are primed for yet another strong Olympic run. No women's gymnastics team has been as consistent as Romania in recent decades. Romanians have secured a team title in every Olympic Games since 1976, including gold medal performances at the 2000 Sydney Games and 2004 Athens Games. In 2008, Romania eared Bronze, finishing behind China and the U.S.
This squad easily matches the Americans and Russians when it comes to experienced star performers. Romania features three individual European champions. Sandra Izbasa is the defending Olympic gold medal winner in the floor exercise. Her eventual showdowns with Wieber, Douglas and Komova should be epic. Izbasa also earned a gold medal in vault at the 2012 European Championships.
Catalina Ponor presents issues for Team USA because of her prowess on balance beam, an event she won at the European championships. It will be interesting to see how Team USA matches up with her abilities. Despite Gabby Douglas' all-around title at the U.S. Olympic Trials, she did not look comfortable at all on beam. This could be an opportunity for Americans Kyla Ross and Alexandra Raisman to step up and shine with strong efforts on the balance beam.
Larisa Iordache, Europe's reigning floor champion, adds even more depth to Romania's floor exercise. Unless both Wieber and Douglas both come up with huge performances on floor, it's difficult to picture the Romanians not placing two gymnasts in the event's top three.
The Verdict

It's never easy to predict how a group of teenage gymnasts are going to react when the bright lights turn on and Olympic competition gets underway. You have to like what we've seen from this American team, which features five fresh faces and a pair of blossoming superstars in Douglas and Wieber.
Russia is undoubtedly ready to shake off the embarrassment of failing to medal in 2008 and brings a dynamic roster to London. However, unless the ligaments in Aliya Mustafina's left knee prove to be entirely healed, it's hard to imagine the Russians finishing on top. The 2010 all-around world champion is simply that vital to her team's efforts.
Romania would seem to be a prohibitive favorite entering the 2012 Games, considering the team's illustrious track record and well-balanced roster. Unlike the Russians, Romania really matches up well with Team USA in every event.
Ultimately, it appears that American success will ride on the shoulders of its supplemental pieces. The Wiebers and Komovas and Izbasas will ultimately cancel each other out if the stars. U.S. gymnasts Kyla Ross (beam), McKayla Maroney (vault) and Alexandra Raisman (floor) could prove to have the final say in this global three-way showdown. After watching each of America's lesser-heralded gymnasts come up with clutch performances time and time again at U.S. Team Trials with roster spots hanging in the balance, I like their chances.
So how's this for a quasi-early prediction of who stands where on the podium when the curtain closes on gymnastics competition in London:
Gold: United States
Silver: Romania
Bronze: Russia