No More Defending Joe Paterno
The Freeh report paints a damning portrait of the former Penn State football coach's role in covering up the sex abuse scandal.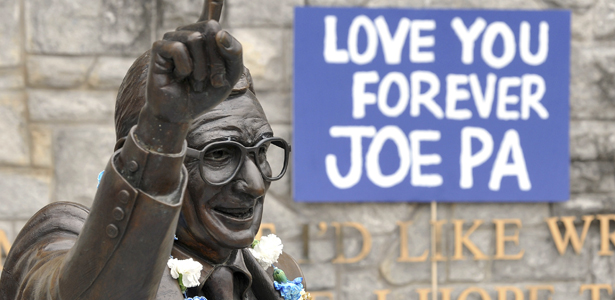 Reuters
A curious thing happened at ESPN over the past nine months. As a horrific child abuse scandal unfolded at a major university, perpetrated by a longtime coach at the university who turned out to be a monstrous pedophile and serial child rapist, one "sports analyst" after another did all they could to exonerate the most powerful man at the university. "There's enough blame to go around," one analyst would say. "He followed procedure and passed on information through the proper channels—it's the school president's fault," another would add.
And so it went at ESPN and in newspapers and sports bars across America—one person after another finding ways to exculpate longtime Penn State football coach Joe Paterno from his failure to stop his former defensive coordinator, Jerry Sandusky, from bringing young boys onto the Penn State campus and raping them. But now, in the wake of a devastating report by an independent investigator, it's time to admit the truth. Because if Thursday's report by former FBI director Louis J. Freeh is accurate, then Joe Paterno failed the most important test of his 45-year coaching career. Indeed, he failed so egregiously that it is impossible to deny that he was in some way a bad person—or at best, a coward who cared more about the reputation of the program he had built for decades than the health and safety of defenseless children.
Thursday's report by Freeh's law firm, Freeh Sporkin & Sullivan LLP, is damning for those who argued that Paterno was a semi-innocent bystander who followed university procedure and was ignorant of the full scope of Sanduksy's depravity. According to the report, Penn State athletic director Tim Curley, senior vice president Gary C. Schultz, and university president Graham Spanier prepared a plan of action after graduate assistant Mike McQueary told Paterno that he heard "rhythmic slapping" and saw Sandusky in a sexual position with a young boy in the Penn State showers in February 2001. That plan included reporting the incident to the Pennsylvania Department of Public Welfare, a move that would likely have led to Sandusky's actions becoming public long before October 2011.
A day later, Curley emailed Schultz and Spanier and told them he had changed his mind "after giving it more thought and talking it over with Joe yesterday," according to the Freeh report. Curley decided not to report the incident to the Department of Public Welfare and never directly accused Sandusky of sexual assault. Instead, he told Sandusky not to bring "guests" into the showers, a reprimand akin to telling John Dillinger to be a good boy and leave those nice banks alone. Not six months later, Sandusky assaulted another young boy in the same shower complex in Penn State's Lasch Building, Freeh said.
MORE ON PENN STATE
That right there is the beginning and end of the discussion for me. There's much more in the Freeh report and other news stories from recent months that detail Paterno's failure to report Sandusky after an earlier incident with a young boy in 1998, his public lies about his 2001 conduct in interviews after he was fired in October 2011, and his tyrannical rule over the Penn State football program, which included a remarkable ability to circle the wagons when his players or coaches got in trouble. But that's evidence I don't need. Paterno was informed of a likely sexual assault of a minor by his longtime friend and coach. Not only did he not go to the police, the Department of Public Welfare, or the press, but he used his influence as football patriarch to dissuade the AD and university president from doing the same. Because no one informed the authorities, Sandusky was able to perform another sexual assault in the same Penn State shower complex five months later. Simply put, Paterno stood aside and deliberately covered his eyes while a monster prowled his campus putting innocent children through a hell I can't even imagine, much less begin to describe.
It is true that Paterno can't defend himself against these charges because he died of lung cancer shortly after he was fired. But in his last interview, given just a week before he died, Paterno told Sally Jenkins of the Washington Post the following about the 2001 incident:
I didn't know exactly how to handle it and I was afraid to do something that might jeopardize what the university procedure was," he said. "So I backed away and turned it over to some other people, people I thought would have a little more expertise than I did. It didn't work out that way.
The Freeh report rebuts Paterno's claim that he "backed away." Freeh posted an email sent by Curley to Schultz and Spanier, a day after the trio had agreed to report the incident to the Department of Public Welfare. The email reads, in part:
After giving it more thought and talking it over with Joe yesterday—I am uncomfortable with what we agreed were the next steps. I am having trouble with going to everyone, but the person involved. I think I would be more comfortable meeting with the person and tell him about the information we received. I would plan to tell him that we are aware of the first situation. I would indicate that we feel there is a problem and we want to assist the individual to get professional help.
The "individual", of course, is Sandusky. The Freeh report notes that Curley was a State College, Pa., native who looked up to Paterno. "Athletic department staff said Paterno's words carried a lot of weight with Curley, who would run big decisions by Paterno," Freeh said. Assuming the report is accurate, there is simply no way that Paterno faded into the background and let Curley and the others decide Sandusky's fate. JoePa, as he was called, was more well-known, more beloved, and more powerful than anyone else at Penn State, even President Spanier. If he had told Curley that the authorities should be notified, the authorities would have been notified. Instead, Curley had a private conversation with him and then decided not to tell the Department of Public Welfare. Whether Paterno told Curley specifically to sweep the incident under the rug or just nodded along when Curley decided to keep it quiet, the explanation he gave Sally Jenkins was undeniably false and self-serving.
And yet, there was former Penn State player Matt Millen on ESPN Thursday morning after Freeh's news conference, confidently saying that Spanier, not Paterno, deserves the lion's share of the blame. In the same breath, Millen called JoePa "a man of great character."
Enough. I don't care if you went to Penn State, played for Penn State, or were invited to Thanksgiving dinner at the Paterno house in 1985. Joe Paterno actively did the wrong thing, and because of his actions, more innocent boys were sexually abused. I also don't care why Paterno did nothing—a skewed sense of loyalty to Sandusky, fear of tarnishing his then-spotless legacy, whatever. When you fail the Morality 101 test of protecting the innocent and stopping bad people from doing bad things, the why doesn't matter. And for those of you who want to blame the "institution" of the big-school football program that becomes more important than anything else, spare me. At Penn State, Joe Paterno was the institution.
JoePa did a ton of good in his life and was assuredly a positive influence on thousands, if not millions of people. But that doesn't mean he was a good man, nor does it mean that we need to protect his legacy. He wasn't, and we don't.