Yes, it's official now—Phelps has a record 19 Olympic medals, and he's not even done yet.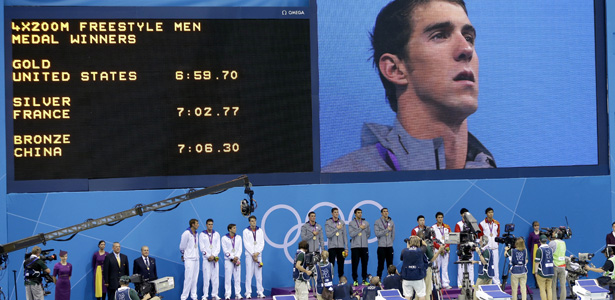 AP Images

MORE FROM BLEACHER REPORT:
Athletes' Awkward High Fives
The Strangest Good-Luck Charms
The Best Quote Machines in Sports
---
Michael Phelps has done it. He is now the all-time leading overall medalist in Olympics history.
In the 200-meter butterfly, he took silver to tie the record of 18 medals set by Soviet Union gymnast Larisa Latynina. Then, Phelps made history—as he always does—as the United States won gold in the 4x200-meter freestyle relay.
The number 19 is a magical number in the world of sports. Phelps needed 19 medals to become the greatest Olympian of all time; a perfect season in the NFL is 19-0, including the playoffs, and 19 major golf championships would surpass Jack Nicklaus's leading total of 18. But no NFL team has gone 19-0, and Nicklaus still remains No. 1 in golf.
Michael Phelps is the real thing. After so many years of anticipation, he is the most decorated Olympian in the history of the Games. Now, let us recount the highlights of his journey to the pinnacle.
All-time Olympic medal records fact sheet courtesy of the International Olympic Committee.
Full view of Michael Phelps records courtesy of USA Swimming.
Full view of swimming world records courtesy of FINA official website.
This post also appears on Bleacher Report, an Atlantic partner site.
We want to hear what you think about this article. Submit a letter to the editor or write to letters@theatlantic.com.