Kitty Wells: Feminist Country Godmother to Britney Spears
She was among the first female popular musicians to sing about the experience of being female—and to face derision from the industry's good old boys for doing so.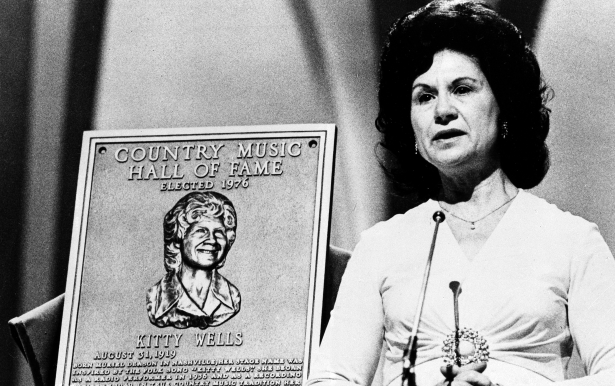 AP Images
When Kitty Wells died Monday at the age of 92, country music lost one of its few remaining stars from the midcentury golden age of honky-tonk. But the rest of us lost something even more significant: An architect of modern pop, one of the first female singing stars to make music explicitly about the experiences of women. Without her, there certainly would never have been a Patsy Cline, a Loretta Lynn, a Dolly Parton, or a Miranda Lambert—but there equally would never have been a Janis Joplin, a Patti Smith, a Joan Jett, or a Britney Spears.
Her first hit and signature song, "It Wasn't God Who Made Honky Tonk Angels," was written as a direct rebuke to a line in Hank Thompson's "Wild Side of Life" and precipitated a flurry of scandal upon its release in 1953. NBC's powerful network of Southern and rural stations and country programs—including the self-important arbiter of country-music legitimacy the Grand Ole Opry—almost instantly banned it. Like the Dixie Chicks would two generations later, Wells had run afoul of the cynically moralizing Music Row which, in common with the rest of the music industry, vastly prefers women to look pretty and sing sentimentally than to speak their minds.
Story continues below.
The song's argument, delivered in Wells's unadorned, declarative style, was that if fallen women were to be blamed for being the ruin of a man, then the men who had ruined them in the first place should shoulder blame too. That argument wasn't popular with the good old boys who ran the country-music business—but the country-music audience, largely made up then as now of women with their own minds and tastes, felt otherwise. "Honky Tonk Angels" became one of the few answer songs to outstrip the original in sales; after the song went to No. 1, radio stations bucked the ban in order to satisfy customer demand, and Wells was eventually begrudgingly invited to perform it on the Opry. The 34-year-old Kitty Wells, without really intending to—all she had wanted was a hit, a chance to keep singing for a living—had established a space in American music where women could speak from their own experience without having to filter their stories through a male lens of either sexually charged tragedy or saintly wife-and-motherhood.
MORE ON MUSIC
This space, the musical equivalent of Virginia Woolf's literary "room of one's own," would later be recognized as a proto-feminist achievement, opening up popular music in ways that Wells could not have predicted. Twenty years later, Loretta Lynn's birth-control anthem "The Pill" would be similarly blacklisted, while the revenge-fantasy mini-genre of the 2000s (i.e. the Dixie Chicks, Martina McBride, Miranda Lambert, and Carrie Underwood) has defied the same good-old-boys network that resisted "Honky Tonk Angels," now complaining about the supposed double standard that would prohibit male singers from singing about taking violent revenge on women.
Those men failed to grasp Kitty Wells's importance in 1953, and continue to misunderstand the country audience today. Men who insist on treating music as an inherently masculine activity are all over the place, from blues aficionados ignoring the female cabaret singers who first popularized the music in favor of men with guitars a decade or more later, to condescending rock magazines rating female guitarists not on skill but attractiveness. They always make the same complaint whenever women create musical spaces for talking about women's concerns: They're watering it down, they're domesticating it, they're making it (that foul word) Pop.
But Kitty Wells was as hardcore a honky tonk singer as any of her generation. Her voice was as keening as Hank Williams's, as sure-footed as Lefty Frizzell's, as emotionally resonant as Webb Pierce's. Even when she went countrypolitan in the '60s (following, not leading, the market), she never softened up her voice, remaining as forthright—and indelible—as ever.