India's One Big Shot at Olympic Glory
The field hockey team holds the country's greatest hope for a medal at this year's games—but its heyday may be too far in the past.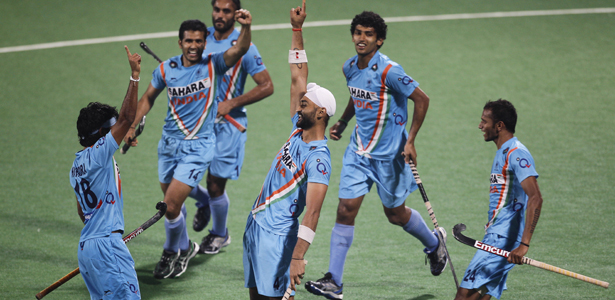 AP Images
In India, cricket is the national obsession, but it is actually field hockey that is its official game, with a more deeply embedded history within this patchwork of nations. Field hockey is the country's most decorated international sport, and the men's national team is the most accomplished in the Olympic event's history—winners of 11 medals, including eight gold, dating back to 1928.
As the world's second-fastest growing economy strives for more influence among the most powerful nations on earth, many of India's 1.2 billion citizens view field hockey as the country's best shot at making a statement on sport's largest international stage—given that cricket is not an Olympic sport. Indian field hockey has fallen off in recent years though because of a lack of success, with the national team hitting rock bottom in 2008 when it failed to qualify for the Olympics for the first time ever. Hockey's "Black Day," as it is known, was a near-lethal blow to a sport that has been in freefall since India won its last Olympic medal, a gold, in 1980. Support for hockey has waned ever since.
But buried deep within many Indians is a hope that hockey glory will return. That longing was mirrored in Chak de! India, an award-winning 2007 film starring Bollywood's top star, Shah Rukh Khan. It chronicled the rise of the women's national hockey team. Today, there is even talk that Khan, whose image graces billboards and auto-rickshaw rearview mirrors nationwide, will play Indian hockey legend Dhyan Chand—the Pelé of hockey—in another upcoming film.
"I think there is always a potential for hockey," said Arjun Halappa, a former captain of the national team, as well as one of the country's top players the last decade. "Everyone might say hockey is gone, but still if you look into India, emotion is always there for hockey. After cricket, you can draw a crowd only with hockey."
A RIGHT TURN and a drive down a back road from the congestion and chaos of the main drag takes visitors to the Sports Authority of India complex at the center of the southern city Bangalore. The sprawling campus is a lush and peaceful village protected from the usual accompaniments of a large Indian city—street noise, discarded food containers littering the ground, and people, everywhere. Its distance from the hustle and bustle allows it to stay free of all the clutter and dust. It is an oasis in the desert.
It's still above 80 degrees as this late-March evening nears 6 p.m. and water is sprayed onto the Astroturf, a practice that helps slow the pace of the playing surface. The players have just finished warming up on the nearby track and are sipping cups of hot tea. The smell of burning leaves and garbage lingers in the air.
National team coach Michael Nobbs, a tall, portly Australian brought on to reestablish the team on the international scene, drops the ball on one end of the pitch. Bursts of Indian blue from players' jerseys, with highlights of orange and white, surge through the waning day's light. Soggy footsteps are everywhere. A brood of brown-feathered kites, long-winged birds of prey, circles high overhead.
MORE ON THE OLYMPICS
At the other end of the turf, the short corner experts—a distinct position comparable to soccer's star penalty kickers—are working on their first session of swings during this training camp. The band of three practices the drag-flick, essentially a 75 mph wrist shot about 15 yards from the goal. Among the trio is Sandeep Singh, the biggest name in Indian hockey right now. The 26-year-old Sikh from the northern state of Haryana has suddenly become the face of the sport after an impressive showing at the victorious Olympic qualifier held in Delhi in late-February.
Sandeep, a former captain of the national team and a winner of the 2010 Arjuna Award, the nation's top sports honor, is the David Beckham of Indian hockey. He is a talented specialist, but his defense and value outside of this knack for set pieces has in the past been called into question. After a stunning performance to help push India over the top and back into the Olympics, which included 16 goals on penalties in six matches, he is riding a sudden wave of celebrity, endorsements and bonus money as the sport moves toward professionalization.
He has a long neck and at 6'1" is taller than most Indians. His legs sprawl out as he sits on a metal bench chatting after practice. As is customary among Sikhs, he dons a turban—his a white wrap around his head and a coil of covered hair at its front--to go with his youthful face and well-kept beard. The Olympic rings permanently inscribed on his right arm signify him as only one of two members on the current squad to have played in the Games before, in 2004.
"In the past, we were just playing for our self-respect and country respect," said Sandeep. "We [were] just playing for our country, plus we want to wear Tiranga, the three colors of the flag. Now in hockey, money is coming and sponsors are coming, so now is good. But before, no sponsor, no money. We [were] just playing for our country, not for money, not for nothing."
While tradition dictates that nearly all of the national team players are given well-paid, mostly symbolic government jobs—Sandeep is a deputy superintendent of police in his home state; others are provided positions with the military or in the public sector—players have begun trying to cash in more aggressively. Sandeep and another Indian thought of as one of the best in the world, Sardara Singh—the two are unrelated, Singh is the Smith of India—have already signed deals with companies such as Reebok, Mountain Dew, and the Jaypee Group, a large Indian engineering conglomerate. Sahara, a corporate financial firm that also invests heavily in cricket, along with telecommunications giant Aircel, have stepped up as primary sponsors of the team. The national and state-level governments also frequently shower players with monetary rewards for successful tournaments.
"Everybody wants money," said Sandeep. "If we have good money in hockey, no problem. We have small money, but everybody wants money. That's why there are problems."
Indeed, for those players either not on the national team or not featured as stars, the money does not come quite as easily as it does for Sandeep and Sardara. On top of that, though the enthusiasm for hockey has been reignited, a now-typical Indian conflict—old world tradition versus potential new world success—threatens to derail the sport altogether. Enter the privately sponsored World Series Hockey (WSH) league, which aims to make hockey the "'sport of choice' for young Indians," and has started signing players to huge contracts. The draw to play for the unsanctioned tournament seems clear—a choice that the sport's governing body subsequently deemed worthy of disqualification from the Olympic team.
A group of veterans from the national team has been cast off for joining the WSH, including Arjun Halappa. Perhaps more notably, Rajpal Singh, the most recent captain of the national team, who was awarded the Arjuna trophy in 2011, was also booted from the squad.
Just this past September, under the newly hired Nobbs, Rajpal guided India—without Sandeep and Sardara because both were serving behavior-related suspensions—to a penalty shot victory over archrival Pakistan in the final of an international tournament in China. Shortly after, Rajpal spoke out about the poor treatment of players by the federation and found himself stripped of his captain role. The coaching staff soon floated questions about his physical fitness level following a recent marriage and appendix surgery, both of which saw him miss significant time, and he was eventually sacked.
"There are more politics in sports than in politics," said Indian hockey historian K. Arumugam, who is finishing his 14th book on the subject. "Politicians here have even said that. [The government] has a long way to go, but they're going in the right direction. But the federations, they don't have any motives to go in the right direction because they are not run by competent people. They certainly don't change their mindset."
Disappointed to not be on the Olympic roster, the 29-year-old Rajpal, a wiry man with penetrating brown eyes and a long face blanketed by a scraggly, jet-black beard, explained his feelings on the unlikelihood of ever representing his country on the grandest of international sporting platforms, a common dream among many Indians, following a World Series match in the capital city of Delhi in March.
"Hockey for me is special," said Rajpal. "I always play for the passion. I play hockey because I love to play, not play for the Olympics. But this is not the end of the road. I always play good hockey, whether for my club, my state, or my country."
While the Indian team recently managed to qualify for the 2012 Olympics, with a spate of coach firings and strategy overhaul since 2008, and now this player turnover, it is clear Indian hockey is at a turning point.
"It's on its last legs, though everyone wants it to survive," said Sharda Ugra, deputy editor of India Today. "Whichever way it goes, it will signify the resurgence, or the end."
THE GOLDEN ERA of Indian hockey began when Dhyan Chand led the team to three consecutive gold medals. The team added three more, for a total of six in a row, the next three Olympics. India utterly dominated the sport during this period, going undefeated in international competition between 1928 and 1956, adding five more medals—two gold—to bring the total to 11 overall.
That hockey medals account for more than half the country's 20 Olympic medals over 112 years, dating back to India's first appearance in 1900 as a British occupied territory. Aside from a bronze in wrestling in 1952, since the hockey team's first medal in 1928, the country did not medal in any other sport until 1996.
Twenty medals is a paltry take for a country of more than 1.2 billion people. Compare that to Brazil, a place often grouped with India because of their corresponding stages of recent economic development. The South American country has won more than India's total haul in just the last two summer Olympics combined. China—another natural comparison to India because of the two countries' similarly sized populations—won 100 medals in just the last summer games alone, which it hosted in Beijing in 2008. Even tiny Jamaica, with a population of less than 3 million people—fewer than some parts of Delhi—has won 55 medals, in seven fewer Olympic Games.
India's Olympic record is one of the globe's worst. Despite all this and the many systemic problems within Indian field hockey, come the end of July with the beginning of the Games of the XXX Olympiad, all eyes will be trained on London to watch the Indian team.
"What really gets Indians kicking is an India versus Pakistan match," explained Gaurav Singh, who is trying to start a foundation to recapture interest in hockey at the grassroots level under the name of his grandfather, hockey legend Dhyan Chand. "The passions are running high and if they come out winning, the streets are jam-packed, flags are waving everywhere, and that's what sport is supposed to do--make [people] feel like they, while watching from the stands, have achieved something."
Hockey may not be the answer to the country's acute problems—according to the government's own estimates, about 450 million live on less than $1.25 a day. While between 50 and 100 million have risen above the poverty line over the last 20 years, India's economic and social problems are vast at least in part because of the government's ineffectiveness. But a rejuvenated national team can boost some broken spirits, raise morale and unify this sundry of statesmen. For now, these hopes rest on the team's performance in London.
"You have the youngest population on the planet," said coach Michael Nobbs in his heavy Australian accent. "You have 400 million 15 year olds and under. You have 200 million middle class and up. You have the greatest talent pool in the world. You just have to pump the funds in for these kids and you will have Olympic medals jumping out of your ass within 10 years, no doubt about it."
Nobbs often says that the plan he has installed is one of long-term goals, not necessarily of short-term results. He says that his target is for his 10th-ranked team in the world to finish in the top six or eight out of the 12 countries appearing in London this summer. Australia, Germany, and The Netherlands remain the teams to beat in the only event for which the United States didn't even qualify. But anything less than a podium finish might not be enough for some. "Everybody wants to bet on the winning horse," said Gaurav Singh.
Indian hockey's future and survival depends on the support of the country's citizens. Although the team has qualified for the Olympics, they were outscored 21-3 in four friendlies—all losses—in early May against three of the top four teams in the world. A week ago, India traded disappointing one-goal games with the 12th-ranked South African team. The men in blue then lost in their final two warm-up matches before the Olympics, to No. 4 Great Britain and No. 5 Spain, both of which should be a contenders at the Games—the same status India is striving to achieve to once again inspire the next generation of Indian players, as well as its people.