How Washington, D.C., Turned Its Back on Go-Go, the Music It Invented
Gentrification, hostility from police, and its own insularity has pushed Chuck Brown's brand of party-starting funk to the margins of the nation's capital.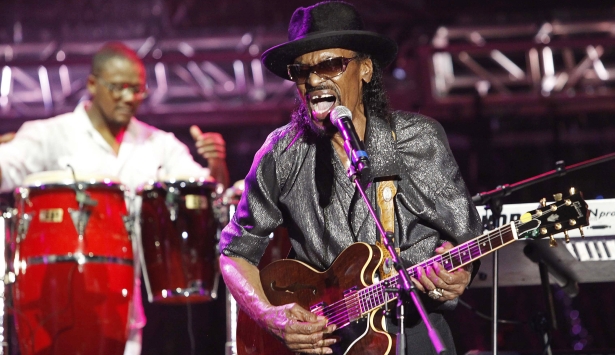 This post has been corrected.
A little more than a month ago, thousands descended on Washington, D.C.'s Howard Theater to say goodbye to a legend. Chuck Brown, the guitarist who became synonymous with D.C.'s go-go music scene, had died at age 75. But while the assembled waited in the rain to be let inside to view Brown's body, an official-looking man—one person there said he was wearing a police jersey, while a Howard spokesperson said the man was a fire marshal—showed up and told the crowd to disband because of lightning.*
The crowd didn't budge, recalled author Natalie Hopkinson, who was there with her two children. Instead, it got more vocal and agitated. "Wind me up, Chuck," the masses roared (a common refrain shouted at Brown's concerts.) Emotions were running high between go-go fans and authorities. After all, go-go's Godfather had been laid to rest—following a decade of flagrant reminders that go-go music (or a big part of the population that listens to it, at least) isn't welcome in the new vision of D.C.
Story continues below
Natalie Hopkinson in her new book Go-Go Live: The Musical Life and Death of a Chocolate City enthrallingly captures—with interviews, photographs and accessible reportage—the ways in which go-go tells a larger story of the nation's capital. She traces the music's fascinating political history, beginning with President Lincoln's freeing of the slaves in D.C. nine months before the Emancipation Proclamation, and including the founding of the historic Howard University in 1867 and the flowering of black institutions within the city during segregation. But to read her book and then look around D.C. these days is to get the sense that go-go's on the wane, and that the very city that created and nurtured this music has changed so fundamentally as to now reject it.
Go-go, so named because the music just goes and goes, is a love child of the blues, funk, salsa, gospel, and soul that emerged in the '70s with obvious influences from the other Godfather, James Brown. The genre was created in D.C., a city where blacks from all corners of the globe could experience—or at least imagine—what Hopkinson calls "black privilege" in her book.
"D.C. ranked among the few cities in the United States where black people could not be called 'minorities,' with the whiff of inferiority that label carries with it" she writes. "To live in a Chocolate City is to taste an unquantifiable richness. It gives a unique angle of vision, an alternate lens to see world power. In a Chocolate City, black is normal."
But even in a place like D.C., the relative "privilege" that blacks enjoy is tenuous at best. Only a month after Chuck Brown's death, The Fordham Institute released a study citing the nation's capital as having three of the fastest-gentrifying zip codes in the nation. The study cemented the notion that the "Chocolate City"—a moniker George Clinton of the Parliament Funk gave to the nation's capital in the '70s—has been undergoing a radical shift.
In a recent interview with Hopkinson, I asked her to expand on a quote she uses at the beginning of Go-Go Live, from the cultural activist Charles Stephenson, Jr.: "Go-Go is more than music. It's a complex expression of cultural values masquerading in the guise of party music in our nation's capital."
What are those values? "I spend the whole book unpacking that idea," she said. "The music is a conversation [speaking to] those values of community, entrepreneurship, fellowship, giving every single person a voice whether that's through a shout out or through the call and response or through a dance move, or showing what kind of fashion you're wearing."
Indeed, just as hip-hop is, in the words of Public Enemy's Chuck D, "the black CNN," go-go spoke for the black and brown youth community in D.C. through the '70s, '80s, and '90s. Browse through Chuck Brown's voluminous song catalog for a portrait of the city's old zeitgeist. Hits like "We the People," "We Need Some Money," and "Bustin' Loose" double as party tunes and social documentary of what it was like to live in the nation's capital in the era after Martin Luther King, Jr.'s assassination but before the crack era fully arrived.
In his poem "Tapes," D.C. native Thomas Sayers Ellis paints a scene of how mix tapes were currency in the early days of go-go:
"make me a copy/ Carmichael said/ the day after his brother's murder/ a way of remembering/ holding on/ ranked next to gold chains/ & school clothes/ ...attention/ care/ respect."
MORE ON MUSIC
But there's a competing narrative surrounding go-go, one that's espoused by local law enforcement, some gentrifiers, and developers looking to convert D.C. into a mini Manhattan. They see the music as a problem; publicly, the talk is about crime surrounding go-go gatherings. "It's this go-go," one Metropolitan Police Department officer said during a 2005 hearing over nightclub violence. "If you have a black-tie event, you don't have any problem. But if you bring go-go in, you're going to have problems." In 2010, the Washington City Paper reported that D.C. cops had taken to circulating a secret "go-go report" to keep tabs on the scene. And as DCentric.com's Elahe Izadi wrote last year, "For many years now, go-go venues have been shut down inside D.C. due to club violence and liability issues, pushing the music further out into the Maryland suburbs like Prince George's and Charles counties. Meanwhile punk rock, another D.C. musical mainstay, is not experiencing the same bad luck."
Assaults like these from the establishment are all the more potent given go-go's insularity. Hip-hop, jazz, and blues were all at one point associated solely with violence and working-class black culture as well. Unlike those genres, though, go-go never went global other than when, in 1988, Spike Lee featured EU's song "Da Butt" in School Daze. Go-go's only ever been big business for the local black entrepreneurs in D.C. who kept it among themselves and guarded it fiercely.
Story continues below
These combined forces—demographic change, police crackdowns, and go-go's uniquely local nature—are making the music scarcer. When I attended Howard University in the mid-2000s, the very sound that is native to the area was held at arm's length. One would have to leave campus to hear go-go. Still, although pushed to the margins of the nation's capital, the beat does go on. Hopkinson describes bands playing many days of the week. And you can hear go-go's influence in music being made outside the city limits.
Days following Chuck Brown's death, I attended a concert at the Howard Theatre. The airy-voiced Greenwich Village-raised singer Amel Larrieux made her voice husky as she grabbed the microphone, screaming at the audience the words to Brown's "Bustin' Loose." Nearly everyone jumped out of their seats; coiffed-haired ladies kicked off their shoes. The multicolored lights transformed the otherwise-elegant supper club into a dance hall. Time spun backward. Those drums. Amel calling to the audience, "Do y'all feel like bustin' loose?" I along with hundreds of people shouted back, "Hell yeah."
---
* This post originally misstated and omitted some key details from the scene in the first two paragraphs. We regret the errors.