Why Watching Golf on TV Is Way Better Than Watching It Live
Notes on being at the U.S. Open in person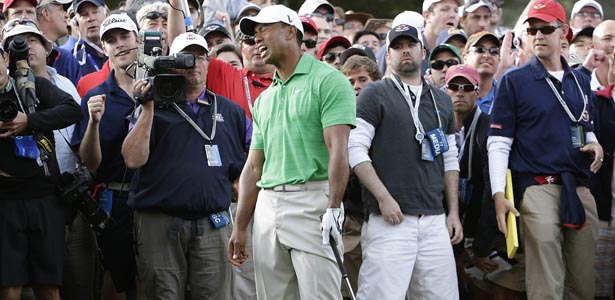 AP Images
Golf is the world's worst spectator sport. At a football, baseball, or basketball game, fans simply settle into their seats and watch the action unfold. At a golf tournament, like this past weekend's 112th U.S. Open, dozens of players roam over 18 holes for four days, and it's simply impossible to see more than a tiny fraction of what happens. Even that fraction demands preparation. And walking. Tons of it. It's ironic, but the most sedentary of the major spectator sports demands by far the most effort to see in person. Especially at this Open, in hilly San Francisco, at the even hillier Olympic Club.
Step one is planning. You've got to study a course map to know where the good stuff is happening, and how to get there fastest. You also have to decide what kind of experience interests you most.
You might like to watch putting. You could watch all you wanted strolling the Olympic Club's sharply tiered greens rolled and watered for days prior to the Open to make them faster. You can't see the players facial expressions like on TV, but who cares, really? Being able to kneel and read the break of the green just like the players do is infinitely cooler.
Related Story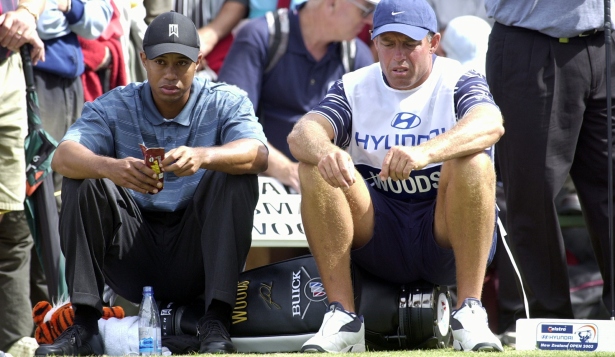 Or, for those who like to watch big hitters, there was the 16th hole. At 670 yards, the longest in Open history, so demanding the locals jokingly called it a Par 5 1/2. Phil Mickelson and Bubba Watson didn't seem to like it, but hanging by the tee and watching pairing after pairing grip and rip was a blast, the whoosh of the shaft and smack of club face to ball infinitely more satisfying in person.
Golf maven and sportswriter John Feinstein suggests avoiding crowds around star players. "Pick a group who isn't famous to follow around the course. That's the way you actually get to see some golf."
That is, as opposed to following Tiger Woods. Thousands of people, along with five police officers, followed Woods around the course all weekend. Lesser known players several strokes ahead of him on the leader board, including eventual winner Webb Simpson, walked around virtually alone
Here are some other lessons I learned from my weekend at Olympic:
1. Be careful what you carry
The USGA and PGA have an extraordinarily long list of stuff that fans can't bring on the course—far beyond the usual bans on weapons and booze. You can't bring signs or national flags, for instance. At this Open, people weren't even allowed to carry cellphones without a special gold sticker, leaving tens of thousands of affluent, tech-savvy golf fans in the untenable and bizarrely pre-postmodern condition of being at a really cool event yet having absolutely no way to prove it on Facebook.
2. Goof off
Most big sporting events have fan-fest type midways, with play areas for the kids, concessions, merchandise stands, and corporate-sponsored promotional pavilions. For the first three, unusually clear, bright and warm days of the Open, the Olympic club midway was packed. Fans grabbed the single-use, single-band "CourseCast" radios given away by American Express. They stood in very long lines at the Lexus pavilion for the chance to win a car by hitting a virtual hole-in-one.
While you are goofing off, be sure to get that merchandise early. Oh, don't even act like you don't care. What's the point of attending a splashy event like a U.S. Open if you don't pony up for all kinds of overpriced clothing and doodads gear to wear back home and make your friends jealous? The Open's "merch tent" was really a warehouse—a ridiculously huge, well-lit, carpeted warehouse with plenty of mirrors and dressing rooms, it was practically luxurious. That is until Sunday night, after the last hole, when the place had been stripped to the bare shelves.
3. Come up with an original catchphrase
This Open, sadly, has given birth to a new, insipid thing for drunk guys to yell in the silence following a big shot. First came "You da man!" which mercifully seems to have died. Next came "Get in the hole!" which still exists, followed by the inexplicable yelling of "Mashed potatoes!"
Then, late in the final round Sunday, the 2010 U.S. Open Champion Graeme McDowell stood at the 15th tee, needing two birdies on the last three holes to catch Simpson, the clubhouse leader. McDowell didn't get them. But the game did see the birth of a dubious new catchphrase—one we are likely to hear from galleries for years to come - when McDowell blasted his drive down the fairway and some huge Flintstones fan in the crowd let loose with Fred's signature Yabba-dabba-do!"
4. Feel free to dress like a moron
One of golf's great joys is the freedom to wear, say, lime green slacks and a pink seersucker fedora. There was no shortage of fans expressing themselves through fashion this weekend. One group of dudes wandered around in kilts. Which makes sense, as golf began in Scotland. But these weren't tartan kilts. They were in Army green—which makes no sense. The whole point of camouflage is to blend into the background. Guys in kilts don't blend. Then again, this tournament was in the heart of San Francisco. In addition to Webb Simpson's first major and the "Yabba-dabba-do" meme, the weekend may have been the first time ever in the U.S. Open's 112-year history with spectators sporting waist-length dreads.
5. Try not to be a weather wuss like everyone in San Francisco.
The Olympic Club's 17th hole, where Jim Furyk let the title slip away, ran parallel to a row of hospitality suites, complete with a deck for overlooking the fairway. Late on Sunday, though, when the championship was being won and lost, only scattered crowds were left in the once-packed galleries. Far more people were inside the suites watching on TV than on the deck overlooking the real thing. That's because people in the Bay area think that 60 degrees is cold.
Then again, it was also because golf is at once too big and too small to watch live. There's no way to see more than a fraction of the best shots, even if you traipse around for miles all weekend. Even those you do see are hard to fully appreciate. That's the nature of the sport. If, as the old salt goes, baseball is a game if inches, golf is a game of millimeters. The surface area where club face meets ball is impossibly tiny; and so the difference between a birdie putt and bogey can literally be a hairsbreadth. That's why, despite the color, sound, and revelry of seeing a tournament live, the best place to watch a golf tournament is always on your flat-screen at home.