Why Every Team in Baseball Should Use Designated Hitters
MLB is the only major sports league where different teams have different rules. Time for a change.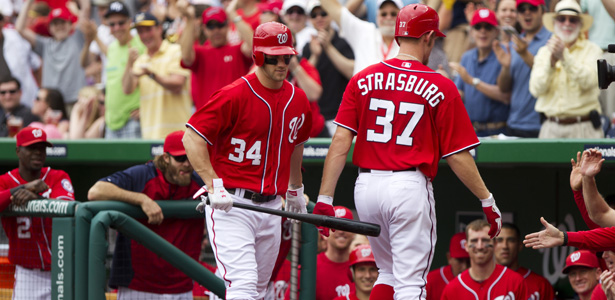 AP Images
Interleague play as we know it came to an end in the Major League Baseball on Sunday night when the Yankees beat the Mets, 6-5, in the rubber game of their latest Subway Series. As was the case in previous years, baseball set aside a roughly six-week block for matchups between American League and National League teams, so the only times players from each league will face other again this season are the All-Star Game and the World Series.
Our annual guide to the modest ideas that can change the world
See full coverage
But next year, interleague play will be coming to you daily. The Houston Astros are set to move from the NL Central to the AL West, evening out the leagues for the first time since 1997. Unlike the setup in the early 1990s, however, there will be an odd number of teams in each league (15). That will lead to a wildly different schedule with at least one interleague series at all times. It's not inconceivable that a team could alternate between interleague and intra-league games on a weekly basis for much for the season.
With that in mind, it's time to end a baseball anachronism: pitchers hitting in one league but not the other. The new schedule means baseball just can't have it both ways anymore.
A quick historical review: Both leagues required the pitcher to hit until eccentric Oakland Athletics' owner Charlie Finley convinced the other American League owners to adopt the designated hitter rule in 1973. The National League stayed true to baseball purism and refused to adopt the DH, creating an odd dichotomy with no true parallel in the sports world. No other major sports league has such a significant rule disparity within its ranks, and all other American sports leagues have the same rules for every team.
MORE ON BASEBALL
The rule difference was fine when AL and NL teams only played each other in the World Series. It was inconvenient but acceptable when the two leagues only matched up in designated interleague blocks. But when interleague play happening all season long, the continuous switching between DH and no DH will have an adverse effect on teams from both leagues. National League teams with short benches will have to decide if they need to carry an extra hitter for their trips to American League parks (in interleague play, the rules are based on which team is at home). AL clubs would have to rethink the importance of their DH, who would regularly be relegated to a pinch-hitter role for whole series at a time.
The issue is not that the leagues would be playing each other constantly—as of now, each team is expected to play 18 to 20 interleague games in 2013. The issue is that the games would be spread out over an entire season, forcing each team to change its strategy (and its lineup) multiple times a month. It may not be earth-shattering, but even if it's just a major inconvenience, why not avoid the problem entirely? What, exactly, is the rationale for keeping the rules different in each league?
I say bring the NL into the 21st century, put the DH in both leagues and let pitchers go back to spitting sunflower seeds on the bench when their team is up at bat. The designated hitter has increased the number of players in the AL (because really, who wants to see their team carry an extra middle reliever rather than a power hitter off the bench as its 25th man?). It leads to more offense, which is what the casual baseball wants to see—remember, chicks dig the longball. And it allows aging hitters or poor fielders to keep a place in the game.
The DH gave us David Ortiz and Edgar Martinez. It extended the careers of Vladimir Guerrero, Eddie Murray, and Frank Thomas. It's allowing current AL batting leader Paul Konerko to play every day, even when he needs a break from playing first base. And it will very likely extend the careers of Alex Rodriguez and Derek Jeter by a couple years each. Other than the downfall of "playing baseball the right way," why wouldn't we want to see NL hitters have the same advantage? Now that interleague play will be a season-long constant instead of a month-long novelty, let's bring the oldest two-party system in sports a step closer to playing like one league, rather than two.