Who Cares About Dale Earnhardt Jr.?
NASCAR fans love him. Everyone else barely knows who he is.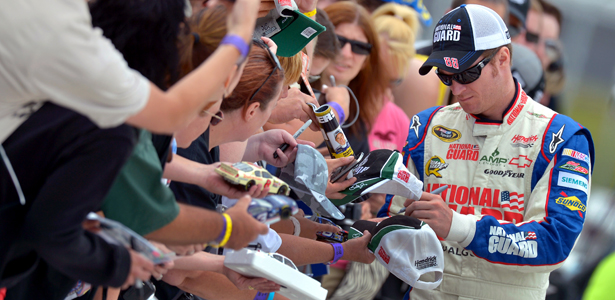 AP Images
Every week, our panel of sports fans discusses a topic of the moment. For today's conversation, Patrick Hruby (writer, ESPN and The Atlantic), Hampton Stevens (writer, ESPN and The Atlantic), and Jake Simpson (writer, The Atlantic) discuss the NASCAR fan divide.
---
Hey, guys,
Our annual guide to the modest ideas that can change the world
See full coverage
Dale Earnhardt Jr. is back. Back celebrating, that is. After four years of failure and not-quite-good-enough, NASCAR's most beloved driver lifted a trophy at Michigan International Speedway on last Sunday, snapping a 143-race losing streak that predated the Obama administration. Trackside reporting from ESPN.com's David Newton described grinning crew members, screaming fans, and driver Brad Keselowski quipping, "the nation can return to sanity." To paraphrase Joe Biden, it was a BFD.
So how come those of us outside NASCAR Nation were completely clueless?
Here's the thing: I like sports. A lot of what I do for a living involves writing about them. I've covered
the Olympics
,
NBA halftime acts and professional foosball. Nevertheless, I'm stock-car illiterate. Don't follow, hardly watch, only know what the most casual, SportsCenter and/or PTI fan knows. And I knew absolutely nothing about Junior's losing streak. Zilch. Didn't know it began before the financial crisis. Didn't know it was the talk of auto racing. Didn't know how badly fans wanted him to win—or, as Newton put it, "in NASCAR this is as close to a national holiday as it gets. There will be Earnhardt fans so hung over on Monday that they probably won't get to work. Tuesday might be a day off, too."
I didn't know any of this because nobody told me. Until this week, I had never heard a single word, disparaging or otherwise, about Earnhardt Jr.' s earn-a-degree-in-less-time losing skid. Not even from other sportswriter friends. Which is strange. Strange because it's exactly the sort of too-crazy-to-be-true talking point that ought to escape sport-specific chatter and thrive in broader, more casual conversations.
Related Story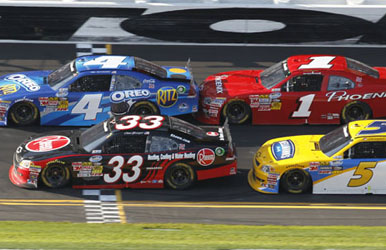 To put things another way: I'm not much of a golf fan, either. But I know all about Tiger Woods' inability to win a major tournament since his personal life imploded, enough to hold my own in a barstool argument. It's impossible to be around sports—to be around televisions, really—and not have a passing familiarity with certain story lines, even if you don't actually care about them.
(If there's isn't a German word for this phenomenon, someone needs to coin one, and make "Kardashian" the root).
But Junior? To me and other NASCAR non-devotees, he's the genial guy splitting time in the Wrangler commercials with retired Brett Favre. His long slog of losing sped—but not too fast—right past our cultural radar traps. Hampton, you're a fan. What does Earnhardt Jr.'s victory mean to your tribe? And if stock car racing's biggest star could go 0-fer for the equivalent of two Congressional terms without the rest of us noticing, what does that mean for the sport?
–Patrick
First, Master P, the comparisons to Tiger and LeBron overstate Junior's travails, and the size of his Michigan win. LeBron needs a championship to prove he is among the best of his era. "Little E" isn't the dominant racer of his era like his daddy was, but he's more than proved he can play with the big boys. Earnhardt Jr. already has NASCAR's biggest prize: winning a Daytona 500 in 2004.
Comparisons to Tiger Woods are a bit more apt, as both stopped winning in 2008. But Tiger's game has been a virtual wreck along the way. Junior has avoided wrecks—the real kind—quite well. He didn't win for a while. But, in a sport that rewards consistency over a 36-week grind, he drove well enough for the "losing" to include two berths in NASCAR's postseason Chase for the Sprint Cup.
Still, that doesn't explain how you, and all your purportedly sports-savvy friends didn't know about about the streak. Explaining that, or at least trying, would require a ridiculously broad generalization. Despite the risk of sounding like Burt Reynolds schooling Sally Field on Southern culture in Smokey and the Bandit, that's a generalization I'm willing to make.
Blame college. Most working sportswriters and broadcasters have college degrees. That's simply because most media outlets prefer to hire people who have them. So all your sports media types, on- and off-air, learn their trades where stick-and-ball sports rule and racing is nonexistent. How many colleges have you ever seen, after all, with a speedway on campus?
NASCAR is more working class. There are exceptions. Driver Ryan Newman graduated from Notre Dame. Darian Grubb, Tony Stewart's crew chief, holds an engineering degree from Virginia Tech. He's the new breed. Still, most who succeed in the sport do so because they spend their lives behind a steering wheel or under a chassis. Like Earnhardt Jr.'s crew chief, Steve Latarte. He started by sweeping floors for Hendrick Motorsports at 15.
But let's be real. About half of this country has a strong cultural bias against NASCAR. The sport is loud, gaudy, aggressively patriotic, overwhelmingly white, male, and Christian with working-class, rural Southern roots , and—oh, yeah—is built around adoration of the internal combustion engine. In short, NASCAR is everything that blue states hate about red ones. A certain class of urbanite snob will even use the phrase "NASCAR fan" as an insult meaning something along the lines of "stupid redneck," in the same way they might use "Wal-Mart shoppers" as a slang for "poor, overweight, and unfashionably dressed."
That's not a racing thing. No one talks that way about fans of, say, IndyCar or MotoGP. Only NASCAR gets that kind of scorn.
Jake, my sense is that the cultural biases play a huge role in shaping how NASCAR gets covered, and so explaining Patrick's knowledge gap. Am I wrong? Or doesn't it seem like people slam the sport for reasons that have nothing to do with what happens on the track?
–Hampton
1. Yes, culture bias plays a huge role in the under-coverage of NASCAR by all us uppity sports media types who had the nerve to get a college degree, or even a postgraduate one (gasp!).
2. So what?
Here's the short view on NASCAR from effete, equal-rights-for-all blue Staters like myself: It's an all-white, all-male sport in which a bunch of louts get drunk and watch fast cars race around in an oval for hours. But where are we wrong? The sport is undeniably skewed towards white males—in the nearly century-old history of NASCAR, an African-American driver has won exactly one race (and even then, Wendell Scott didn't get to enjoy Victory Lane). Google "female NASCAR winners" and you get a lovely screenshot of Danica Patrick's Wikipedia page but no mention of any women race winners, because there aren't any.
But don't take my word for NASCAR's "down-home" personality—what was it you said, Hampton?
About half of this country has a strong cultural bias against NASCAR. The sport is loud, gaudy, aggressively patriotic, overwhelmingly white, male and Christian with working-class, rural Southern roots.
People from the so-called blue states—including the vast majority of online sportswriters—don't have a problem with NASCAR's qualities. They just don't see any reason to care very much about the sport (and I use that term loosely). There's no center of higher education sponsoring cars or drivers, no openly gay or Asian or Middle Eastern or Jewish or Muslim participants in NASCAR. It's insular, and insular is on the way out in the "we allow gay marriage" states.
And from where I sit, that's the way NASCAR fans want it. I'm a native New Yorker whose idea of heavy-duty car repairs is changing my oil or checking my tire pressure. Of course I don't get motor sports. But instead of trying to make an inroad into the blue state sports fan base, NASCAR, its drivers and its fans generally sneer at me for being elitist and offer some version of "A Southern man don't need him around, anyhow."
Yes, I'm too contemptuous of NASCAR, Hampton. But NASCAR and its fans seem equally contemptuous of me.