What's Behind Pop's Multiple-Personality-Album Epidemic?
Usher's Looking 4 Myself shuffles cynically through other artists' styles to conquer disparate fanbases. But maybe it and other recent sales-chasing releases don't have to.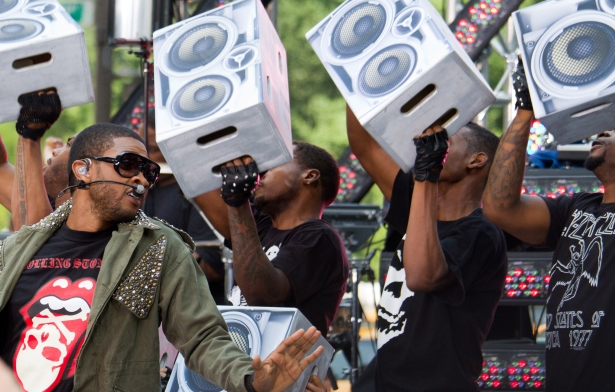 AP Images
Usher titled his new album Looking 4 Myself; the joke here is obvious. If Usher went looking for himself, then along the way he found will.i.am in a tricked-out studio, up to his normal gimmickry: In this case, repurposing the hook from Billy Joel's "Uptown Girl" for the club chant-along of "Can't Stop Won't Stop." He found Max Martin and recorded a single, "Scream," that sounded exactly like the material from their last collaboration, the Martin-heavy 2010 album Raymond vs. Raymond. For the earlier single "Climax," he found producer Diplo laying down the same cloud of lonely electronica that trendy R&Bers the Weeknd and Frank Ocean have recently wandered through. Elsewhere, he found Pharrell on "Twisted," doing what Pharrell generally does. He found dance behemoths Swedish House Mafia and David Guetta doing what they generally do. He found dubstep—another sound of the moment—via Danja for "I Care 4 U," which isn't that dissimilar from the identically titled Aaliyah track. He found indietronica with Empire of the Sun, restraining his voice on "Looking 4 Myself" to match theirs. He even found Amy Winehouse's old collaborator, Salaam Remi, and tried some of his rickety melodrama for the histrionically titled "Sins of My Father."
If it's unclear amid this picaresque whether Usher ever found himself, the market doesn't mind. He's scored hits across its major demographics: pop ("Scream"), urban ("Lemme See" and "Climax"), and critical ("Climax" again), with potential follow-ups in the hopper for them all. None of this is new for Usher; as The Guardian's Alex Macpherson points out, he's always latched onto the dominant musical trends, whether creamy R&B (much of 2001's 8701 and 2004's Confessions), Lil Jon cameos ("Yeah!") dance-pop (almost every Raymond vs. Raymond single). Nor is there any compelling reason to doubt Usher's explanation for the stylistic spread: Like thousands before him, he said, he found inspiration at Coachella's dance tents. But it's even less surprising compared to almost every major pop release this year. We're in the age of the all-things-to-all-people blockbuster album, where stars try to conquer multiple markets with multiple sounds—and increasingly seem to surrender their own identities in the process.
Consider Nicki Minaj, whose Roman Reloaded is split so evenly between urban and pop radio fare that it's practically a double album. It's the sort of collection that contains the Angela Lansbury freakout of "Roman Holiday," a string of more-or-less straightforward rap tracks, the R&B single "Right By My Side" (which could be a Rihanna demo were it not for an inconvenient Chris Brown feature), and a lot of dance-pop tracks, including top-five hit "Starships." That last title, a planetarium-sized dance-pop song with an utterly anonymous hook and only vestigial rap, got her in an ugly mess of hip-hop and identity politics last week when New York DJ Peter Rosenberg implied "Starships" wasn't "real hip-hop" but rather music for "chicks"—causing Young Money boss Lil Wayne to pulled his labelmates, including Minaj, out of the festival that Rosenberg's station was hosting. Minaj defended herself in an excruciating, hour-long radio squabble with fellow Hot 97 DJ Funkmaster Flex, and everyone within three Bacon numbers of rap radio weighed in. Nothing—not anyone involved, nor hip-hop or pop—came out looking good, and nothing changed. Minaj's "Beez in the Trap" is still steady at No. 7 on the R&B/hip-hop charts, and judging by her latest slate of singles ("Pound the Alarm" worldwide and for pop radio, "Champion" for urban), her attack-on-all-fronts strategy remains the same.
While this sort of scattershot album-making is unusual for established acts like Minaj or Usher, newer acts or those trying to repackage themselves often try on multiple sounds before settling on one. Newcomers like rapper Azealia Banks are naturally going to vacillate between styles, sometimes to the point of disowning rap entirely; people trying to transition between genres, like Justin Bieber, will release records that sound less like coherent albums than like sonic sampling menus. It's equally common for any album, pop or otherwise, to be a collection of singles rather than a unified whole. And a certain amount of stylistic pastiche is trendy these days, whether it's Grimes drawing inspiration from the contents of a randomly chosen Tumblr feed or Gotye essaying any style he could adapt as a Peter Gabriel song (much, in fact, like Gabriel himself).
But this year, it seems that most pop albums aren't merely singles albums but singles albums where none of the singles even sound alike. It doesn't matter how new the artists are. American Idol finalist Adam Lambert's 2009 debut For Your Entertainment, like most post-Idol debuts, was the album equivalent of an expo fair, with songwriters and producers bringing demos to see which Lambert inhabited best. But for all the talk about follow-up Trespassing being a grand musical maturation, only half the album is the Chic/Scissor Sisters/Sam Sparro funkfest that fans and flaks claim it is. The other half—including its singles—are essentially repurposed demos by Dr. Luke and Bruno Mars, and they sound like it. Pop-rapper B.o.B is in the expo-fair phase of his career, but his Strange Clouds contains crunchy rap tracks and a Taylor Swift duet the consistency of dandelion fluff, and this dichotomy seems completely normal. Even Madonna, who needs to prove nothing now, followed up one cohesive album and one shaky-but-cohesive album with MDNA, which is thoroughly shaky but cohesive only in chasing dance trends.
MORE ON MUSIC
It's easy enough to attribute genre hopping to some reductive conception of the "Spotify era," where consumers can pick and choose the tracks they want and don't. But picking and choosing has been possible since the existence of singles and became even easier with iTunes. Perhaps more instructive is to compare the trend to the "triple-threat" model the stage has had for decades. In order to have any shot at stardom amid increasing competition, performers had to excel not merely in singing or dancing or acting but all three; even ensemble members, who could once choose between separate singing and dancing choruses, were expected to do it all. In pop terms, if artists wants to expand their brands (as everyone does), it's a huge boon to be competent at rapping as well as singing—particularly when crossover between the hip-hop and Hot 100 charts is increasingly rare—or to create enough musical tangents to attract side fandoms. It's even more pressing when your competitors have done it first. In a way, it makes perfect sense that Minaj exemplifies this. Her mentor Lil Wayne earned almost a million sales for his mediocre Tha Carter IV arguably by just this sort of courtship: reeling in hip-hop fans with his mixtapes, pop fans with his umpteen guest verses, and even the ignored-but-lingering rap-rock fans—the sort who'd perhaps have liked Young Money signee Fred Durst—with ostensible flop Rebirth. If Wayne, Minaj, Usher, or anyone else can please three fanbases at once, why wouldn't they?
It's not clear they need to, though. Many of 2011's most acclaimed and, in some cases, best-selling pop albums were those with deliberate, cohesive aesthetics: Beyoncé's mature and trend-dodging R&B of 4, Adele's retromaniac 21, Drake's moodily produced Take Care, or Lady Gaga's dance/rock/metal fusion on Born This Way. Even artists who jump genres are most interesting when they do so not by hijacking sounds wholesale but by fusing them with others to make something exciting. Banks's debut single, "212," saw her rapping harder and singing better in one song than in any of the just-rapping or just-singing songs she's done since. Nicki Minaj's biggest pop crossover wasn't the pandering, drippy single "Your Love" but rather "Super Bass," which had both buoyant pop production and the high-quantity rap she built her career on. And Usher's rote "Scream" is doing nothing on urban radio, while "Climax" is a bona fide crossover, hitting a relatively impressive No. 17 on the Hot 100, topping the urban charts, and very likely topping critics' lists by December. This shouldn't be surprising. The archetypal fable of looking for oneself, after all, usually ends one way: discovering you never needed to leave home.