What the World's Listening to This Summer, From Angola to South Korea
A Bieber-, Katy Perry-, and Gotye-free playlist for barbecues and beach parties.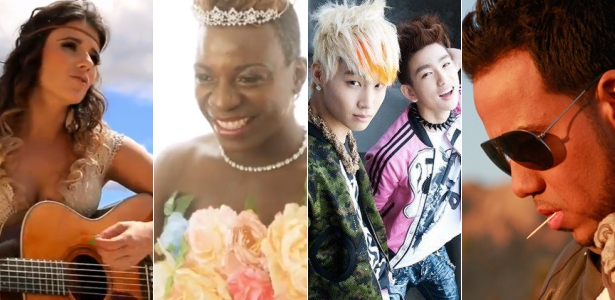 Summer's only just begun, but you may well already be sick of the "song of the summer"—whatever that turns out to be. If Carly Rae Jepsen's "Call Me Maybe," Rihanna's "Where Have You Been," or "Titanium" by David Guetta and Sia seem ubiquitous now, get ready for three more months of Top-40 blasting out of car windows and iPod speakers at barbecues.
Why, though, should summer party playlists be limited to what's big on American airwaves? There's a whole huge world of music out there, of course, and while some of it does wash up onto our radios—Carly Rae Jepsen is Canadian, Rihanna is Barbadian, David Guetta is French, and Sia is Australian—a lot of it can be quite huge, even globally popular, without ever coming near U.S. audiences.
But with the global reach of the Internet, nothing remains local forever. Here are 12 potential summer jams that sound just as good in the open air as in a nightclub, that deserve as wide an listenership as they can get, and that can make any party sound like it's being thrown by a world traveler:
1. Beatriz Luengo ft. Shaggy & Toy Selectah, "Lengua"
Spain/Mexico/Jamaica
Beatriz Luengo is a Madrid-based singer-songwriter who orignally released "Lengua" as a vaguely psychedelic album track. Toy Selectah is a DJ based in Monterrey who's been at the center of youthful Mexico's beat-heavy "tribal" movement. He reimagined "Lengua" as a fluffy, beachy crowdpleaser with ukelele accents and an insistent rhythm, and brought in Jamaican toaster Shaggy to add some partying low end. Luengo shot the colorful video in Los Angeles, turning her kittenish Spanglish into a chance to dress up as imaginary Mexican identities.
2. Matt Houston ft. P-Square, "Positif"
France/Nigeria
Matt Houston was born Matthieu Gore on the French Caribbean island of Guadeloupe, and has been recording modern R&B in Paris for a decade. P-Square are a Nigerian dancehall/R&B duo, and "Positif" borrows the underlying musical bed, or riddim, from their 2010 hit "E No Easy." Both songs are about rejecting hatred in order to come together to sing and dance—"my brother, my sister"—but Houston's sweeter voice and translation of the lyrics from creole English to French has propelled "Positif" up the French charts.
3. Titica ft. Ary, "Olha o Boneco"
Angola
Titica's home nation of Angola is one of the more tolerant African nations regarding sexual identity, but that doesn't mean her career as an openly transsexual star in kuduro, the globally popular Angolan rhythm music, has been without its difficulties. You wouldn't know it from this celebratory song, though, the title of which translates to "Look at the Doll," and means the same thing that Philip Marlowe would by it. The video features Titica and guest vocalist Ary, who normally sings slower and more sensual kizomba, dressing up for a wedding party, both of them as the bride.
4. Specialist & Spice, "Come Wine Gal"
Jamaica
Jamaican dancehall, the uptempo, club-friendly outgrowth of reggae, is legendary for levels of explicitness at which most U.S. hip-hop stars would blanch. But this duet between young, up-and-coming dancehall star Specialist and Spice, a strong contender for the current title of queen of dancehall, is only dutty (dirty) if your imagination runs that way—the "raw" version is available here for comparison. The wine of the title isn't (just) a reference to alcohol—to wine, in Caribbean and West African slang, is to dance suggestively.
5. JJ Project, "Bounce"
South Korea
South Korea's super-stimulated, rigorously choreographed pop scene has been making headlines in the U.S. for a while now, thanks to several mad-genius producers, a game-for-anything stable of stars and starlets, and a collective willingness to cannibalize the best of worldwide pop's past and present to feed whatever high-energy dance song or hyper-emotional ballad (or both at once) is under construction. JJ Project are a pair of dancers and singers, JB and Jr., and "Bounce" is their first single, a giddy rush that runs through dance-pop, hip-hop, hard rock, and glitchy electronic meltdowns without putting a hair out of place.
6. Girls' Generation, "Paparazzi"
South Korea
Also known as SNSD at home, Girls' Generation is a nine-member collective that had their first hit in 2007 which, in the fast-paced world of Korean pop, practically qualifies them as a veteran act. "Paparazzi" is their latest single, a big, swinging-for-the-bleachers dance number that takes full advantage of their deep bench to keep the melody coming from every direction. The video uses a very familiar (to U.S. audiences, anyway) music as a framing device for the song, which wears its classicism lightly, aping not Gene Kelly rather but Michael Jackson, K-pop's truest forebear.
7. Icona Pop, "I Love It"
Sweden/UK
Ten years ago Sweden was to global pop what Korea is now, a seemingly endless fountain of melody, rock's-back-pages trawling, and new, highly hyped acts. The national export hasn't stopped being pop music—the Swedish singer Loreen recently won the Eurovision pop contest—but a newer group like Icona Pop has to work harder to be noticed than their predecessors might have. One way to do that is to join forces: Breakup song "I Love It" was written by the similarly underexposed British electro singer Charli XCX, and the two women of Icona Pop sing it as a building-flattening anthem, in chanted unison that the stomping, buzzing production turns into a roar.
8. Haaya, "Shway Sexy"
Lebanon
Arabic pop music is its own world with its own rules, its own classical tradition, and its own prejudices—while Lebanon is the pop capital, Egyptian musicians are considered more authentic, and the oil-rich Gulf region is the flashy, video-hungry upstart. Haaya is Lebanese, but her video seems pitched to the Gulf's Western-bred appetites; "Shway Sexy" means, as far as I can tell, exactly the same in English as in Arabic. The sexiness is very moderate by Western standards, and the trace amounts of Arabic classical performance are still entirely palatable to an audience that just wants to dance.
9. Maria Antonietta, "Saliva"
Italy
Maria Antonietta is an Italian singer with a mordant sense of humor: Her first, self-released, album in 2009 was called Marie Antoinette Wants to Suck Your Young Blood. "Saliva" is the first single off her latest album, and if the focus on bodily fluids remains, the surging rock behind her takes some of the bite away. The video's retro lens filters and simple staging are reminiscent of American indie rock, but she allows herself to growl in ways that our current crop of cooers and sighers would shrink from.
10. Paula Fernandes, "Eu Sem Você"
Brazil
Brazilian music has two reputations in the tastmaking corners of the U.S.: either reflective, jazzy bossa nova or upbeat, club-friendly baile funk. But Brazil is a huge country and has a huge musical palette to match. Paula Fernandes was born in rural Minas Gerais and grew up on a farm, so it's not surprising that she makes sertanejo, or Brazilian country music. She's encouraged the identification with American country, covering Shania Twain and dueting with Taylor Swift, and her massive hit "Eu Sem Você" ("me without you") is a great, wistful country-pop lament in the tradition of both nations.
11. Romeo Santos ft. Tomatito, "La Diabla/Mi Santa"
USA/Dominican Republic/Spain
Dominican bachata is, in its modern form, just about as American as Lou Reed or Jay-Z, with its center in the New York immigrant community, but because it's almost entirely recorded in Spanish most Anglophone residents are still ignorant of its lilting, stuttering beauty. Romeo Santos was the leader of Aventura, the biggest bachata group in the world. His debut solo album has been received just as rapturously as a new Aventura album would be, and "Mi Santa" and "La Diabla" were the third and sixth singles from the album, respectively. The video joins them together—as they belong, thematically—and Spanish flamenco legend Tomatito sits in on the second half, drawing unsuspected connections between two wildly different Hispanophone guitar traditions.
12. Christina Goh, "N'oublie pas"
France/Côte d'Ivoire
Finally, French Afro-jazz brings a downtempo close to this abbreviated party mix. Christina Goh was born in Paris but grew up in Côte d'Ivoire, and her tender, exquisitely phrased performance style draws from classic Parisian café jazz, African rhythmic traditions, and even Chicago blues. "N'oublie pas" ("don't forget") is a worthy addition to the canon of French chanson, and a reminder that not every young musician has to be pushing new boundaries: The old ones can always do with a shove as well.