Ten women who can play an impressively wide range of characters, from Julia Louis-Dreyfus to Connie Britton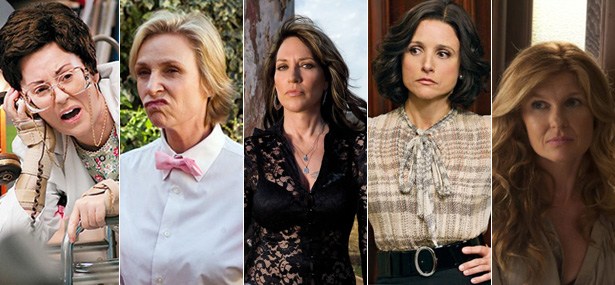 HBO/FX/Showtime/NBC
As Season 1 of HBO's Veep nears its all-too-soon finish (don't worry folks, a second season is on its way), we have to say it's been nice to have Julia Louis-Dreyfus back on the small screen—although "back" might not be the proper word choice here. She's had no real gap in her resume since she became a cast member on Saturday Night Live at the tender age of 21, making her part of a talented class of television actresses with the incredible ability to reinvent themselves time and time again.
In celebration of Sunday's Veep finale, we've rounded up some of our favorites from this category. They deserve a round of applause.
This post also appears on Flavorpill, an Atlantic partner site.
We want to hear what you think about this article. Submit a letter to the editor or write to letters@theatlantic.com.