The Void of 'Rock of Ages'
The many supporting stars twinkle, but the leads are a black hole.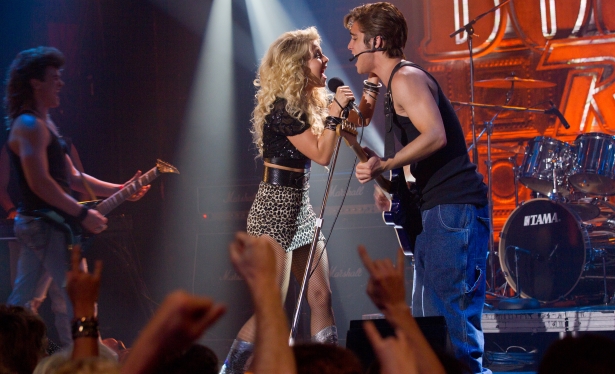 WB
I grew up listening to classic Broadway shows—to Lerner and Loewe, to Rodgers and Hammerstein (and Hart!), to Frank Loesser, Cole Porter, and Stephen Sondheim. The subsequent soundtrack of my adolescence was that last pre-grunge gasp of classic rock: Foreigner and Pat Benatar and Twisted Sister and Bon Jovi. As an adult, I watched Glee for dozens more episodes than any rational assessment would have allowed. My family has more than one karaoke-ready device attached to the TV—and as much as I might like to put that off on my kids, they were a secondary consideration at best.
All of which is to say that if laboratory technicians had spent years trying, they would have been hard pressed to engineer a more perfect target audience for Rock of Ages than myself. Alas, it missed even so easy a mark.
Based on the 2009 Broadway jukebox musical, and directed and choreographed by Adam Shankman (who also performed both duties for the 2007 version of Hairspray), Rock of Ages is a wildly uneven cinematic experience. And while there are a handful of reasons for this—the pacing is awkward and, at two hours, the movie is at least 15 minutes too long—its insurmountable flaw lies in the casting.
At the periphery of the story, stars twinkle with irony—Tom Cruise, Alec Baldwin, Catherine Zeta-Jones, Russell Brand, Paul Giamatti—and while some (Cruise, Baldwin) shine more brightly than others (Zeta-Jones), all share a goofy radiance. Move to the narrative center, however, and we discover a black hole: two lead performances by Julianne Hough and Diego Boneta, so dull and heavy that they suck all the light and wit out of the film.
Hough (best known as a Dancing with the Stars champion and budding country singer) plays Sherrie, and Boneta (best known for his guest appearances on 90210) plays Drew. Both are young and pretty and have come to late-'80s L.A. with the dream of becoming hair-band rock stars. In the meantime, both work in a bar/venue called the Bourbon Room, owned by Dennis Dupree (Baldwin) and managed, loosely, by Lonny (Brand). The place has been targeted as a den of iniquity by the Tipper-Gore-ish wife of the mayor (Zeta-Jones) and is facing foreclosure for unpaid taxes. The only thing that can save it is a sold-out show by Stacee Jaxx (Cruise), an aging and unreliable metal frontman about to launch a solo career.
At its best, Rock of Ages courts ridicule so openly that it is all but immune to it. Indeed, the first few times the audience at my screening erupted into laughter it was hard to tell whether we were laughing with the film or at it. When an eight-year-old girl on the bus bearing Sherrie to L.A. jumps in with the last line of "Sister Christian," or Baldwin belts out a verse of "Just Like Paradise" with Shatnerian gusto, is it funny in a good way or a bad one? In the end I'm not sure it matters.
Yet every time Hough and Boneto return to center stage—and they are, again, the protagonists—the infectious sense of camp and irony plunges into an earnest stupor. Whereas the movie's supporting stars are always, inevitably, winking at the audience, it's unclear whether the dewy-eyed leads even know how to blink. The movie scarcely helps things by sanding away any hint of vice or imperfection from these sexless, day-glo moppets. In the stage production, for instance, a star-struck Sherrie obtains carnal knowledge of Stacee Jaxx in the men's room; in this PG-13 retelling, she is merely the subject of an innocent misunderstanding related to a spilled drink.
Related Story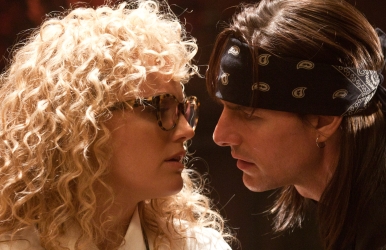 So while there are rewards along the way, virtually none involve the two young leads. Cruise's Stacee Jaxx is a genuine pleasure: a near-perfect hybrid of the immaculate self-absorption of Magnolia's Frank T.J. Mackey and the committed self-parody of Tropic Thunder's Les Grossman—especially when he pauses mid-rendition of "Wanted Dead or Alive" to solve a crossword puzzle, or, later, engages in a tongue battle with a Rolling Stone reporter (Malin Ackerman) more muculent and horrifying than anything in Prometheus. And as much as one might like to think that as a society we'd have passed the point where two men declaring their love for each other would merit a laugh, Baldwin and Brand's duet of "Can't Fight This Feeling" is proof we're not there yet.
But such moments are overwhelmed by the twee-ness and Glee-ness of the rest. The movie even closes with a triumphant, stadium-rock version of "Don't Stop Believin'," a song that, following its appropriation by Glee, ought to be retired from further pop-cultural usage for at least a decade (as Shankman, who himself directed a couple of Glee episodes, ought to know better than most). In the end, despite its outbreaks of dippy grandeur, Rock of Ages is proof that if there were ever a time to stop believin', this is it.