The Red Sox and Phillies Are in Last Place, but Could Still Make the Playoffs
Two of baseball's divisions are closer—and more exciting—than they've been in years.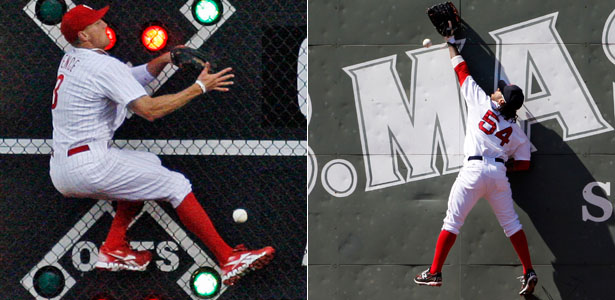 AP Images, Reuters
The Red Sox, Twins, Mariners, Phillies, Cubs, and Padres have something in common. They're all last-place teams. But what distinguishes the Red Sox and the Phillies from their fellow basement-dwellers (aside from recent World Series titles) is that Boston and Philadelphia are competitive teams. With one-third of the season now over, the American League and National League East divisions are both logjams, with Boston trailing division-leading Tampa Bay by just six games, and Philadelphia trailing division-leading Washington by eight. A cynic might argue that these two divisions are congestive pools of mediocrity, but that's a spurious line of thinking. A more honest assessment is that the American and National East divisions are loaded top to bottom with talented, dangerous teams, with the potential to provide fans with the most competitive playoff races in—I'm not afraid to say it—baseball history.
Then again, maybe it's a bit premature to be talking about the great playoff races that await us in the American and National League East divisions. After all, we haven't even reached the All-Star Break. But anticipation of what's possible—even if it doesn't pan out—is a huge facet of sports fandom: We look forward to games when we think they're going to matter, and we check out mentally and emotionally when they seem like duds. And with both the NL East and the AL East being so close this season, fans of teams in these divisions won't be checking out any time soon.
In the American League East, the top three teams are all within one game of first place, with Toronto (four games out) and Boston (six games back) just off the pace. In the National League East, the top four teams are within five games of first, with Philadelphia pulling up the rear. But really, are you going to count out Boston and Philadelphia at this point of the season? Both teams have been dealing with a slew of injuries, yet they have still remained competitive.
MORE ON BASEBALL
In the other divisions in baseball, the separation among teams is much more pronounced this year. In the American League Central, all teams but one (Cleveland) trail the first-place White Sox by five or more games. In the American League West, Oakland and Seattle are both behind Texas by eight games or more. In the National League, the Central and West division races are already over for the Cubs (12.5 games back) and the Rockies and Padres (14 and 19 games back). But no team is out of it in the American and National League East divisions—where only two clubs have a sub-.500 record, and one of them, the Phillies, might be the most talented team of all, provided they get healthy.
In other sports, a division filled with .500 teams would perhaps signal top-to-bottom mediocrity, especially in football. But in the AL and NL East, they represent top-to-bottom talent—some bought on the free-agent market by big-spending teams like the Yankees, Phillies, Mets, and Red Sox; others garnered with effective drafting, e.g., the Nationals, who used the No. 1 overall pick to select pitcher Stephen Strasburg in 2009 and outfielder Bryce Harper in 2010, both of whom reached the majors in short order and look like bonafide stars. That's not always the case with top draft picks, as evidenced by the No. 1 overall pick in 2002 (Brian Bullington, Pirates), 2004 (Matt Bush, Padres), 2006 (Luke Hochevar, Royals), and 2008 (Tim Beckham, Rays)—none of whom has blazed a path similar to Strasburg or Harper. Have the Nationals been lucky? To some extent, yes, as they successfully synchronized the nadir of their organization with the availability of two can't-miss prospects. But anyone who says luck doesn't count has never appreciated the beauty of a seeing-eye single.
In the last few years, with only one wild card team in each league, the Rays, Yankees, and Red Sox have all been competing for two playoff spots, with the Blue Jays competitive and the Orioles an afterthought. But with the addition of one more wild card team in each league this year, it's within reason that three teams from the AL East could reach the postseason—and they won't necessarily be New York, Tampa, and Boston.
Collective mediocrity? No way: the best playoff races in baseball history.