The Puzzling Fall of Manny Pacquiao
The boxer had his first loss in seven years last night, in a fight that most people thought he'd won.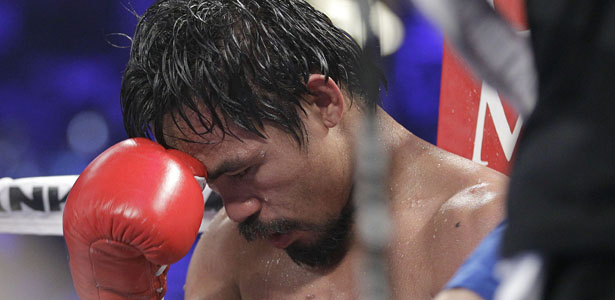 AP Images
It was a Saturday night in Las Vegas. The Electric Daisy Carnival was in full swing at the Las Vegas Motor Speedway, with drugs and techno music and hundreds of thousands of kids half-naked and flowing through the desert night. But the real craziness was happening in the MGM Grand Garden Arena because there was a boxing match, and recently boxing has become more bizarre than any drug-fueled rave. Manny Pacquiao—one of the best boxers (if not the best) of the last decade—was on the top of the bill and he was favored to win, even knock out, Timothy Bradley, the guy from Palm Springs, but that didn't really happen.
That Pacquiao would win wasn't really any question because he's faster and stronger. The only thing creating doubt in the pre-fight hype: Would religion mess with Pacquiao's mind and make him a better or worse fighter?
You see, Pacquiao is from the Philippines and the Philippines is a seriously Catholic country and the PacMan, who is also a congressman there, has been dabbling with his own kind of Bible studies that don't always look Catholic to Catholics. In May, during his training camp in Hollywood he met with Rick Warren of Saddleback Church and other religious leaders to talk about his faith. Pacquiao felt like he was living a sinful life and wanted to have a better marriage and be a better father. A few months ago, he says he gave up his vices, including gambling and drinking, and became a changed man through his "manual for life," the Bible.
MORE ON BOXING
This was all well and good except Pacquiao took it to such an extreme that no one knew what to make of it in relationship to his athletic career. He quoted Bible verses at every turn. Ran his own Bible study classes during training camp. Required people around him to memorize passages from Scripture. This religious dedication made a lot of people nervous because they weren't sure if he was turning his back to the Catholic Church. And among boxing people, they just wondered if boxing was as important to him as God.
And then the fight started. In the second round, Pacquiao, a 4-to-1 favorite, started landing some punches and hit Bradley so hard that the American twisted his right ankle and fractured his left foot. (Bradley would come to the post-fight press conference in a wheel chair.)
The fight went on, and Pacquiao seemed to win most of the rounds. It looked like religion had been pretty good for Pacquiao's boxing mind. On press row, there wasn't one person who had it in Bradley's favor because Pacquiao had won in nearly every category, including total punches connected (253 to 159) and power punches connected (190 to 108). Bradley had no power in his punches; he would punch Pacquiao and the PacMan would laugh. A few would land with a gentle thud, and his jab was better than it has ever been, but you could *hear* Manny's punches, and you could tell they hurt, hurt bad. Manny, who appeared to coast in the early parts of the rounds, even seemed a tad bit bored by Bradley's predictable style. It wasn't a signature win for Pacquiao, not one of those spectacular KOs that tells the world that Pacquiao is still the best, or at least in the top three. He is 33, but his fighting age is closer to 40 since he has had more than 50 professional fights. He has taken a lot of punches to entertain, to win, to inspire the impoverished in his country. It had to be a victory. It just couldn't be anything else.
But at the end of 12 rounds, the scorecards were read and Tim Bradley was the world's new welterweight champion. Pacquiao went to the corner and stood on the rope and looked first into the MGM Grand Garden crowd and then to the upwards and smiled, as if to calm everyone down. Pacquiao's promoter Bob Arum said, "I have never been more ashamed to be a part of the sport of boxing than I am tonight." He also said he was accompanying Pacquiao on a visit to Israel. Pacquiao said he had "no doubt" he won, but acted gentlemanly and said he would accept the loss.
God works in mysterious ways, they say, but no one seemed to understand what happened in the MGM Grand on Saturday night when Pacquiao fought better than he had in several fights, but lost because of an inexplicable judges' decision, his first defeat in seven years. There was a lesson in there somewhere, but Pacquiao decided not to bring God into it this time.
"The religion is about my personal life," he said. "This is boxing—it's a sport."