The Punk Rocker Who Would Be Judge
The Vandals' Joe Escalante has grown up to be a conservative lawyer with political aspirations. That doesn't mean he's stopped making noise, though.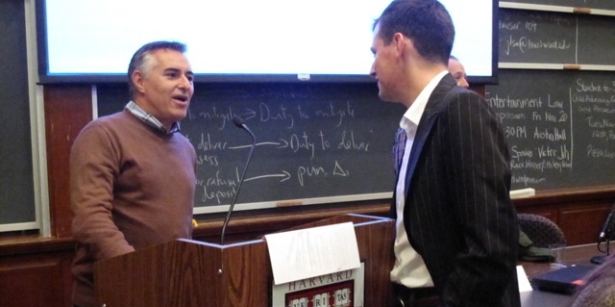 Sandra Escalante
John Yoo isn't generally associated with icons of anti-authoritarianism. But five days after a judge threw out a lawsuit that a convicted terrorist filed against Yoo for penning the George W. Bush administration's "torture memos," Yoo was on the phone, vouching for a punk rocker.
Or specifically, a punk rocker by the name of Joe Escalante, the Vandals bassist who's campaigning to be a Los Angeles County Superior Court judge but is running into legal problems.
Escalante, 49 of Signal Hill, Calif., a suburb of Los Angeles, is a member of the area's gracefully aging rocker sect answering what happens when punk grows up. Some of Escalante's peers went on to start record labels and families. Some cultivated new music careers in their 40s and 50s. Others got their Ph.D.s, fell into drugs, or became Subway sandwich artists. Escalante, though, ended up with seemingly the least punk-rock resume of all: a law degree, a legal expert job, a career in entertainment law, and conservative Catholic bona fides. But he's managed, perhaps inadvertently, to keep the spirit alive by running for a judgeship with the express disapproval of the local legal establishment, facing down a lawsuit from a Hollywood publication, and generally saying the kinds of things in public that conservative J.D.s with political aspirations don't say.
The Vandals made a name for themselves in the '80s with their witty, tongue-in-cheek humor in songs like "I've Got an Ape Drape" (their ode to the meth-riddled Inland Empire) and "Anarchy Burger (Hold the Government)," and albums such as Hitler Bad, Vandals Good and Live Fast Diarrhea. Escalante was just 17 when he joined as the drummer (he later became the bassist). While the band still performs sold-out shows around the globe, Escalante allocates the rest of his time as a legal advice radio program host on Indie1031.com and KTLK; providing free legal advice via Facebook for LegalZoom, an online, legal-document-preparation service; being an entertainment attorney; and volunteering his time as a temporary judge for the Los Angeles Superior Court system. He's also a contributor to Ricochet.com, an online attempt to reinvent conservatism for the internet age, which is why Yoo—now a Berkeley law professor—was willing to get on the phone and back Escalante's contested free speech claim as a judicial candidate.
After racking up 20 years as an attorney and some 480 hours as a volunteer temporary judge presiding over everything from unlawful detainer lawsuits to small-claims cases, Escalante this year decided to put his name on the ballot for an open judicial seat for the upcoming June 5 election. He even has a red-, white-, and blue-hued campaign poster designed by Shepard Fairey, the artist behind the iconic HOPE image of President Barack Obama.
But it hasn't exactly been a smooth race. In what Escalante says is a violation of his constitutional rights, election officials have denied his request to list his ballot designation as "Volunteer Temporary Judge."
"They're afraid someone will volunteer for one day so they can use that for their [ballot designation]," Escalante says. "I mean, can you imagine? To abridge someone's free speech for something like that? For what? So you can have that dumb title? It's not that great of a title!"
That's what I called Yoo for his opinion about.
"My understanding is that [Escalante] sometimes serves as this kind of temp or substitute judge, a state court trial judge," said Yoo in a careful, deliberate pace. "And he wants to run for permanent judgeship, and he's prevented from listing on the ballot that that's what he does.
"Obviously the government can say if you're a Republican and you're running for office, you can't put down you're a Democrat," Yoo continued. "Or you can't put down some fictional title, like you're Quartu from some foreign planet... But I don't see why the government has any case to restrict [Escalante] about his description of himself."
In early May, the Judicial Election Evaluations Committee (JEEC), an organization within the Los Angeles County Bar Association that evaluates judicial candidates, labeled Escalante and four others as "not qualified" for judgeship. At the committee's evaluation, Escalante says, officials called him lazy due to his lack of megafirm experience. (Committee members haven't responded to interview requests.)
"I've been called many things before," Escalante says. "But never lazy. If [JEEC] thinks what they did was drudgery, I have a lot of respect for it, but there's a lot of drudgery with what I've been doing, too, waking up at 4:30 in the morning to do a radio show or riding in a van with stinky band members.
"I was too nice to [the committee]. I should've said, 'You're a jerk.' I should've said"—here he shifts to guttural caveman grunts—"OHHERHHHHERHH. OH I TOO LAZY."
Escalante's history of not quite fitting in with his legal-world peers dates back to his days as a young law-school grad in 1985. He chose not to go work in a firm—a decision he says has returned to haunt him in the Los Angeles bar's dismal evaluation of his qualifications to be a judge.
"You think you're getting into something, and then you see all the BS, and you go, 'Ugh. I like this, but I don't like the BS,'" he says. "I liked law school, and I liked becoming a lawyer, but I don't like the BS of going to a law firm and billing hours and overcharging people."
Instead, Escalante accepted a position as the Director of Business Affairs at CBS, which involved his expertise on transactional advice, intellectual property, and creating profit models for television sitcoms. Escalante says he made deals for shows such as Rescue 911, Everybody Loves Raymond, Walker Texas Ranger—and convinced Chuck Norris to sing his own theme song, which still airs today. It was also during Escalante's stint at CBS that he started his own record label, Kung Fu Records, with Vandals bandmate Warren Fitzgerald.
Escalante left CBS in 1996 when Dexter Holland, the bleached-hair front man of the Offspring and owner of the Vandals' label at the time, offered the Vandals a salary to tour. Nearly a decade later, though, Escalante would see his legal and musical careers merging again—for unhappy reasons. In 2004, movie-industry trade publication Daily Variety sued the Vandals, alleging that the cover art for their album Hollywood Potato Chip (whose title served as a rather dazzling euphemism for a certain bodily fluid dried and crusted on a Hollywood casting couch) violated trademark. The record's title was indeed rendered in a font parodying Variety's characteristic kelly-green lettering—an artistic decision tying into the band's wry commentary on the social landscape of Hollywood.
Despite Escalante's status as a practicing entertainment lawyer, both he and the band thought it was a hopeless battle against the Variety's formidable legal team. The two parties ended up settling the case, and The Vandals replaced the logo on all subsequent pressings of Hollywood Potato Chip and removed the original artwork from websites they controlled.
Six years later, though, Variety filed another suit over the same issue—specifically concerning online images posted by third-party users, asserting the Vandals had ignored the agreement they had settled on. This time, the band wasn't backing down from a fight with the media giant. Escalante managed to have the case transferred from the state of Delaware to Los Angeles in April 2011 so he could represent the band himself in court.
MORE ON MUSIC
In the meantime, the Vandals transformed their online presence into a virtual shrine of mockery of Daily Variety and its publisher, Reed Elsevier. The band blasted the newspaper in animated videos of imaginary conversations between Variety Editor Peter Bart and his attorney ("Peter Bart, legendary icon of Hollywood journalism! What a surprise. Did you change your mind about the celebrity chubby chaser magazine I pitched you?" "J. Paul Williamson, you scoundrel, I told you no at the drum circle.") and rants posted to Facebook and the official Vandals website.
Escalante and his band were ready to go to court, he says—but suddenly, on the eve of pre-trial conferences, Variety and Reed Elsevier dropped their case.
"It was a travesty of a mockery of a sham but it's over," the Vandals wrote on their blog. "Were they bluffing the whole time? Where they ever planning to go to trial? Was it the extortion game the Vandals perceived it to be all along? . . . This was a shake down."
Still fresh from triumph, Escalante says he doesn't want to take anyone to court over his ballot designation. Controversy over how candidates should describe themselves on the ballot is actually fairly common, with a number of high-profile cases filed over the very issue.
"I just want them to figure out the difference between right and wrong," Escalante says of the bureaucrats disputing his ballot designation. "If I could get a giant award out of them and donate it to my Church's new catechetical building so I don't have to teach in a room filled with sacks of pinto beans for the food program, I would. But it would probably be just an embarrassing waste of time."
In early March, Escalante sent out pledges to the other judicial candidates, asking them to vow to not use slate mailers for their campaigns.
"Junk mailers are corrupt and full of lies. And I got no reaction from anybody. They won't return my emails," Escalante says with a laugh. "I signed my pledge and sent it off to them. Together, we can put an end to this corrupt system. They're not interested."
Escalante admits he doesn't really know if he has a chance of winning. But he seems to remain hopeful that voters may just select an alternative candidate.
"It's a long shot if you're talking about people who normally get involved in judicial races. But no one really knows what will happen with me," Escalante says. "I'd rather push now. If I get in top two, it will be a whole new game of panic for the establishment."
Election Day is June 5. If one candidate receives over 50 percent of votes, the race is over and a winner will be declared. However, if no one manages to capture at least half the votes, the top two candidates will go to a runoff in November.
In the meantime, Escalante seems to still have things in perspective, saying he won't choose to run again for judge if he fails to capture the seat next month.
"Someone asked me today if I would strike down Roe Vs. Wade," Escalante says. "I said if it comes up in Traffic Court, it's going down."