The Problem of Marketing 'Mad Men'
For a show about advertising, it's been remarkably difficult to promote.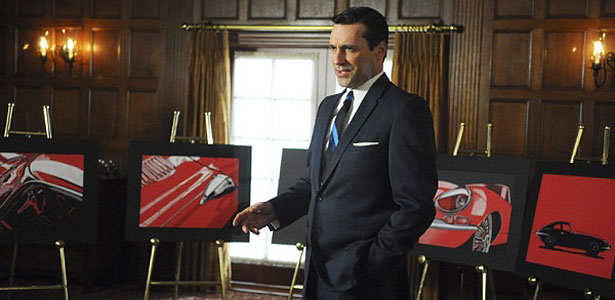 AMC
Mad Men, the shiniest jewel in AMC's original-programming crown, continues to present an intriguing, beguiling question for the network: How do you market a show about marketing? In a 2009 interview with the New Yorker, AMC head of marketing Linda Schupack described the difficulty of creating the ad campaign for Mad Men's first season, when it was an "enigmatic" show starring "a cast of unknowns" on a network with virtually no original programming. In a later article in the New York Times, Kevin Beggs, the president for television programming and production at Lionsgate concedes that despite its cultural cache, "Mad Men is not an easy show to promote. [...] It's not Cougar Town or Desperate Housewives, where you get it in one line."
The ad campaigns crafted by Mad Men's main characters have often drawn praise from real-life marketing experts. But Sterling Cooper Draper Pryce is marketing baked beans and Jaguars, not a one-hour cable drama—a challenge that might even beguile Don Draper. In advertising terms, Mad Men is a great product, but a hard sell, and a niche product at best. Despite Don Draper's dismissal of the idea that "sex sells," AMC's marketing has routinely put the show's sex appeal front and center (the earliest promos for the series spend as much time on an unnamed burlesque dancer as they do on Peggy Olsen). It's a tried-and-true formula that the network revisits every season; earlier this year, Mad Men-promoting taxicabs were emblazoned with the phrase "Adultery is back," which boils the series' five seasons of complex, interconnected professional and personal relationships into a cuckold's version of musical chairs.
MORE ON MAD MEN
The story behind Mad Men's marketing campaigns has at times resembled the plot of the show itself. The season three promo poster created by ad agency the Refinery, which features Don in his office with water rising around him, was selected over the works of three rival firms—a storyline that could have come straight from Mad Men. In season four, Peggy found a way to sell Sugarberry Hams by hiring two actresses to stage a fight over the last remaining ham in a supermarket - an approach similar to a Mad Men publicity stunt by AMC which saw paid actors in period clothing handing out Sterling Cooper business cards in Grand Central Station. And there's a real-world Peggy Olsen story in artist Dyna Moe, who started off by making a Mad Men-Christmas card for a cast member, and eventually impressed AMC enough that she was hired for the promotional website MadMenYourself.com and commissioned for a collection of her work called Mad Men: The Illustrated World.
Mad Men: The Illustrated World which features bold, angular drawings directly based on advertising art from 1950s and 1960s is one example of the easiest way to make authentic-seeming Mad Men merchandise: recreate the past. , Many of the series' most successful licensed products feel like they came straight from a time machine. Banana Republic's enormously popular Mad Men-themed clothing line, which was created in collaboration with series costumer Janie Bryant, was recently credited with giving the company its best-ever first quarter sales. Jessica Pare's version of the classic French song "Zou Bisou, Bisou," which featured heavily in Mad Men's fifth-season premiere, was released on a 7"-vinyl with a period-appropriate record sleeve.
But for every impressive piece of Mad Men merchandise, there's at least one bizarre, poorly-planned curio. After Roger Sterling spent most of Mad Men's fourth season writing an autobiography called Sterling's Gold, fans rushed to bookstores to buy the real-life equivalent—only to discover that the new "book" was a bare-bones collection of Sterling's quotes from the TV series. In 2010, Mattel released a collector's edition line of Mad Men Barbie dolls in an apparent attempt to reach the elusive "adolescent girls who watch adult-oriented period dramas" market. And Janie Bryant's Mad Men-inspired line of nail polish seems like an idea that Don would have turned down at the first pitch meeting.
The most troubling pieces of Mad Men merchandise are almost too authentic. Mad Men has always had an uneasy relationship with substance abuse, offering critiques of smoking and hard drinking even as it makes Don Draper look really, really cool when he smokes and drinks. But if Mad Men generally walks the line between attacking and endorsing substance abuse, its marketing campaign swaggered well over the line before the end of the series' first season. An early partnership with Zippo saw the release of both Mad Men­-themed lighters and a limited-edition DVD set that approximated the look of a Zippo. And more recently, the Mad Men "Cocktail Culture" app, which challenges users to "master the art of cocktail making" and features Don Draper in its marketing, queasily debuted during a season that saw Don hitting rock-bottom in a battle with alcoholism.
Mad Men's sometimes-uncomfortable relationship with its own advertising and merchandise is a real-life version of the tension between business and creative seen on the series. Mad Men is a complicated show, but advertising, by its very nature, simplifies (which is why AMC's commercials for the show involve a disproportionate amount of sex and punching). How do you market a show about marketing? The lesson offered by Mad Men's advertising and merchandise is a simple one: When in doubt, go with authenticity. AMC has always done best by Mad Men by emulating the advice given by Don Draper inthe series' most famous pitch: "Nostalgia... it's delicate, but potent."
Mad Men will return next year, picking up after a fifth season with plotlines that included infidelity, prostitution, murder, and suicide, and the marketing machine behind Mad Men will have to find another way to repackage and resell the series for another season. A new take on a five-year-old show won't be the easiest of pitches, and the series about selling will continue to resist being sold—but that's just the kind of challenge that Don Draper might appreciate.